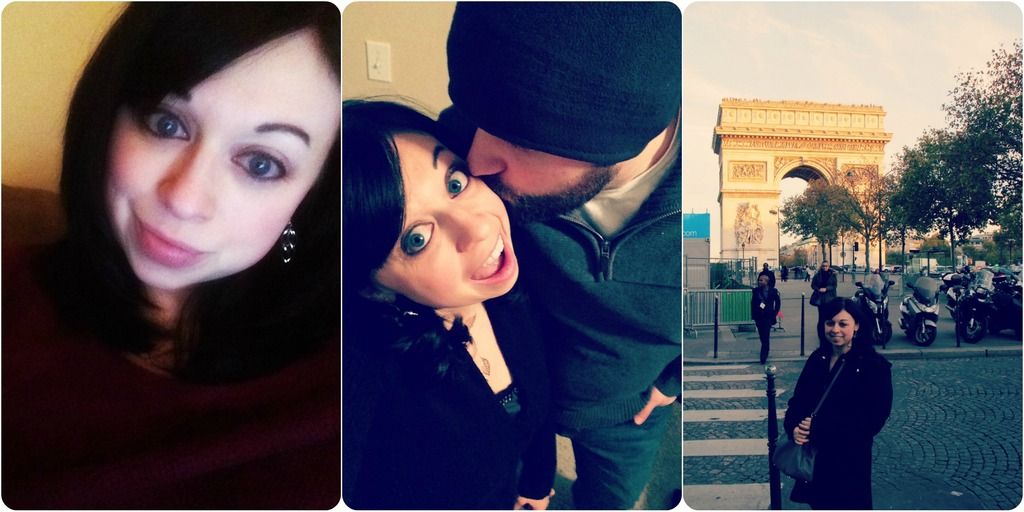 Hi, I'm Kristen. Welcome to Divulge and Indulge!
Here Are Some Things You Should Probably Know About Me:
I was born in August 1984 (I'll let you do the math on that one). By day I'm a science nerd, but in my free time I'm a blogger and wannabe author.
I've lived in Omaha, Nebraska since September 2009, but I was born and raised in West Virginia. I moved to the Midwest to be with my boyfriend, which is something I never thought I'd do. That boyfriend is now my husband, though, so it obviously worked out for the best!
I can be very serious and focused or goofy and ridiculous depending on the situation. I love setting goals for myself (even if I don't always accomplish all of them) and making lists. I'm obsessed with music, and few things feel better than the rush I get when I have the opportunity to see one of my favorite bands live.
I'm completely addicted to coffee, and I love food. I do try to balance this out with exercise, though. My favorite form of exercise is yoga, which is something I've been practicing regularly for over a year now.
I could probably say a lot more, but, quite honestly, I find writing about myself in this format a little awkward. (Funny, considering I'm totally willing to share really personal things in some of my posts.) If you want to know more (or want me to get to know
you
), please get in touch! I can be reached via email at
divulge.and.indulge@gmail.com
, or you can simply leave a comment on this blog.
The Story Behind The Blog:
I developed a passion for writing at a young age. I've been making up stories, writing poems, and keeping journals since elementary school. My first experience with "blogging" (if you can call it that) was starting a LiveJournal back in 2005. I updated it daily for years, but eventually I just didn't have the time or motivation to work on it anymore.
After about a year, I realized I missed having a place to put all of my random thoughts. Sure, I could write in a private paper journal, but I also missed the community aspect that goes along with sharing things online. So I decided to start a blog.
My first blog was very short lived. I had recently gotten engaged and was too busy with wedding planning (and my full time job) to really spend much time on it. It fizzled out as quickly as it began.
Once we'd figured out the majority of the wedding stuff, I started a new blog. I stuck with that one for a while, but after several months it began to feel less like a hobby and more like a chore.
I learned from my mistakes, though, and decided to try my hand at blogging one more time. This led to the creation of Divulge and Indulge in April 2014.
When it comes to blogging, I'm still learning. But I'm having fun sharing my thoughts and connecting with other people, and that's the most important thing.
What You'll Find Here:
I write a lot about my personal life, but I definitely don't share
everything
. I'm pretty open when it comes to most things, though.
Quite a few of my posts focus on love and relationships, especially my relationship with my husband, Eric. We've been together since June 2007, married since November 2013.
You'll also find a lot of recipes on this blog. I didn't learn to
really
cook until I was 24 years old (and had already been living on my own for a few years). I started with really simple dishes, but I've progressively gotten more confident in the kitchen. You won't find a lot of desserts here, though ... I still haven't mastered the art of baking.
If you stick around long enough, you'll probably read all about my love for music, books, movies, and TV. You'll also see plenty of pictures and read all about my obsession with trying new restaurants and foods. And, when I'm lucky enough to have the extra time and money, I'll also share my travel adventures.
Basically, I blog about a lot of random shit. Sometimes I have specific ideas for posts, but sometimes I just sit down at my computer and write about whatever pops into my head.
Hopefully you'll find something that interests you here!