It's time once again to join
Steph
and
Jana
for the Show Us Your Books! link-up (a.k.a. the best time of the month since I get to talk books with some of my favorite bloggers)!
Although I didn't hit my reading goal for March, I still feel like I've read a decent amount since the last link-up. Most of these books were for
Book Challenge by Erin 4.0
, and I'm proud to say that I've now officially completed the challenge!
But anyway, here are my thoughts on what I've read since the last link-up. I'll also be sharing slightly more in-depth reviews this Sunday if you want to know more about any of these books. (But don't worry ... I never post spoilers!)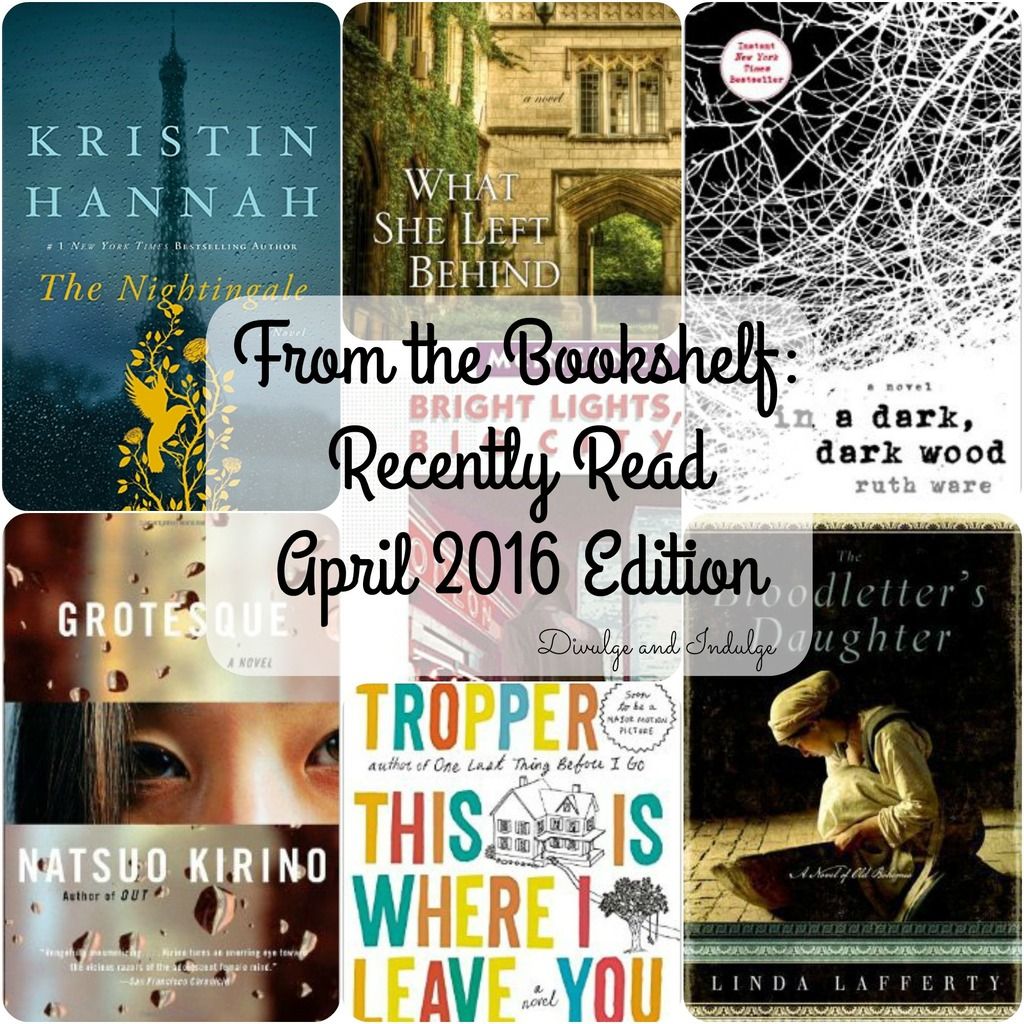 The Nightingale
by Kristin Hannah - 438 pages - 5 stars
Practical Vianne lives a happy and comfortable life with her husband and young daughter in a small French village. Her younger sister, 18-year-old Isabelle, is rebellious and often reckless.
As World War II begins, things start to change for these women. Faced with making increasingly difficult (and often dangerous) choices, the two sisters find themselves doing whatever it takes to survive.
That simple description of the plot doesn't even begin to do
The Nightingale
justice. The characters were complex and likable (even when they made poor choices), and, while I liked Vianne a lot, I absolutely fell in love with Isabelle.
My heart ached for these characters as I read about the horrors they faced at the hands of the Nazis. But, while it was sometimes difficult to swallow, I loved that Kristin Hannah didn't sugarcoat their experiences. It made the story seem more authentic, and I really
felt
what they were experiencing.
I've mentioned before that I'm not a huge fan of historical fiction, but this book was
amazing
and absolutely lived up to the hype. If you haven't read it, you should make time to pick it up. It will break your heart, but it's well worth the tears.
Grotesque
by Natsuo Kirino - 530 pages - 2 stars
Exquisitely beautiful Yuriko and studious, awkward Kazue were once students at the elite Q High School for Young Women in Tokyo, bound together only through their school and Yuriko's unnamed, unpopular older sister. As adults, however, they have suffered the same fate: brutally murdered while working as prostitutes.
Through a series of four unreliable narrators,
Grotesque
reveals the events that led them to prostitution and their ultimate demise, while also describing the struggles the three main female characters face in Japanese society.
I previously read and enjoyed another novel by Natsuo Kirino,
Out
(you can read my review
here
, if you're interested), so I was really looking forward to this book. Unfortunately,
Grotesque
just didn't have the same impact.
The plot was intriguing, and I thought her descriptions of what it was like to grow up female in Japanese society were very interesting and eye-opening. I also liked that there were multiple points of view, particularly because there was a lot going on in the story and it was interesting to see things through the eyes of several characters.
However, the book overall was very mind-numbing, and I had a lot of trouble slogging my way through it. It took me 9 days to finish it, and even though it's a fairly lengthy novel, it shouldn't have taken me
that
long to read it.
I think Kirino is a talented author, so I was surprised to find so much of the book boring. The section narrated by Zhang was just awful. I would literally groan out loud at certain points because it was so boring that it was almost
painful
to read. Funnily enough, the unnamed sister (who narrates much of the book) calls Zhang's story "a ridiculously long and tedious piece of work." I guess I wasn't alone in feeling this way.
What She Left Behind
by Ellen Marie Wiseman - 312 pages - 5 stars
In 1929, rebellious Clara is sent away to a mental institution after refusing to give up her relationship with an Italian immigrant and agree to an arranged marriage. Nearly 70 years later, Izzy discovers Clara's journal while helping her foster parents catalog items at the now closed Willard Asylum.
Izzy finds herself drawn to Clara's story, quickly realizing the woman who wrote those journal entries wasn't actually mentally ill but simply shut away for refusing to obey her parents' wishes. As she continues to read, Izzy begins to question what she knows about her own biological mother. Did her mother murder her father because she was mentally ill, or is there more to the story?
Have you ever read and rated a book and then later wondered why you gave it that rating? That's how I feel about
What She Left Behind
.
On one hand, I really enjoyed Clara's story. It was both eye-opening and heartbreaking to read about the types of horrific treatment given to asylum patients in the 20s and 30s, and I wanted to keep reading to find out what happened to her.
On the other hand, much of this book was completely over-the-top. I like some drama in my entertainment, but this was a little much.
So why did I rate it 5 stars? Other than the fact that I became pretty invested in Clara's story, I'm really not sure. I went with what I felt as soon as I turned the final page, but, since I didn't bother writing my review until much later, I feel like I can't explain why I gave it such a high rating. (Whomp whomp. Review fail.)
Bright Lights, Big City
by Jay McInerney - 208 pages - 3 stars
Recently separated from his wife and barely hanging on at his mostly boring job as a fact checker for a prominent magazine, a young man spends most of his time in the hottest clubs of New York with his best friend, snorting coke and attempting to pick up attractive women.
While
Bright Lights, Big City
doesn't have the most original or exciting plot, the writing itself was wonderful. It was sharp and witty and full of passages that were so awesome and inspiring that I wanted to stop reading so I could work on my own novel. Here's a great example: "But what you are left with is a premonition of the way your life will fade behind you, like a book you have read too quickly, leaving a dwindling trail of images and emotions, until all you can remember is a name."
I think I would have liked this book a little more if I'd read it as a teenager (or even in my early 20s), but it was still enjoyable overall.
This is Where I Leave You
by Jonathan Tropper - 339 pages - 5 stars
Judd Foxman is dealing with a lot of shit: his wife has been having an affair with his boss ... And now she's pregnant. To make things even worse, he gets the news that his father has died. Grieving for both his marriage and his father, Judd returns home to sit shiva with the rest of his highly dysfunctional family.
I don't think I've ever read a book that could make me laugh so much and then, just a few sentences later, make me want to cry. Reading
This is Where I Leave You
was like riding an emotional rollercoaster: there were so many ups and downs that I kept wondering if my heart would make it off the ride intact.
This is the first book I've read by Jonathan Tropper, and I'm definitely interested in seeking out more of his work.
In a Dark, Dark Wood
by Ruth Ware - 310 pages - 4 stars
Leonora Shaw (known to some as "Nora," to others as "Lee") is invited to an old friend's hen party at a remote house in the woods. This should be a fun weekend away, but Nora has her reservations about going. The biggest issue? She hasn't seen or spoken to the bride-to-be in at least a decade. Why does Clare suddenly want to be part of her life again?
After talking with a mutual friend who was also invited to the party, Nora reluctantly agrees to attend. Now, just a couple of days after arriving at the eerie glass house, Nora wakes up in a hospital bed, injured and unable to remember what happened to put her there.
In a Dark, Dark Wood
could easily have been a terrible book. After all, we've all read (and seen) the "weekend in the woods gone wrong" stories about a million times.
Thankfully, Ruth Ware was able to breathe new life into a story that could easily have been riddled with boring clichés. I read most of this book in a single day (and I'm not a very fast reader, so that's pretty impressive for me!). I just couldn't put it down!
While it's not perfect, it's easily one of the best suspense/thriller novels I've read in a while. If you're a fan of that sort of thing, I'd recommend this one.
The Bloodletter's Daughter
by Linda Lafferty - 512 pages - 2 stars
In 1606, Don Julius, the bastard son of Emperor Rudolf II, has been sent to live in a castle in a remote Bohemian village, shut away from the outside world. Believing he needs to be cured of his madness and depravity before he can return to Prague, the Emperor requests the help of a priest and a physician. The physician, in turn, asks a local bloodletter to assist him in purging the young royal of his vicious humors.
When Don Julius meets the bloodletter's daughter, Marketa, he begins to show signs of change. As his obsession with her grows deeper and more dangerous, Marketa, both frightened and fascinated, can't stay away.
The plot (which is based on true events) was the only reason I added this book to my "To Read" list, and
Erin's
book challenge is the only reason I wound up reading it. I'm not usually a huge fan of historical fiction anyway, but I especially have a hard time getting through books that are set hundreds of years ago. Sometimes I like to get out of my reading comfort zone, though, so I decided to give
The Bloodletter's Daughter
a try.
Honestly? I kind of wish I hadn't wasted my time. The writing is mediocre at best, and it reads like a really bad romance story with some rape and supernatural elements thrown in. While I wouldn't say it's the absolute worst book I've ever read, I didn't exactly look forward to picking it up each day either.