As several of you may have seen via
Instagram
, Eric and I had a pretty hellish trip home.
We actually had some trouble on the way to West Virginia as well, but, even though we lost an entire day, it still wasn't as bad as our trip home. (We found out we wouldn't be able to get a flight in due to multiple delays and cancellations while we were still in Omaha. We were able to get placed on another flight out the next afternoon, and then we just went home. Not an ideal start to the trip, but not the end of the world.)
The way back, though? Oh my God. Awful doesn't even begin to describe it!
Our first flight was delayed, and we knew there was absolutely no way we'd make our connection. We worked with someone at the ticket counter, and we somehow managed to get the last two available seats on the last flight from Chicago to Omaha that night.
We thought we were so lucky ... Until our flight to Chicago kept getting delayed. After about 5 hours of waiting for an aircraft, we
finally
boarded and set off for Chicago. Unfortunately, we would no longer be able to make our later flight to Omaha, so we had to get placed on yet
another
flight early the next afternoon.
We were obviously not too happy with the situation, but there wasn't anything we could do. We just decided to suck it up and sleep in the airport that night. (I can now say I've slept in an airport 3 times in my life, and it's just as horrible as it sounds.) We didn't get much sleep that night, but we were kind of like "Whatever!" at that point ... We just wanted to get home.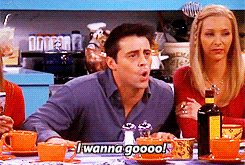 Our first flight out was delayed several times and then cancelled, but we managed to get seats on another flight a little later that afternoon. At that point we weren't too optimistic.
It's a good thing we weren't really expecting to get out of Chicago because they cancelled
every single flight
going out on Monday due to weather.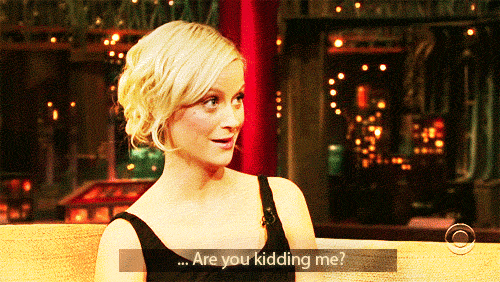 We obviously weren't going to rough it in the airport for yet another night, so we managed to get a pretty inexpensive (yet nice!) hotel in the immediate area with a free shuttle to and from the airport. (I also obviously had to take a picture of the sink in our bathroom because I thought it was really cool. I know, I know ... I'm a dork.)
Before leaving the airport, we secured seats on the first available flight the next day. That flight didn't leave until 8:00 p.m. and it was a flight to Lincoln ... So obviously not ideal at all. (If you're not familiar with my area, the Lincoln airport is about an hour from the Omaha airport. Our checked luggage had supposedly made it to Omaha, so we needed to go to
that
airport to pick it up and to get Eric's car.)
We rented a car, and thankfully Hertz worked with us and got us the best possible deal. (Apparently getting a rental car for a one way trip can cost up to
$150
from some rental companies. Seriously ... We were quoted $150 from one place at the Lincoln airport and we were like, "Are you
serious
?" They were.)
We drove to the Omaha airport, returned the car, (thankfully!) found and claimed our luggage (I guess it had been sitting there for a couple of days), and went to Eric's car. After he scraped off the snow and ice that had accumulated while we were away, we paid our parking fee and finally set off for home.
Words can't even begin to describe how ecstatic we both were to get home. I've never been so happy to take a shower in my own bathroom and sleep in my own bed.
I didn't go to bed until 1:30 a.m. (and I had to work at 7:00 a.m. this morning), but at least neither of us had to miss yet another day of work.
We've had issues with travel before, but never like this. I wish I'd gotten a better picture, but here is a shot of part of the line for United customer service in O'Hare: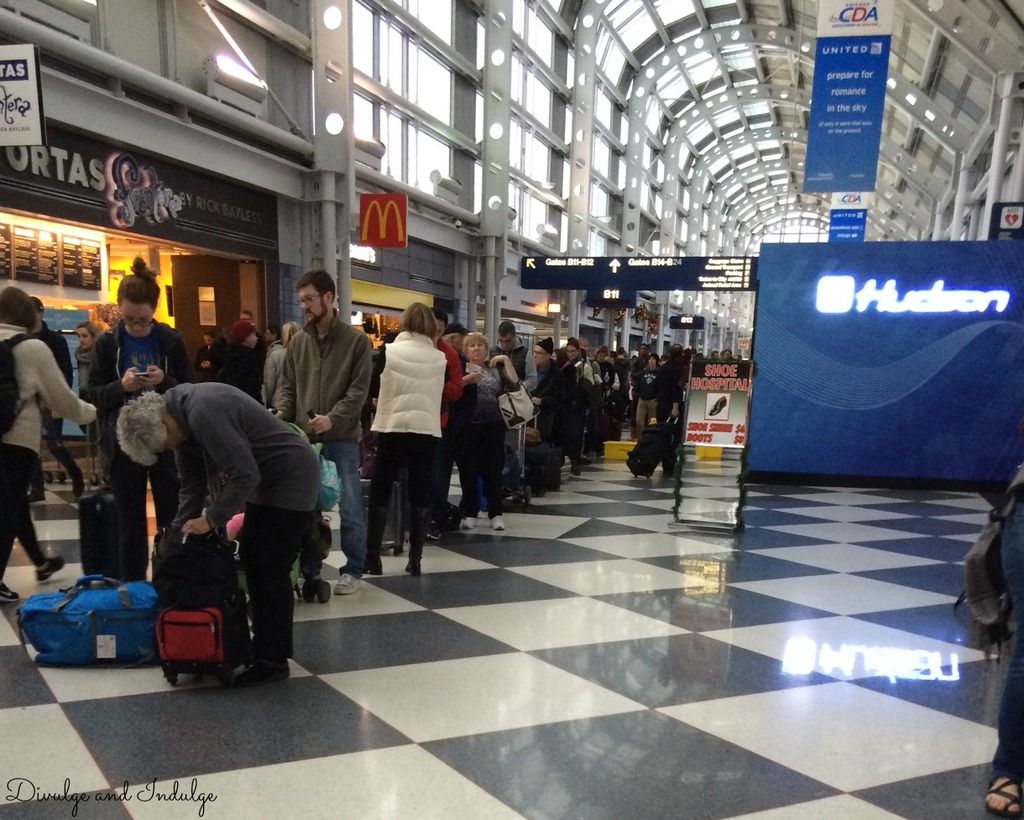 The line extended well beyond that point in both directions. I couldn't even see the end
or
the beginning. We managed to avoid that line entirely by dealing with gate agents and booking our own hotel, but man ... It was insane.
The one bright point in all of this (besides getting to spend time with my family and friends, of course!) was our experience in the United Club lounge. One of my friends had a couple of passes that were going to expire at the end of this year, and since she wasn't going to take any trips to use them, she mailed them to me to use.
We kept putting it off because our flights kept changing so often that we felt like we needed to be near the gates at all times in order to get booked on something else as quickly as possible. (I have no idea how we managed to avoid going on standby!)
By the end of the trip, we were in full on "fuck it" mode, so we spent our last few hours in O'Hare hanging out, eating complimentary snacks and drinking complimentary beer and wine.
While it didn't change our shitty travel experience, it made things a little better.
I'll probably write a little more about our time in West Virginia at some point (that part of the trip was great!), but I just had to share this story now. When we were leaving the Omaha airport last night I turned to Eric and said, "Well, at least I have something to post on my blog!" (Not that I didn't have a few other end of the year posts in mind. Those will have to come a little later, I guess!)