I'm
finally
going to get started with the New Mexico vacation recaps. It only took me almost a month to get around to it ... No big deal.
I love reading vacation recaps on other blogs, but I kind of hate writing my own. While it's fun to relive the fun and interesting things we did (and while I love sharing this stuff on my blog!), it can be kind of a pain to sort through hundreds of photos in order to find a few that will help me tell the story.
I'm also completely relying on my memory (which is probably not the best thing sometimes!) because I failed to write anything down while we were away. I brought a notebook, writing utensils, and my laptop along and wrote exactly 0 words. Fail.
Anyway, I originally thought I'd be able to cram everything into one post. After thinking about all of the things we did and looking through all of the pictures, though, I decided to break it up. It just felt more manageable that way.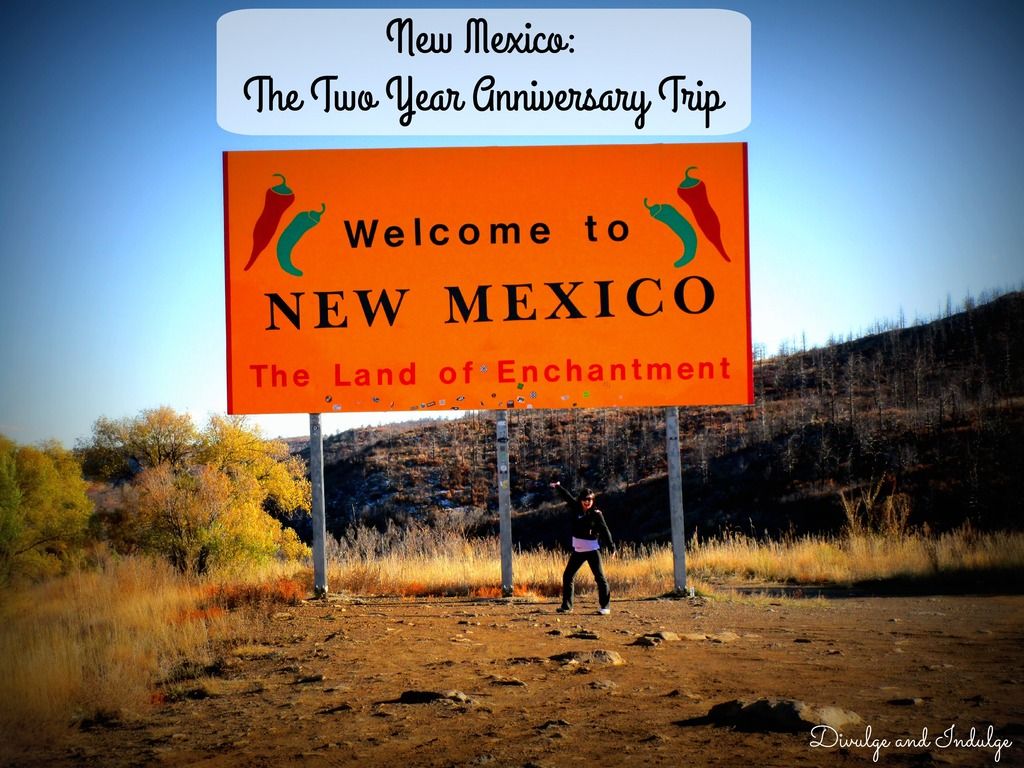 Today's post is going to focus on our experience at our bed and breakfast. We had such an amazing time there that I felt like it deserved its own post. (And please note: this is
not
a sponsored post. Eric and I just genuinely loved
The Chocolate Turtle
, so I wanted to spend some time talking about it.)
The Chocolate Turtle is in Corrales, New Mexico, which is a small town/village just outside Albuquerque. The location is perfect: the area is quiet but still close to a lot of restaurants and shopping. And this is the view from the backyard: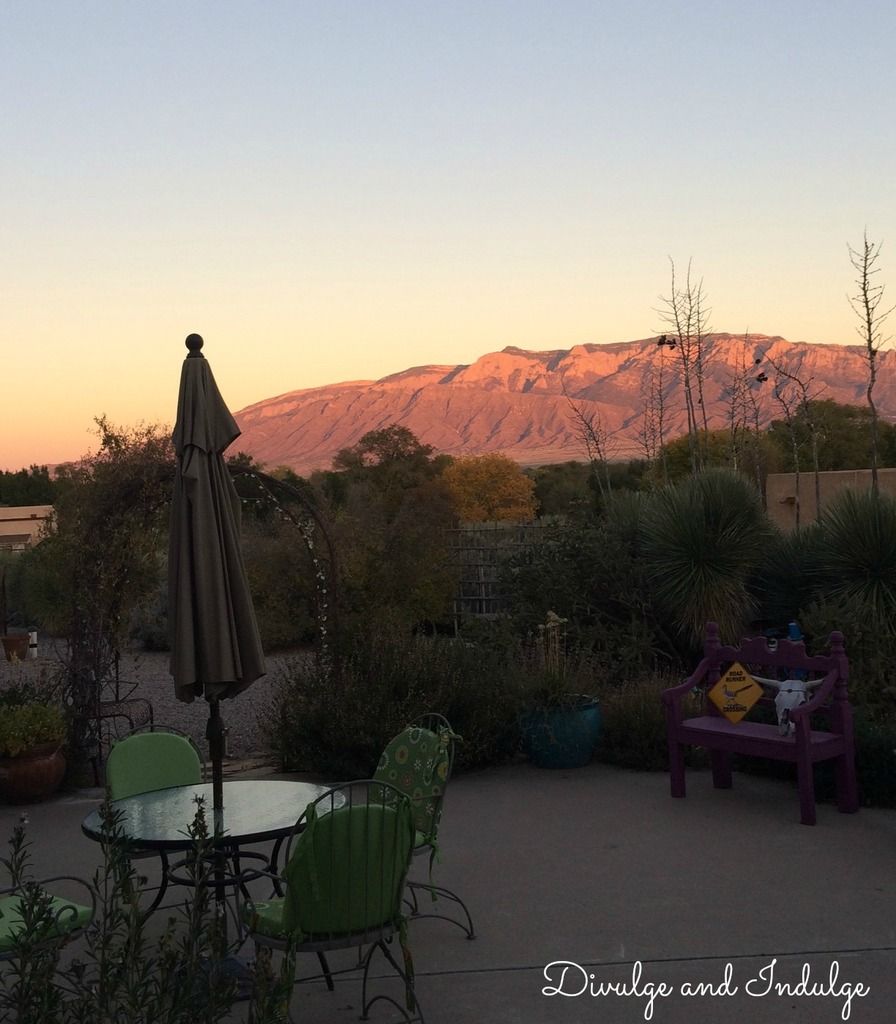 See? Perfect.
The owners, Keith and Denise, are the exact type of people who should be running a B&B. They're friendly, full of useful (and interesting!) information about the area, and they make delicious breakfasts each and every morning. It honestly felt more like staying with friends or family members than staying in a hotel.
Every day they served freshly baked cookies, and also kept an assortment of free candy, soda, coffee, and tea available to guests throughout the day. On busier days we didn't take advantage of it, but we spent our entire Sunday afternoon at the B&B (Eric watched football while I read) and it was really nice to have drinks and snacks right there (especially since it didn't cost $5.00 or something ridiculous for a can of soda like it would if we utilized a hotel minibar). In addition, they left a couple of chocolate turtle candies in our room each day when they cleaned. That was always a nice thing to come back to!
And the breakfasts ... Oh my God. They were phenomenal. I'll just let the pictures speak for themselves.
Morning 1: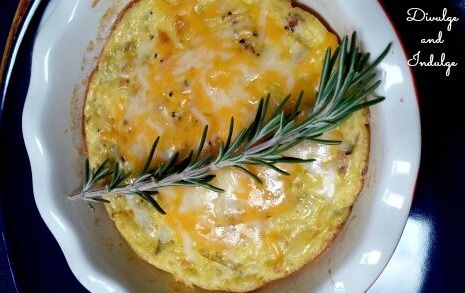 Cheesy egg bake with green chiles and fresh rosemary from the garden. (Not pictured: biscuits with red chile raspberry jam, fresh fruit, and sausage.)
Morning 2:
Orange crusted French toast. (Not pictured: fresh fruit.)
Morning 3: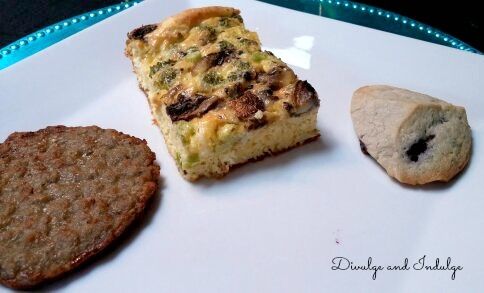 Crustless mushroom and broccoli quiche, sausage, and homemade blueberry scones. (Not pictured: fresh fruit.) I just need to take a minute here to say that I don't even like mushrooms, and I thought this quiche was delicious. And those scones? So amazing and buttery and perfect. I think I ate at least three of them.
Morning 4:
Huevos rancheros with a homemade red chile sauce, sausage, and fresh fruit. Keith was so accommodating that morning! We didn't get back from our hot air balloon ride until about half an hour after breakfast had been served, but he told us he'd make plates for us if we were willing to wait about 20 minutes. This was worth the wait!


Morning 5:
Hashbrown and egg scramble with fresh salsa, bacon, and chocolate filled buns.
The tables were set beautifully each morning as well, with unique dishes and table accessories. I loved all the extra little touches! The picture below shows my favorite table setup: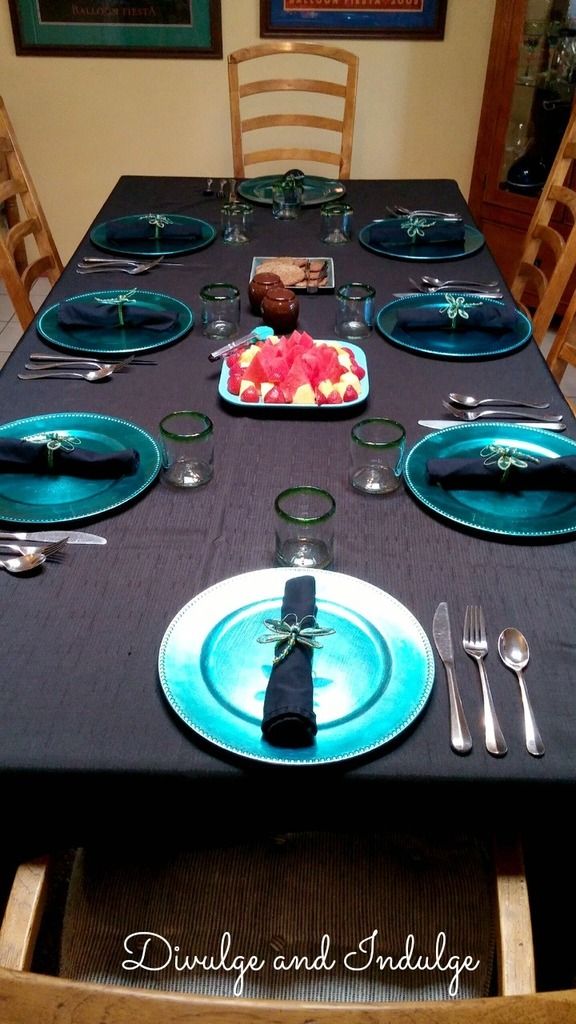 Don't worry, I'll be devoting another post to some of our other meals. We had some really awesome food while we were gone!
The food and owners weren't the only amazing things about The Chocolate Turtle, though. The rooms were clean and decently sized, and each room had its own bathroom (an absolute must for us if we're going to stay in a B&B!).
We opted for the Quail Room when we made our reservations, mostly because of the adorable little guy you can see in the picture below: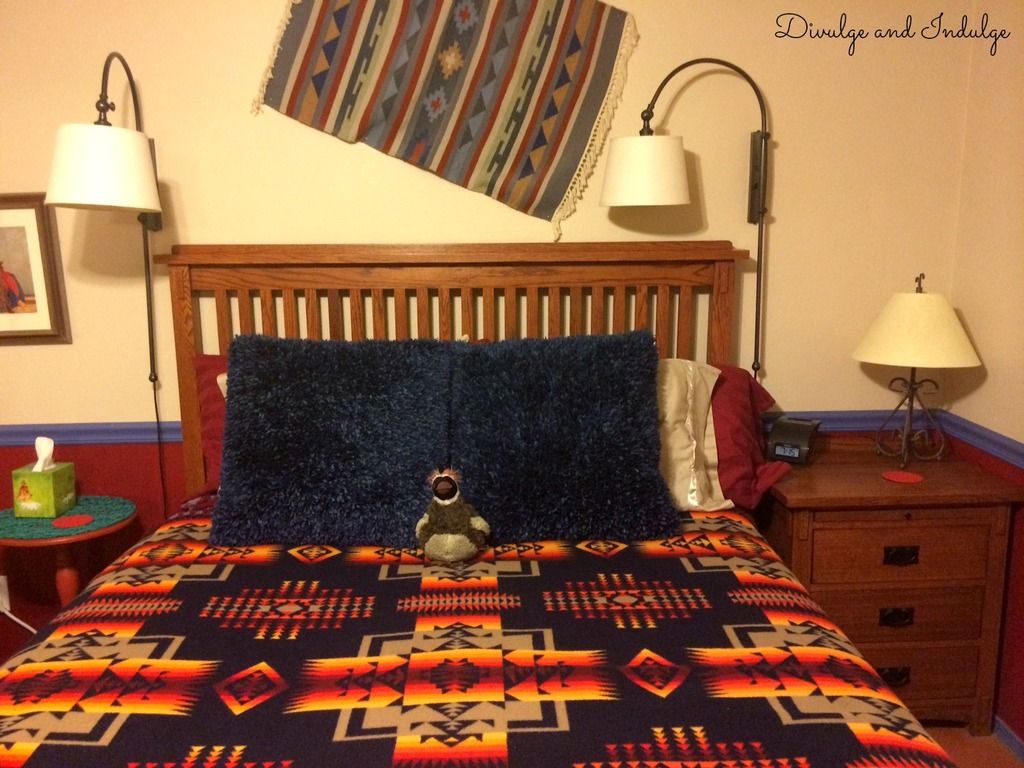 They actually moved the stuffed quail around the room each day when they cleaned, so it was kind of fun to search for him each day.
The bathroom was stocked with the essentials, including face towels specifically labeled for makeup removal. (I thought that was a nice touch, especially since I wear black eyeliner and black eyebrow pencil and generally like to avoid getting that shit all over nice towels.)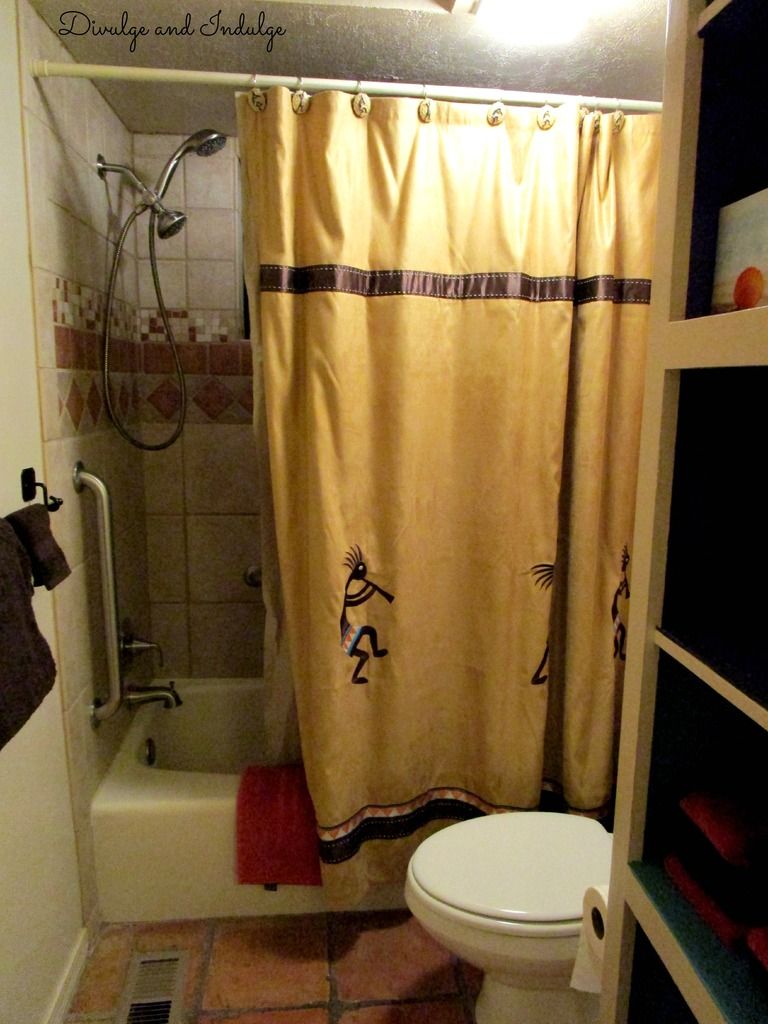 The owners also had two pets, a dog named Zorro and a parrot named Rico. I didn't get any pictures of Rico because he wasn't out as often as Zorro, but I got a picture of Zorro on our lazy Sunday afternoon when he was hanging out with us in the common area: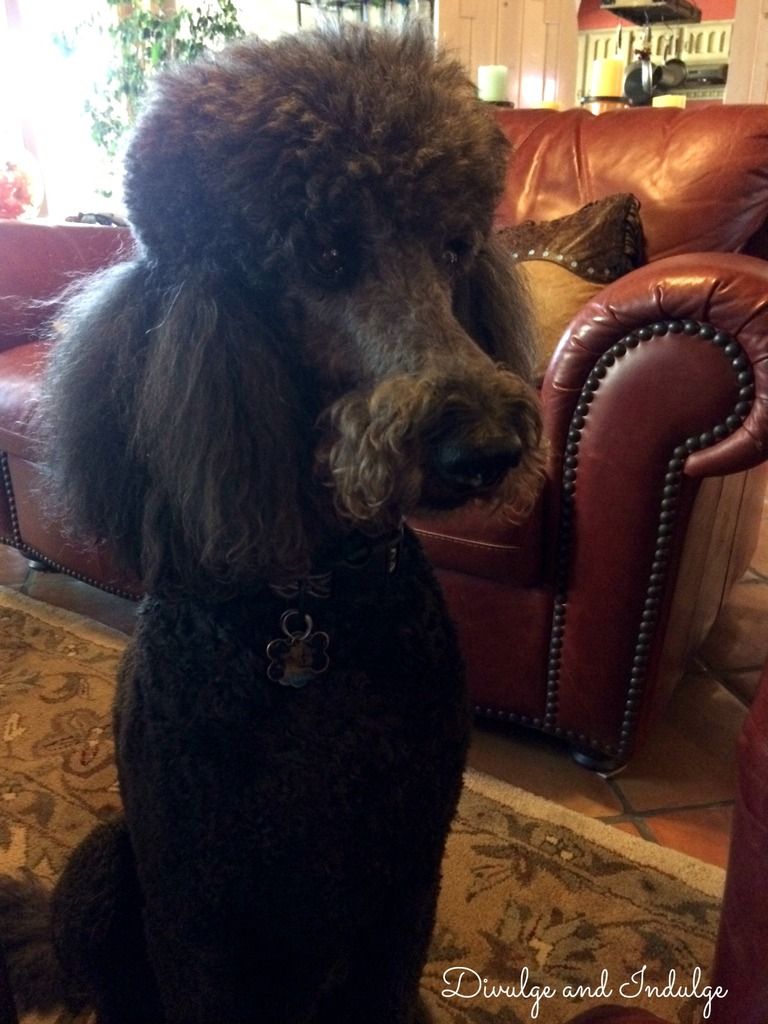 He was such a sweetheart!
I don't think we could have asked for a more beautiful or comfortable place to stay. (And it was very affordable, which is also a must for us when we're traveling!) We honestly didn't want to leave!

I would highly recommend staying here if you're planning a trip to the Albuquerque area. In fact, Eric and I have already discussed maybe trying to get our families together (even if it's just our parents and us) and renting out the place for another vacation. (There are only 4 rooms, so that wouldn't be too difficult to do, especially if any of our other family members came along.) I don't know when that will happen (or if it will happen), but I think it would be a really nice getaway for everyone.