I planned to share another post about my New Mexico trip last week, but time just got away from me. This last weekend was also insanely busy with in-law family stuff, but I managed to find a little time on Sunday night to answer emails I'd let pile up for too long, take care of some laundry that I'd also allowed to pile up for too long, and work on a couple of blog posts for this week. Unfortunately, I didn't quite get this post finished in time to publish it on Monday. Oh well. Wednesday's just as good.
One of our first stops on the trip was a local winery. There are actually quite a few wineries in the Corrales/Albuquerque area, and, even though we did a little research before we left, we weren't sure which one we should visit.
We'd never visited a winery before, and I'm so glad this was our first experience! The bartender was very knowledgeable and very nice. We like drinking wine, but we're definitely not wine connoisseurs. We asked our bartender a lot of questions, and he was really great about answering them.
We were able to try all of the wines that Casa Rodeña offers during our tasting. I generally prefer white wine, but the reds were actually pretty good as well (for the most part, anyway).
After our tasting, Eric and I decided to order a glass of wine each and enjoy the beautiful scenery in the back of the tasting room.
We also left with 4 bottles of wine. (Though, to be fair, two were for us and two were gifts.) I was really glad we decided to drive ... It definitely made it much easier to cart them home!
There was also an adorable little church in the center of Old Town, so of course we had to get a few pictures:
If you hate snakes, you might want to skip over the next few pictures.
Before we left for our trip, we weren't sure if we were going to drive to Santa Fe and/or Roswell while we were in the area. Roswell was about 3 hours or so away, and Santa Fe was only about an hour.
On the drive down, we decided we didn't want to spend a huge chunk of our time away in the car, so we opted not to go to Roswell. We still weren't sure about Santa Fe, but everyone we spoke to at the B&B and in the shops (everyone was incredibly friendly and wanted to know all about us and where we were from) asked if we were going to Santa Fe during our time in New Mexico. After probably the third or fourth person asked, Eric said, "Well, I guess we're going to have to go to Santa Fe since everyone keeps talking about it!
I'm so glad we took the time to drive there. As you can see from the picture above, it was absolutely beautiful.
I wish we could have taken pictures in the special pinhole photography exhibit at the New Mexico History Museum because it was my favorite thing. The photos were surreal and haunting and disturbing, and it was amazing to think that these images were created from something so low tech.
We did, however, take some random pictures of the scenery (and ourselves), so I'll share a few of those: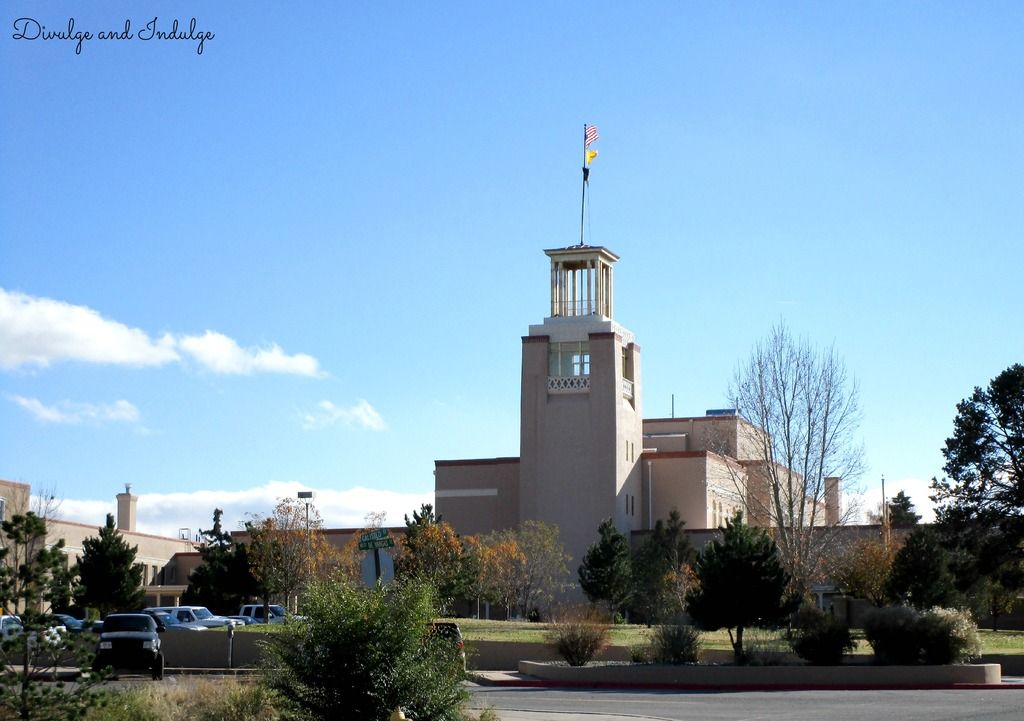 Santa Fe was a really cool place. Like I said, it was definitely worth the extra drive time!
I'm not a huge history buff, but this museum was really interesting and I felt like I learned a lot. There was a ton of information about the Manhattan Project, the Cold War, nuclear medicine ... The list could go on and on. And, I'm not going to lie, I teared up while I was reading about and looking at pictures from the bombings in Hiroshima and Nagasaki. Horrifying stuff.
Anyway, I don't want to end on such a sad note, so instead I'll share a couple more pictures and then call it a day.
I know this was a really long recap, so if you made it to the end, I think you're awesome (and thanks for reading!)! If not ... That's okay too. I know I can ramble on and on sometimes!