The best time of the month is when the Show Us Your Books! link-up with
Steph
and
Jana
rolls around and I can share my thoughts about the books I've read recently (and add a bunch of books to my neverending "To Read" list, of course!).
I have a lot of books to talk about today, so I'll just get right to it.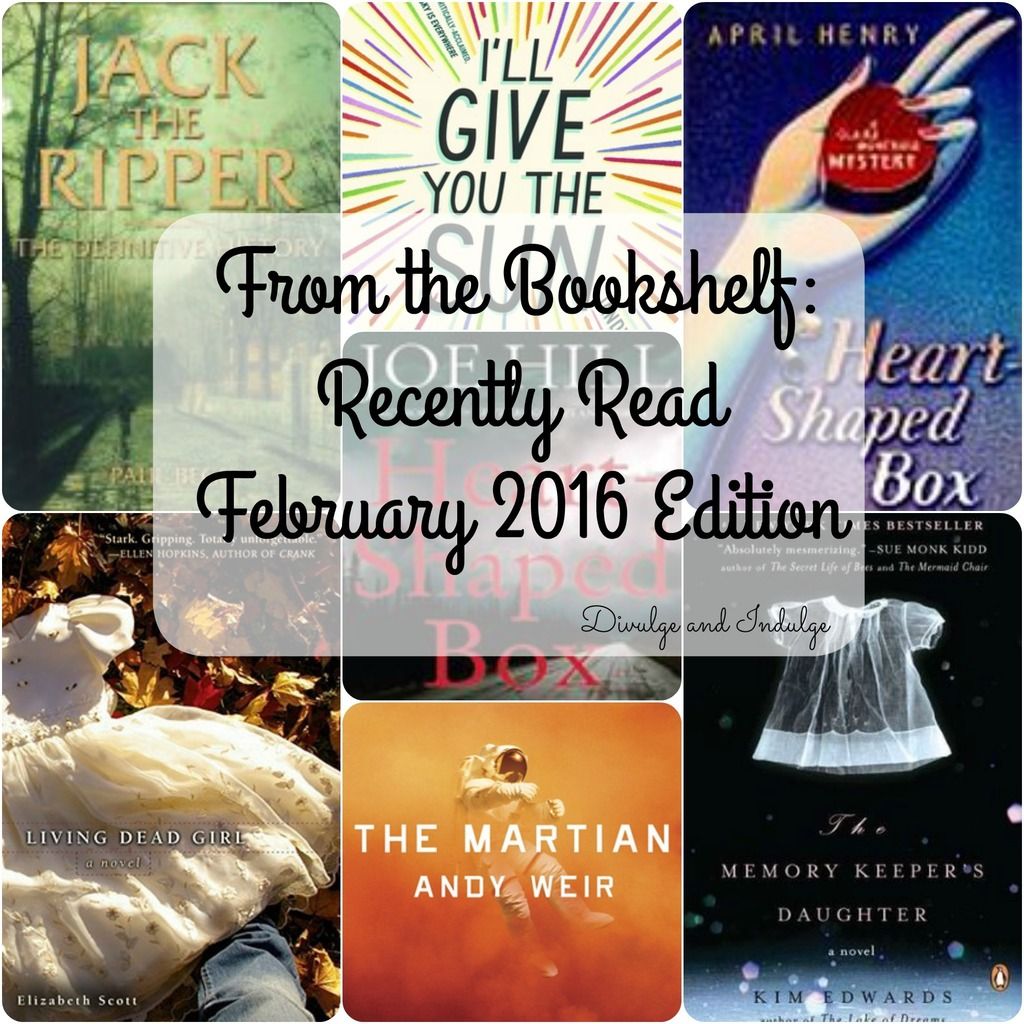 Jack the Ripper: The Definitive History
by Paul Begg - 302 pages - 2 stars
Last month
I talked about an awful book I read for the
Semi-Charmed Winter Book Challenge
called
Mayhem
. After I finished it, I immediately began the nonfiction accompaniment because I wanted to make sure I actually completed this category and got my 30 points. If I had to suffer through
Mayhem
, I was going to make sure it was worth it!
Nonfiction isn't my favorite thing to read, but I do occasionally pick up a true crime book or a memoir. Since I've read a fair amount of true crime, I expected
Jack the Ripper: The Definitive History
to be at least somewhat similar to the other books I've read. I mean, obviously there wouldn't be sections devoted to the discovery, arrest, and trial, but I still thought it might have some of the same qualities.
I was wrong.
It's not that I expected it to be written like a story ... I didn't. Although some true crime writers choose to share their material in this way, I expected this book to be written a little more like an extensive magazine or newspaper article. Instead, there were chapters that made me feel like I was reading a history textbook: it was just a barrage of dates and times and locations and names. It felt like it took
forever
to get through it.
That being said, it wasn't an awful book. It was pretty well researched and I felt like I learned a lot. Begg not only discussed the murders and possible suspects, but also the political and social climate in London at that time and exactly why the story of Jack the Ripper is so famous to this day. And, while it wasn't the best thing I've read lately, it was (thankfully!) much better than the fiction I chose for this challenge category.
Living Dead Girl
by Elizabeth Scott - 170 pages - 3 stars
When she was 10 years old, "Alice" (as she is now called) was kidnapped. Now, five years later, Alice still lives with her captor, Ray, in an apartment complex just a few hours from her childhood home. Forced to endure unimaginable abuse, she finds herself wishing for death more and more often. But Ray has something even more horrifying in mind for her.
Living Dead Girl
is a dark, fucked up book. If that's not your thing, you won't like this at all. If, however, you're like me and enjoy disturbing books, it may be worth checking out. (And at only 170 pages, it's a quick read!)
My biggest issue with this book was that it was written as though it was for very young readers. Yes, it
is
a YA novel, but the subject matter clearly isn't for those on the younger side of the intended YA audience ... So I thought it was kind of strange that it was written in such basic, simple language. And, while the book wasn't bad, it felt like it was lacking in some ways.
This book had been on my "To Read" list for years, so I was happy I was able to use it for the
Semi-Charmed Winter Book Challenge
. The simplistic writing didn't really work for me, but I thought the story was good overall and I really appreciated the ending.
I'll Give You the Sun
by Jandy Nelson - 371 pages - 5 stars
I'll Give You the Sun
follows Jude and her twin brother, Noah, at two very different points in their lives.
At 13, the twins are nearly inseparable. This part of the story is told from Noah's point of view, and we're introduced to an awkward young teen desperately trying to figure himself out. He finds escape in both his artwork and in Brian, the intriguing boy next door who sparks feelings inside Noah that he didn't know existed.
By the time they're 16, everything has changed. This part of the story is seen through Jude's eyes, and we learn that the once beautiful and confident girl we met at 13 is now completely closed off and awkward. She and Noah are barely speaking, and she's filled with so much misery and regret that she's become a shell of her former self.
This book made me feel the way
The Sea of Tranquility
(a book that made it onto my
Best Books of 2015
list) made me feel. Although the stories were different in so many ways, they both have some similar themes (most notably broken characters attempting to find a way back to themselves). They also both made me cry, though that may not be saying much since I'm super sensitive/emotional and tend to cry over a lot of books, music, movies, etc.
I loved so many things about this book, and I was so happy that I finally read a book worthy of 5 stars this year! One of my favorite things about it was the fact that it wasn't a book filled with a bunch of fluffy, feel good stuff ... Yet still managed to warm my heart and make me feel a ton of very intense emotions.
This should definitely be added to your "To Read" list (if it's not there already)! I have a feeling I won't be forgetting this story anytime soon.
Heart-Shaped Box
by Joe Hill - 376 pages - 2 stars
Judas (Jude) Coyne is an aging rock star known not only for his heavy metal hits but also for his extensive collection of macabre oddities. When he finds a ghost for sale in an online auction, he decides he has to have it.
When a black heart-shaped box arrives in the mail, it contains a dead man's suit ... And his vengeful spirit. Convinced that Jude is responsible for his stepdaughter's suicide, the ghost will stop at nothing to kill Jude and anyone who tries to help him.
I had high hopes for this book, and it had been on my "To Read" list for years. Unfortunately, it didn't live up to my expectations.
The good: numerous references to musicians I like (Trent Reznor/Nine Inch Nails and Nirvana in particular). The bad: pretty much everything else.
I'll admit that I listened to the audiobook, and this may have influenced my review. This was my first audiobook, and it's likely going to be my last. I just don't think they're for me. The only good thing about it was that I was able to get through the book very quickly. (I started it on a Saturday and finished it the next day ... Ah, the perks of having a weekend free of any plans!)
That being said, I don't think listening (as opposed to reading) was the only reason I didn't enjoy this book. I'll discuss my reasons further in my more in-depth review (that post will go up on Sunday), but here's a general summary:
I didn't care about the characters or what happened to them. I didn't think the book was scary at all, and the way the plot unfolded wasn't enough to keep me entertained. I also felt like the story was littered with too many cliches, and I found myself rolling my eyes a
lot
(like when they used a Ouija board to contact the dead, for example).
It wasn't the worst book I've ever read, but I was really hoping for something better.
The Martian
by Andy Weir - 369 pages - 4 stars
I'm pretty sure everyone knows what
The Martian
is about, but just in case here's a quick summary:
Mark Watney's crew was forced to evacuate Mars after a major dust storm. The only problem? They left him behind. Injured and unconscious, Mark eventually wakes to the reality that he's literally the only person on the planet. Left without any way to contact his crew (or anyone else, for that matter) and a limited supply of food and water, Mark is forced to get creative in order to survive.
Before I even started this book, I assumed I'd probably enjoy it. While I'm not a huge science fiction fan, a ton of my favorite bloggers also raved about it (including many others who wouldn't classify science fiction as one of their favorite genres). And, since I've enjoyed a lot of their recommendations in the past, I knew I'd probably like this one as well.
The Martian
mostly lived up to the hype for me, but I did have a couple of issues with it.
The biggest problem for me was the fact that almost every chapter seemed just like the chapter before it with a few slight differences. Yes, there were a few sections that showed what was happening back on Earth or what was happening with Watney's crew, but, for the most part, it was Watney finding himself in bad situations and trying to figure a way to get out of trouble. Given the circumstances, I'm sure that's pretty realistic (well, as realistic as a science fiction book can be), but it just got old after a while.
Although it wasn't a perfect book, I liked it overall. The story was compelling, and I really liked the character of Mark Watney. It's not a great work of literature that people will discuss in classrooms for years to come, but it's not trying to be. It's the kind of book you pick up because you simply want to be entertained.
Heart-Shaped Box
by April Henry - 261 pages - 3 stars
When she checks into a hotel for her 20th high school reunion, Claire Montrose receives a mysterious package containing a small wooden heart-shaped box. Inside the box she discovers a picture of herself from her high school yearbook.
She doesn't think much of it until an identical box is found in the hand of one of her classmates ... A classmate who has been strangled to death in the parking lot.
The murdered woman had a lot of enemies, but Claire can't shake the thought that the box may be some sort of clue to the killer's identity. When several other women admit they also received heart-shaped boxes, she has to wonder: is the killer marking his victims? And will she be next?
This was the final book I finished for the
Semi-Charmed Winter Book Challenge
. To be perfectly honest, I would never have picked it up otherwise. I love mysteries/thrillers, but based on the reviews on Goodreads, I didn't get the impression that this book was very good.
Since I initially thought I wouldn't like it much at all, I may have been a little generous with my rating. It didn't have the types of twists and turns I like in a mystery, and I knew who the killer would be very early on. But, while I wouldn't necessarily recommend it, it wasn't so awful that I feel like I completely wasted my time reading it.
The Memory Keeper's Daughter
by Kim Edwards - 401 pages - 4 stars
When his wife goes into labor during a blizzard in 1964, Dr. David Henry has no choice but to deliver the baby. He's surprised to learn that she's pregnant with twins (a boy and a girl), and even more surprised to learn that while his son appears to be perfectly healthy, his daughter has Down syndrome.
Believing she will likely suffer from heart complications and die at an early age, David asks his nurse, Caroline Gill, to take the baby to an institution. After seeing what a terrible place this would be for a child, she decides to leave town, keep the baby, and raise her as her own.
What follows is a story that spans 25 years in the lives of two families, forever linked by a secret.
This isn't the type of book I normally go for (and, in fact, I only read it because I chose it for
Erin's book challenge
), so I was surprised to find that I enjoyed it so much. Although the author spent a bit too much time on frivolous details and descriptions, she managed to create an intriguing story with very flawed, realistic characters.
I loved the idea of a family haunted by secrets and heartache, and the complex ways in which a single decision can affect the lives of several people (particularly when the lines of communication are practically nonexistent). These types of stories always interest me, and this was no exception.
I didn't love everything about
The Memory Keeper's Daughter
(there will be more on that in my detailed review, which will be posted this Sunday), but I thought it was a good book overall.