I wanted to link up the day this bonus edition of Show Us Your Books! with
Steph
and
Jana
went live, but, as some of you know by now, getting stuck in Chicago for two days derailed any plans I had for writing blog posts (or doing anything productive, really).
When it comes to reading, 2015 was a huge year for me. I'd been saying I would read 50 books in a year for at least 10 years, but I never managed to hit my goal. But last year?
59 books
! I still can't believe I not only met my goal, but exceeded it. (It even inspired me to set my goal a little higher this year at 60 books!)
Because I read so much last year, I came across my share of amazing books (and a few duds). It took some time for me to narrow down my favorites, and I put a lot of thought into it.
The books I chose for this list aren't necessarily the books I rated 5 stars on Goodreads. While several of these would definitely fall under that category, I tried to pick books I'd recommend to others with little to no hesitation. (I say
little
hesitation because, let's face it, I read some pretty fucked up books sometimes, and I realize that some things just aren't for everyone).
I also tried to pick the books that stuck with me long after I turned the last page, whether it was because they made me see things in a new way, brought a lot of emotions to the surface, or were just
that
good.
These books are listed in the order in which they were read. If you click the link in the title, you'll be taken to my original review.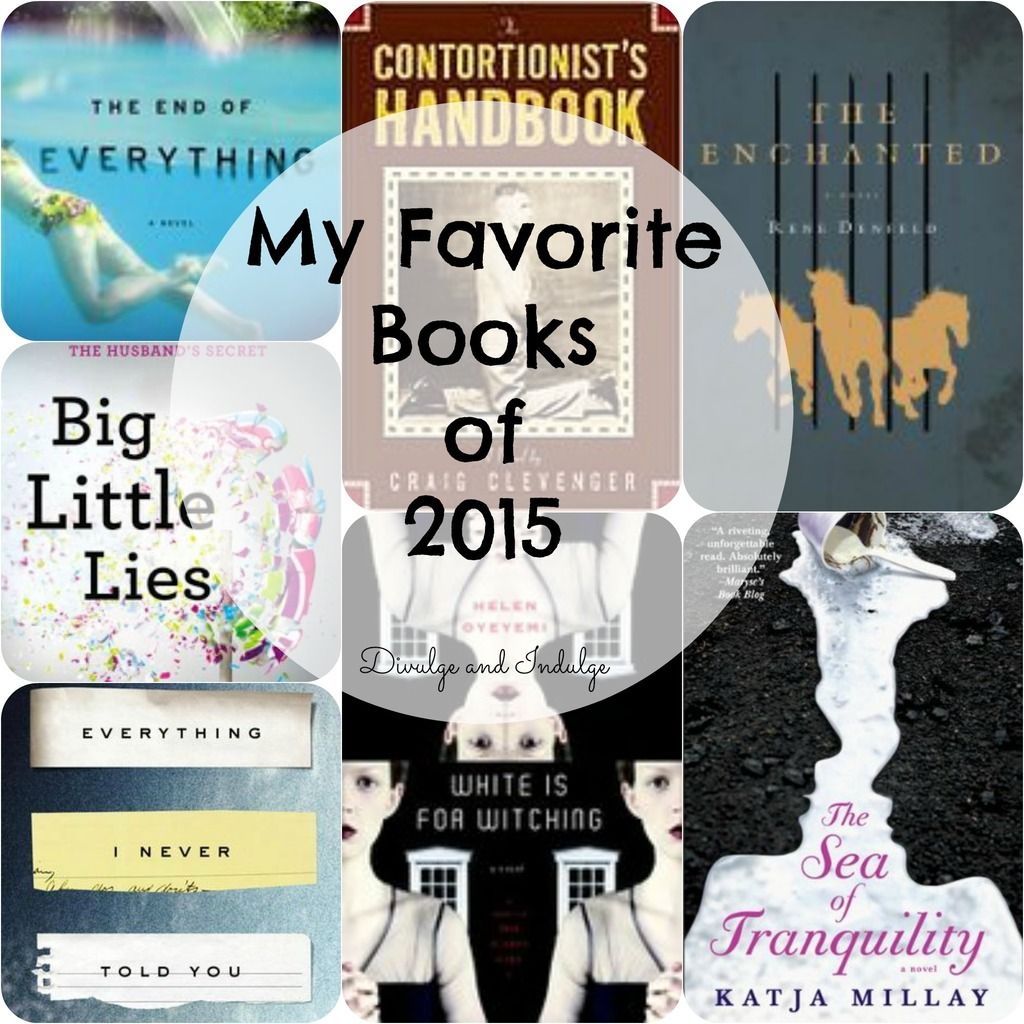 1.
The End of Everything
by Megan Abbott
This was the first book I read in 2015, and, after feeling stuck in a reading rut for several years, I credit
The End of Everything
for reigniting my passion for reading. This is one of those "not for everyone" books: a 13-year-old girl is abducted by a much older man, and her best friend is left to try to piece together exactly what happened and why. But, while it could be disturbing at times, it was a beautifully written story.
2.
The Contortionist's Handbook
by Craig Clevenger
I occasionally reread books I really enjoyed, but I'm often disappointed the second time around. It says a lot, then, that I loved
The Contortionist's Handbook
just as much last year as I did when I read it about 8 years prior. The main character is a master of forgery who constantly needs to reinvent himself in order to escape mental institutions and legal authorities, and the story completely sucks you in from page one.
3.
The Enchanted
by Rene Denfeld
If you're looking for a lighthearted, feel good kind of book,
The Enchanted
is not it. This book was heartbreaking and beautiful and tragic and horrifying. Set in a prison (more specifically, death row), the story is told from the point of view of a nameless, mute death row inmate who seems to see and know everything that goes on within the walls of the prison. I've never read anything quite like it.
4.
Big Little Lies
by Liane Moriarty
When I dread going into work because I don't want to put a book down for 8 hours, I'm clearly really into it. It definitely lived up to the hype for me, and I loved that I wasn't able to completely figure everything out before it was revealed. (I love when an author can surprise me with his/her plot twists!) I think most people have probably read this book already, but if you haven't, you should.
5.
White is for Witching
by Helen Oyeyemi
This book had been on my "To Read" list for years, and I'm so glad I finally took the time to read it. The unconventional writing style may not be for everyone, but I thought it was almost poetic. Haunting, heartbreaking, and, at times, unsettling,
White is for Witching
tackles themes of family relationships, fear, alienation, and race (among others). It's not an "easy" read, but it's fantastic.
6.
The Sea of Tranquility
by Katja Millay
I haven't gotten around to reading everyone else's "Best Of" lists for 2015 yet, but I'm about 99.99% sure this book has popped up on a ton of them. It's just such a great story about first love and second chances featuring damaged yet realistic characters that you really fall in love with. I didn't expect to be hit so hard emotionally with this book, but I was a sobbing mess by the time I reached the end. I've been recommending this book to tons of people in real life, and, if you haven't read it already, I'd recommend it to you as well.
7.
Everything I Never Told You
by Celeste Ng
This powerful, beautifully written story of a family living in small town Ohio in the 1970s was yet another book that reduced me to tears. The characters were all dealing with some major issues, but it never felt over-the-top. Instead,
Everything I Never Told You
felt very real ... And it was brilliant. I loved everything about this book.
I tried to be very selective with my choices, so I left off quite a few books that I really enjoyed but wouldn't necessarily list as my absolute
favorites
of the year. I decided to make a quick list of the books I thought were really awesome, but not quite good enough to make the final cut.
Again, these are listed in the order in which I read them, and the link in the title will take you to my original review.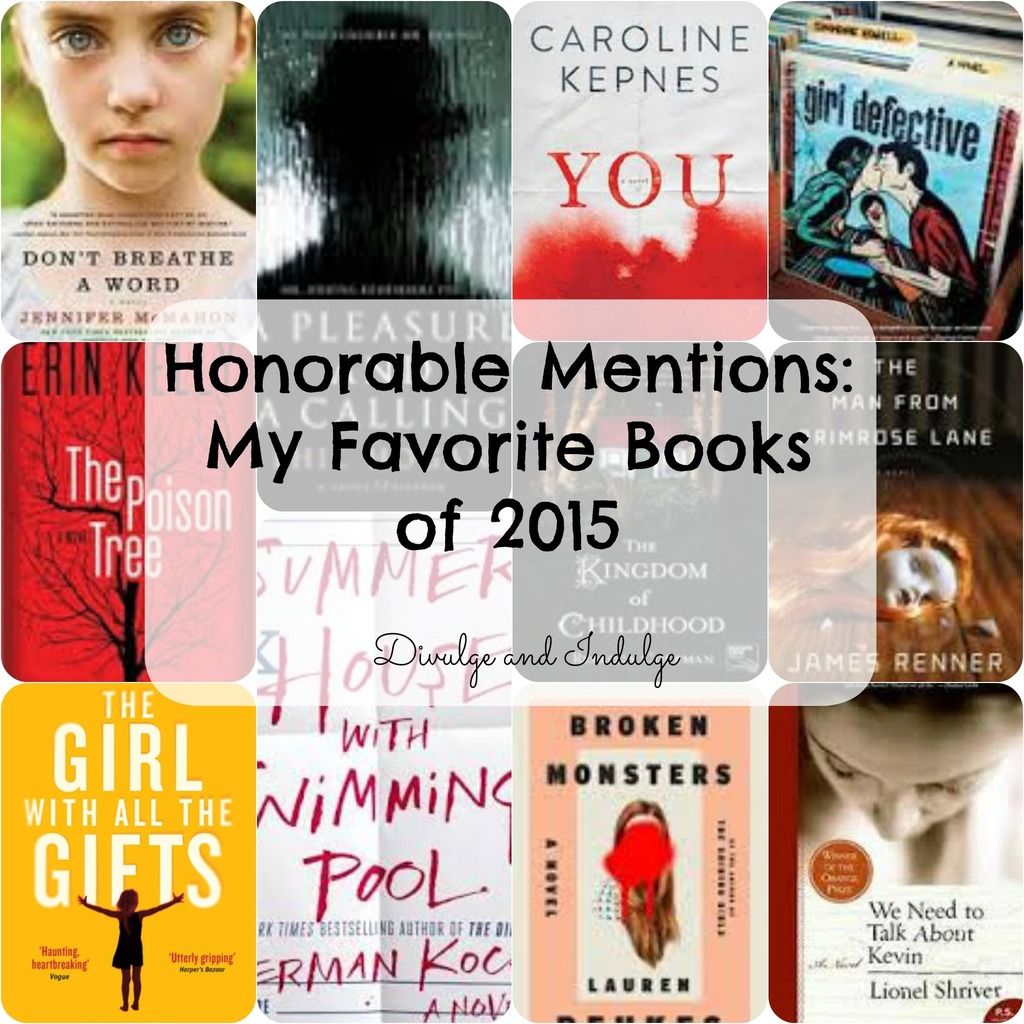 1.
Don't Breathe a Word
by Jennifer McMahon
2.
The Poison Tree
by Erin Kelly
3.
The Girl With All the Gifts
by M.R. Carey
4.
A Pleasure and a Calling
by Phil Hogan
5.
Summer House With Swimming Pool
by Herman Koch
6.
You
by Caroline Kepnes
7.
The Kingdom of Childhood
by Rebecca Coleman
8.
Broken Monsters
by Lauren Beukes
9.
Girl Defective
by Simmone Howell
10.
The Man From Primrose Lane
by James Renner
11.
We Need to Talk About Kevin
by Lionel Shriver (review coming soon)