For years I've been on the hunt for the perfect chili recipe. I've made quite a few versions that I thought were really delicious (including this
Cheesy Hash Brown Chili
I posted last year which is still one of my absolute favorite ways to prepare chili), but I still find myself looking for new and interesting variations.
And, while I wouldn't call this the "perfect" chili recipe, it's pretty damn good. The extra bit of flavor from the beer really set it apart from the other chilis I've made in the past, and, as an added bonus, it cooks in the crockpot all day and makes your house smell
amazing
.
One of the best things about this chili, though, is the fact that it falls under the "set it and forget it" category. You can literally dump all the ingredients in the crockpot, give them a couple of good stirs, and then let it cook for a few hours. And, I don't know about you, but I
love
recipes like that!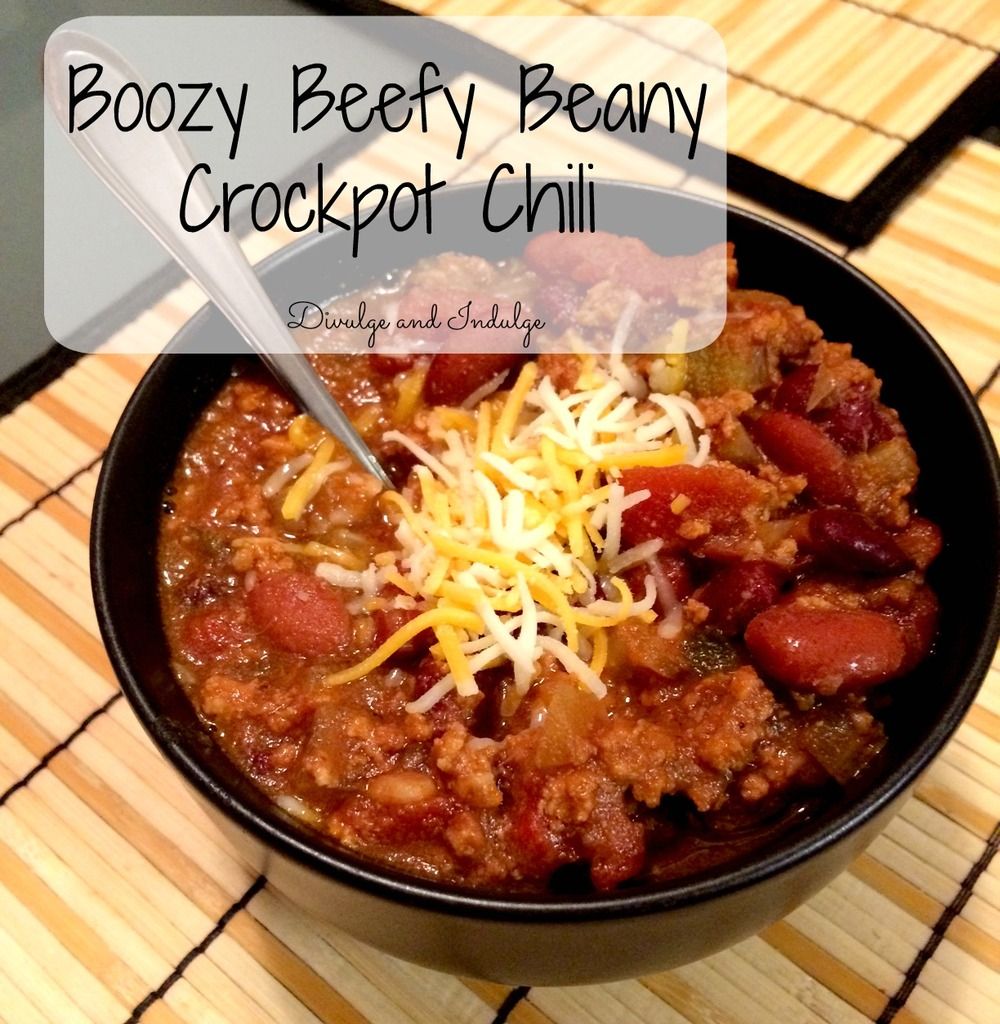 Boozy Beefy Beany Crockpot Chili
Adapted ever so slightly from a recipe on
Gimme Some Oven
.
Ingredient List:
1 lb lean ground beef
1 medium red onion, diced
1 15 oz. can dark red kidney beans, rinsed and drained
1 15 oz. can light red kidney beans, rinsed and drained
1 14 oz. can diced tomatoes with their juices
1 4 oz. can diced green chilies
1 jalapeño pepper, diced
1 cup beer (I used Lucky Bucket lager, which is from a local brewery. I say use whatever you'd normally drink, or whatever you'd normally use to cook with if you're not a fan of beer.)
2 tbsp chili powder (I know this seems like a lot, but I find that when I use the crockpot the flavor sometimes cooks out a bit. If you're unsure, add less. You can always add more later if you taste the chili and find it's not spicy and/or flavorful enough!)
1 tbsp chipotle chili powder
1 tbsp cumin
1 tbsp Mexican oregano
1 tbsp garlic powder
2 tsp black pepper
1 tsp sea salt
Instructions:
1. Spray the inside of the crockpot with cooking spray.
2. Crumble the ground beef into the crockpot. (If you want to cook this beforehand, you can. I didn't, though, and I thought this turned out perfectly fine. It's really up to you and what you're comfortable with. I would, however, caution against using anything less than 90% lean if you're planning to just dump it into the crockpot without cooking it ... You don't want the chili to be overly greasy!)
3. Add the red onion, dark red kidney beans, light red kidney beans, diced tomatoes with their juices, diced green chilies, and
jalapeño
pepper.
4. Sprinkle in the chili powder, chipotle chili powder, cumin, Mexican oregano, garlic powder, black pepper, and sea salt. (Again, if you don't want to use such large amounts of some of these spices, cut the amounts down to whatever you're comfortable with. Like I said above, you can always add more later if you don't think it's enough!)
5. Pour in the beer, then mix the ingredients together.
6. Cover and cook the chili on low for 6-8 hours or high for 3-4 hours.
7. Taste the chili and add additional seasoning if necessary. When serving, add any of your favorite toppings: cheese, sour cream, tortilla chips, crackers, etc.
I don't think this chili is overly spicy, but it has a nice amount of heat from the jalapeño and two types of chili powder and some smokiness from the chipotle chili powder. Eric isn't a fan of incredibly spicy food, and he gobbled this up ... So I think it's probably okay for most people.
If you're concerned that it will be too spicy, though, you can easily tweak the recipe to fit your tastes. That's one of the best things about chili ... It can easily be customized!