I've decided to do a few things differently this year when it comes to the Show Us Your Books! link-up with
Steph
and
Jana
.
The simplest change is that I'm actually going to get my post up on Tuesday. I always gave my Tasty Tuesday posts priority over my book posts, but I don't think it's a huge deal if I skip a week each month. (And hey, less pressure on me to always have enough new and interesting recipes to share!)
The other, more major change is the way I'm writing my reviews. I can ramble on and on when I talk about books (or really anything, as I'm sure you can tell from this introduction), but I feel like my crazy long reviews probably turn a lot of potential readers off.
The point of this link-up is to share what we've read and maybe find some new bloggers to follow along the way. If I post huge blocks of text, no one will give a shit about what I've read because they won't want to read the longest blog post ever. (And, clearly, that's not a good way to gain new followers either.)
I'm not abandoning lengthy reviews completely, though, so if you actually enjoy my more in-depth reviews, I'll still be posting them ... I just won't be posting them on Show Us Your Books! day. Instead, I'll post them on the Sunday following this link-up. So if you're interested in hearing more about any of these books, please check back then.
I know that was a long introduction, and I promise I won't be writing that much every time this link-up rolls around. I just wanted to talk a little about the changes I'm making (and why I'm making them).
Okay, on to the good stuff!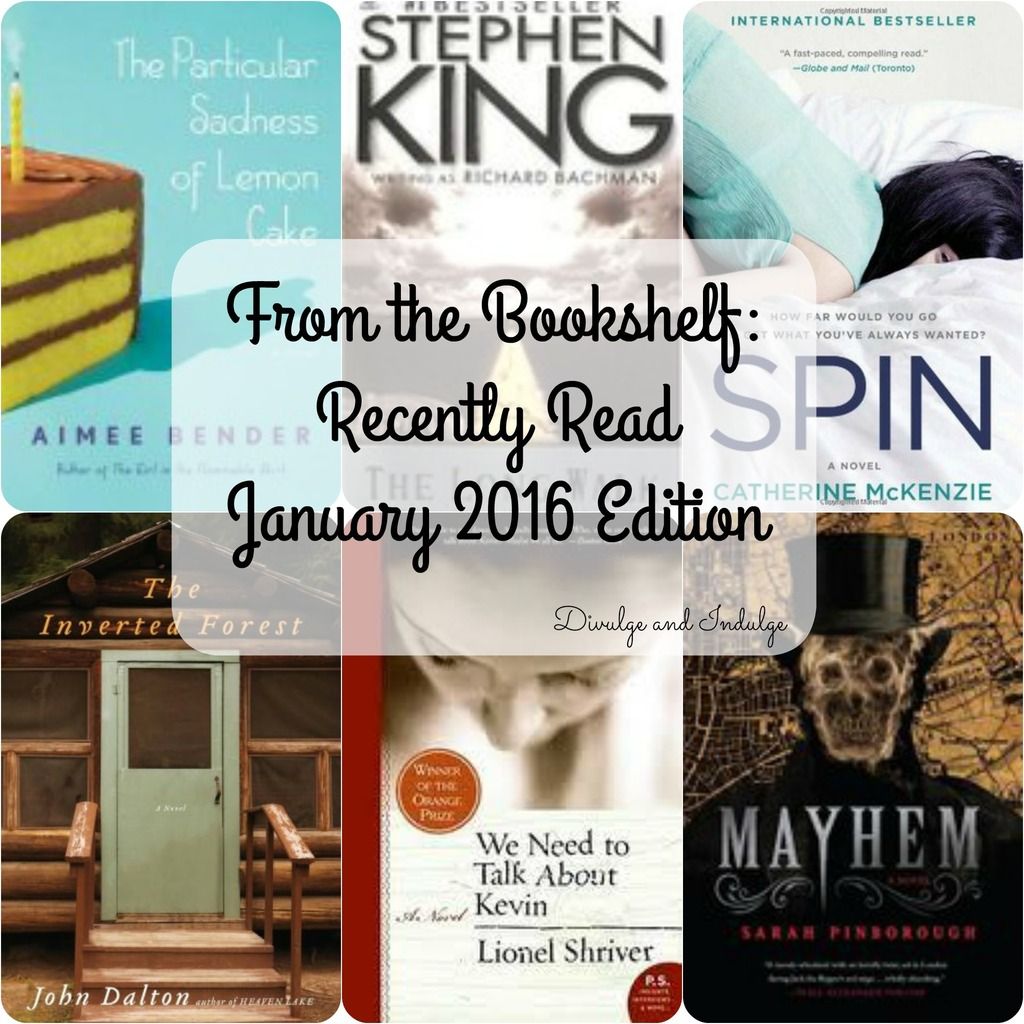 The Particular Sadness of Lemon Cake
by Aimee Bender - 292 pages - 3 stars
Imagine having the ability to know someone's deepest thoughts and feelings and their most intimate secrets simply by tasting the food they've prepared. For Rose Edelstein, this is both a gift and a curse.

The Particular Sadness of Lemon Cake
is unlike any book I've ever read. This is a coming of age story in many ways, but it's anything but typical. While certain elements of the story were incredibly realistic, others were not (such as the aforementioned ability to taste someone's feelings). I don't know how she did it, but Aimee Bender was able to effectively juxtapose realism and surrealism to create an interesting and effective story.
The Inverted Forest
by John Dalton - 325 pages - 4 stars
For two weeks in the summer of 1996, Kindermann Forest Summer Camp in rural Missouri opened its doors to a group of mentally challenged adult patients from the State Hospital. The counselors were under the impression they would be caring for children, and are ill prepared to handle the rigors of caring for these adults.
One counselor in particular, Wyatt Huddy, is extremely upset by this turn of events. Genetically disfigured and worried about his own intellectual shortcomings, his anxiety increases as he realizes he might be mistaken for a camper.
In an effort to prove his competency, he jumps at the opportunity when the staff nurse, Harriet Foster, asks him to help prevent a terrible tragedy from happening. In doing so, a series of events is set in motion, forever altering their lives.
It's nearly impossible to give a quick summary of this book, but I'll do my best.
The Inverted Forest
left me with so many conflicting feelings and it's difficult to explore that without going into too much detail.
Here's what I can say: there were more than a few times that I felt disgusted with the treatment of the mentally challenged campers and the awful things some of the characters said. (So much so that I'd often have to put the book down because I just couldn't deal with it.) It's a very well written and interesting novel, but I can say with certainty that many people (myself included) might find it a difficult read.
The Long Walk
by Richard Bachman (Stephen King) - 370 pages - 4 stars
Every year on May 1st one hundred teenage boys begin The Long Walk in Maine and continue walking for hundreds of miles without any sort of rest period until only one is left. The boy left at the end will get to claim the ultimate prize: anything he desires for the rest of his life.
Each boy is allowed 3 warnings before he "buys his ticket" and is out of the walk. After an hour has passed, a warning will drop off. The rules are pretty simple, but this is far from a game.
This book was a pleasant surprise: I couldn't put it down! I finished it in less than 24 hours, and, for me, that's
really
good. It's a chilling dystopian story, and the descriptions are so vivid that you'll actually feel as though you're walking with these boys.
We Need to Talk About Kevin
by Lionel Shriver - 400 pages - 4 stars
Eva Khatchadourian never really wanted to be a mother. She certainly never wanted to be a mother to a mass murderer.
The story is told in incredibly raw and painful letters written from Eva to her husband after their son is imprisoned for killing several classmates, a teacher, and a cafeteria worker. As she writes, Eva begins to explore her relationship (or, perhaps more accurately,
lack
of relationship) with her son and wonders if she is at least partly responsible for his hideous crimes.
I'm going to tell you right now that if you don't like emotionally intense reads, this will not be the book for you. This will also not be the book for you if you aren't into dark and disturbing entertainment.
But, if you're like me and
do
enjoy that sort of thing, I highly recommend this novel. It's the kind of story that will make you think, bring potentially difficult emotions to the surface, and stick with you long after it's over.
Spin
by Catherine McKenzie - 422 pages - 3 stars
Kate Sandford is beyond excited for an upcoming interview with her favorite music magazine,
The Line
. Although she's eager to land her dream job, she stays out late drinking the night before ... And shows up drunk to the interview.
She obviously doesn't get the job, but one of the editors calls back a few days later with another offer. Their gossip magazine needs someone to go undercover to get the inside scoop on "It Girl" Amber Sheppard. Amber is currently in rehab (again), and the editor thinks Kate would be "convincing" as an alcoholic entering the facility. If Kate can complete the 30 day program and get a great story, they'll reconsider giving her a position at
The Line
.
Spin
is, for the most part, a fluffy chick lit book (perfect if you've just finished a heavy book like
We Need to Talk About Kevin
!), but it also deals with the topics of alcoholism and drug addiction. And, while Catherine McKenzie takes a more comedic approach to the story, she doesn't completely gloss over the seriousness of addiction.
This isn't the type of book I normally go for, but I liked it. Although it could be a little too over-the-top at times, the overall story was entertaining and Kate was a flawed but generally likable main character.
Mayhem
by Sarah Pinborough - 305 pages - 1 star
Dr. Thomas Bond often works closely with the police, but lately he's been putting in a lot of extra time. Between the serial murders performed by a man known only as Jack the Ripper and a new series of gruesome murders by the Torso Killer, Dr. Bond has lost all ability to sleep and becomes dependent on opium for relief.
As the murders continue, Dr. Bond is drawn to a strange Jesuit priest who also frequents the opium dens. The priest has some strange ideas about the Torso Killer, but, desperate to get at least one monster off the streets of London, Dr. Bond finds himself willing to believe almost anything ... Even if these ideas lead him to suspect someone he knows very well of the murders.
I was so disappointed with this book! I've mentioned before that I'm not a huge fan of historical fiction, but I
am
a huge fan of books, TV shows, and movies featuring serial killers ... So I assumed I would really like
Mayhem
.
I rarely give books 1 star because I can usually find at least one redeeming quality, but I can honestly say that there was nothing good about
Mayhem
. I hated so much about this book, but my biggest complaint was that it wasn't even interesting. (And that seems crazy, given the subject matter!) I could barely get through it, and only finished it because I'd chosen it for the
Semi-Charmed Winter Book Challenge
. (Oh, and because I can't bear not to finish a book ... Even a really shitty one.)
Spin
and
Mayhem
are the only books I've read so far in 2016, so it's safe to say it hasn't been an amazing book year for me so far. Hopefully my next few picks will be better!