Many people in my life have referred to me as a "music snob." With today's post, however, I'm going to prove that this title may not be accurate 100% of the time.
I've wanted to share some of my musical guilty pleasures for a while, but every time I started to write this post, I'd get embarrassed. I know, I know ... That's completely ridiculous. I mean, who cares what someone else secretly loves, right?
The thing is, I pride myself on having excellent taste in music. (This goes back to the "music snob" thing.) It's silly, but it's true. I love sharing music with other people (as you may have noticed with my monthly playlist posts), and talking about the music I love. I love concerts and listening to a new release by a favorite band. I love everything about music ... And sometimes that means loving completely random things I wouldn't normally listen to.
After reading
this post
by Kristen, I decided to just get over myself and share the embarrassing (and probably not so embarrassing) things I listen to. For ease of reading, I've broken these up into the following categories: Music I Probably Should Have Outgrown By Now, You May Be Surprised I Like This, and I'm Embarrassed to Admit I Actually Listen to This. Trust me, that last category will have the most items included.
Image provided by Pixabay and edited by me.




































Music I Probably Should Have Outgrown By Now
I don't necessarily think people "outgrow" music they love, and I'm most certainly not embarrassed that I listen to any of these bands. However, I decided to include this category because sometimes when I'm discussing music with other people they'll say something like, "Oh, I used to love them back in high school!" I'm sure nothing is meant by it (other than a change in musical tastes), but sometimes I feel like I was expected to move on from them as well.
1.
Screamo/Post-Hardcore Bands
- I'm especially referring to Emery and my favorite band, Alexisonfire. (I love Alexisonfire so much that I convinced Eric to go with me to Montreal in December 2010 just to see them live. They weren't doing a U.S. tour, and I
had
to see them. Totally worth it!) Again, I'm not embarrassed that I love these bands, but I feel like it's not what most 30 year old women would listen to.
2.
Marilyn Manson
- I've posted at least a couple of playlists in the past that included Marilyn Manson songs, so it's probably no surprise that I love this band. I do mostly stick with everything from
Holy Wood
and before (the newer stuff just doesn't do it for me), but, since I'm not an angsty 13 year old kid anymore, I think most people wouldn't expect them to be included in my list of favorite bands.
3.
90s Grunge Bands
- Pearl Jam, Nirvana, Soundgarden, Alice in Chains ... I love them all. I love them now just as much as I did when I was a kid (though I refuse to listen to any post-Layne Staley Alice in Chains!), and I'll probably always love them. But, again, since I'm no longer an angsty teenager (and it's not the early 90s), I think it surprises most people that I'm still such a huge fan.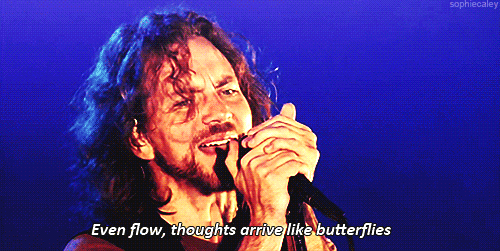 You May Be Surprised I Like This

Sometimes when I tell someone I like a certain band/artist/album/song they seem shocked. I get it sometimes (like if it's nothing like anything else I typically listen to), but sometimes I don't think it's that surprising. Here you'll find some things I'm not embarrassed to admit I like, but, for whatever reason, they seem to surprise people.


1. Muse - Stephanie Meyer almost ruined them for me ... Almost. But if I'm being honest here, I loved Muse well before Twilight was a thing. Some of their stuff is just kind of "meh," but most of it is great.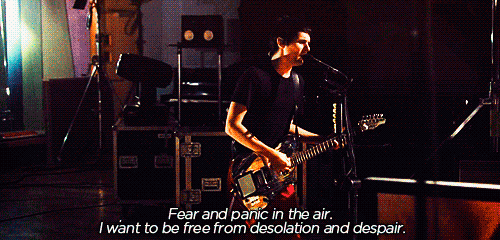 2.
21 by Adele
- This album has a ton of great songs on it, but it's not really the type of thing I normally listen to. I'm not embarrassed that I like it since she's undeniably talented, but it seems to surprise people when I tell them how much I like this album.
3.
Rage Against the Machine
- I usually
hate
rap metal, but these guys are different. They're
good
. (I mean, have you heard Tom Morello play guitar? It's fucking amazing!) And if you want to see me rock out like a crazy person in the car, put on Rage Against the Machine. It's quite a sight to see. Also, they did a song with Maynard James Keenan ("Know Your Enemy"), so that earned major cool points from me!
4.
Counting Crows
- A lot of people seem surprised when I tell them I love this band. Some of their more recent stuff hasn't been that great, but few things beat
August and Everything After
. I would consider that one of my all-time favorite albums.
5.
"Out Tonight" from
Rent
- I actually like most of the songs from
Rent
, but this is definitely my favorite. It's a great song to belt out in the car (when you're alone, of course). I may or may not sound like Penny from
The Big Bang Theory
when I attempt this one. (She starts singing around 30 seconds into this clip if you want to skip ahead to see what I'm talking about.)
6.
"Nara" by E.S. Posthumus
- Even if you think you have no idea what this song is, you probably do ... It's been played in a bunch of movie trailers over the years, and it's also the
Cold Case
theme song (though I don't think I've actually ever watched an episode of that show). It's a really beautiful instrumental song, and I listen to it all the time.
7.
"Hands of Time" by Rachel Diggs
- I first heard this song on
Pretty Little Liars
(one of my guilty pleasure TV shows), and I fell in love. She has a few other decent songs, but this one is by far the best.


I'm Embarrassed to Admit I Actually Listen to This

I think the title of this category speaks for itself.

1. "Miss Murder" by AFI - I don't know why I love this song so much, but it's damn catchy (and also embarrassing).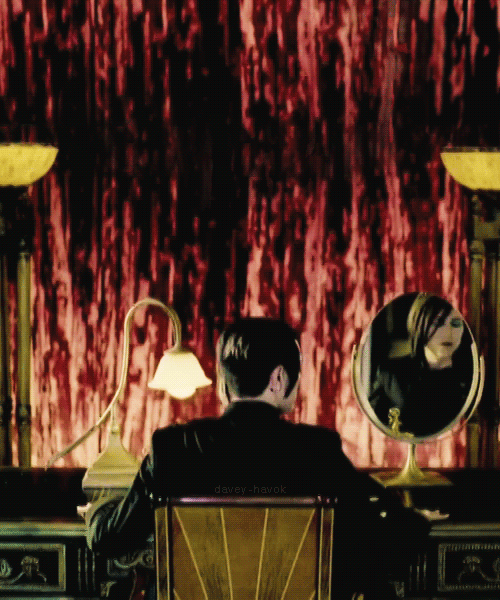 2.
90s One Hit Wonders
- This encompasses a lot of songs, but some specifics include "Breakfast at Tiffany's" by Deep Blue Something, "Tubthumping" by Chumbawamba, "If You Could Only See" by Tonic, "The Way" by Fastball, and "I'm Gonna Be (500 Miles)" by The Proclaimers (though this song is technically from the 80s, it didn't gain much attention until the 90s so I'll include it).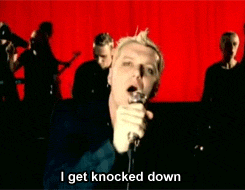 3.
"Love Shack" by The B-52's
- This song just reminds me of great times with some of my close friends from home. A few of us even made a music video using this song for a class assignment in high school. And right now I'm
really
glad I don't know how to convert VHS to digital video (and also that I don't even have a copy of the video readily available!). There are some things I just don't think I can share with the internet.
4.
Bush
- I know it's probably very uncool to admit that I still listen to Bush, and that's probably why I don't often tell people I do. I stick with their 90s albums only (
Sixteen Stone
,
Razorblade Suitcase
, and
The Science of Things
) not just because they bring back great childhood memories, but also because they're really good.
5.
Breakaway by Kelly Clarkson
- I like a few songs from her other albums, but I never loved any of those the way I love
Breakaway
. I listened to this album all the time during my senior year of college, mostly because many of the songs applied to my life at the time. And I still stand by the belief that "Addicted" is one of the best pop songs ever.
6.
"Tik Tok" by Ke$ha
- I don't know why, but I love this song. If nothing else, it raises a lot of really excellent questions: How does one feel like P. Diddy (or is it just Diddy now?)? Why would anyone want to brush their teeth with a bottle of Jack? And, perhaps most importantly, has Ke$ha ever even
seen
Mick Jagger? Girl, he is
not
hot.
7.
The Spice Girls
- I'm not just talking about the really famous songs. Oh no. I love pretty much every song they've ever released. I suppose they could have easily gone into the Music I Probably Should Have Outgrown By Now category (I mean, I'm not in middle school anymore!), but since they're more of a guilty pleasure for me, I think they belong here.
8.
"My Happy Ending" by Avril Lavigne
- I cringed just writing that. But yes, it's sad but true ... I really like this song.
9.
"Fighter" by Christina Aguilera
- I actually like a few of her other songs as well, but this one is a particular favorite.
10.
Ashlee Simpson
- She is probably my biggest musical guilty pleasure. (I've even seen her in concert ... And I was sitting in the front row.) Lip syncing debacle aside, I just love her (especially her first two albums)!
I could probably list more musical guilty pleasures, but I think I've embarrassed myself enough for one day. Oh, and if you're saddened by the fact that I didn't include that many links to songs or videos, don't worry ... My monthly playlist (which will be posted next week!) will include many of the songs and bands mentioned here. So basically it will be the most random playlist ever made.