Since I've been trying to cook healthier meals at least 3 times each week
this month
, I was hoping to finish my July Tasty Tuesday posts with something a little lighter. As I was going through my recipe notes and pictures, though, I realized I'd never posted this amazing pasta recipe. It's decadent and fattening and one of the few things I've ever made that I considered to be "restaurant quality."
So I apologize if you came here today hoping for another healthy recipe. That is most definitely not what you're getting.
If, however, you're a huge fan of pasta, you've come to the right place. I'm sure I've said this before, but I could easily eat pasta every day for the rest of my life. And if Eric loved it as much as I do (and if it wouldn't make me gain a ton of weight!), I probably would.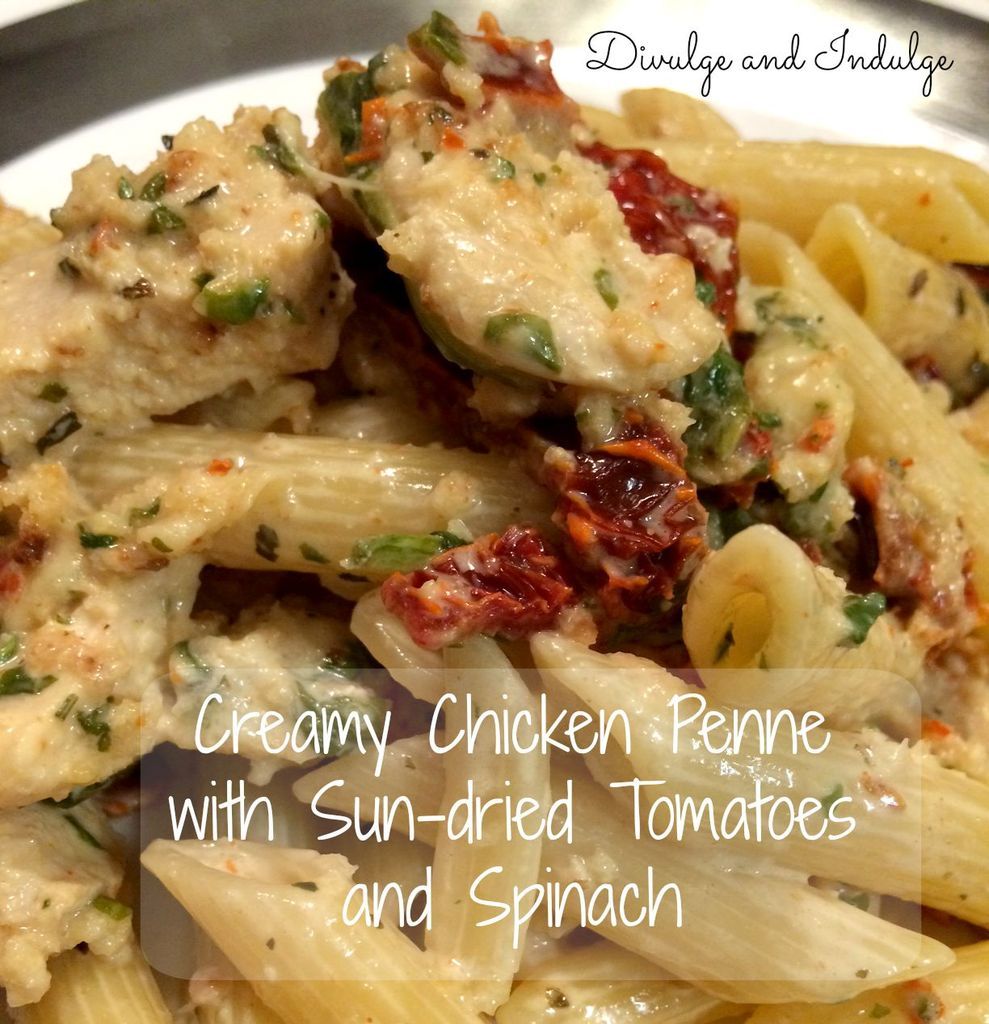 And this pasta recipe? Well, let's just say I wouldn't hate it if we had it every week (or every day). My body would probably hate me for regularly stuffing it with a heavy cream sauce, but whatever ... At least I'd be clogging my arteries with happiness.
Creamy Chicken Penne with Sun-dried Tomatoes and Spinach
Adapted from a recipe on
The Cookie Rookie
.
Ingredient List:
1 box penne or other short pasta
3 boneless, skinless chicken breasts, cut in half lengthwise (My chicken breasts were very thick, so I wanted to make them a bit thinner for quicker cooking.)
1/3 cup Panko breadcrumbs
1/4 cup milk (I used 1% since that's what we always have on hand.)
2 tbsp low fat margarine or butter (I used low fat margarine.)
1/2 cup chicken broth
1/2 cup white wine
1 cup heavy cream
1 cup sun-dried tomatoes, thinly sliced (I didn't use sun-dried tomatoes packed in oil for this, and I would suggest staying away from those for this particular recipe.)
1 cup fresh spinach, roughly chopped
1/2 cup shredded Parmesan cheese
2 tsp onion powder
2 tsp Mrs. Dash Italian Medley
2 tsp oregano
2 tsp basil
2 tsp garlic salt
2 tsp black pepper

Instructions:
1. Bring a large pot of salted water to a boil.
2. Heat a large skillet over medium high heat.
3. Pour the milk into a small bowl, and add
the Panko breadcrumbs to a separate small bowl.
4. Dip each piece of chicken into the milk, then place the chicken into the bowl with the breadcrumbs. Take care to coat the chicken as evenly as possible.
5. Add the breaded chicken and butter to the skillet. Cook until the chicken is lightly browned and no pink remains.
6. While the chicken is cooking, add the pasta to the boiling water. Cook according to package directions until al dente and drain.
7.
Once the chicken has finished cooking, remove it from the skillet and set it aside. (I put my chicken on a cutting board since I planned to dice it up before adding it back into the sauce.)
8. Pour the chicken broth and white wine into the skillet and bring to a boil.
9. Stir in the heavy cream, sun-dried tomatoes, and spinach. Allow the mixture to continue boiling for about 1-2 minutes, stirring constantly.
10. Reduce heat to low. Stir in the shredded Parmesan cheese, onion powder, Mrs. Dash Italian Medley, oregano, basil, garlic salt, and black pepper.
11. Cut the chicken into smaller cubes, then add it back to the skillet with the sauce. (You don't have to cut up the chicken, but I usually prefer to do that if I'm making a pasta dish. It's nice because you'll get a piece of chicken in almost every bite. Again, though, this step is optional.)
12. Allow the chicken and sauce to simmer together for another minute or two.
13. Stir in the drained pasta, making sure to mix it thoroughly with the sauce.
I know it looks like there are quite a few steps, but it's actually a pretty easy dish. I just like to be as thorough as possible when I'm giving recipe instructions. Basically I want to be able to look at any recipe I've made and replicate it with ease. (And that obviously extends to anyone reading this blog as well.)
Since this is such a rich, heavy meal, I served it with a simple green salad and a glass of white wine. It may not be the ideal light summer dinner, but it's delicious!