I've been trying to cook fish a little more often lately. Not only is it a
goal
of mine to make healthy dinners at least 3 times a week this month, but we also have quite a bit of fish on hand from a recent Costco trip.
Just a few years ago, I was completely intimidated by the thought of cooking fish at home. I have no idea why ... Fish is actually one of the easiest proteins to work with. I feel like it doesn't take much to create a flavorful fish entrée, and you can simply toss it into the oven for about 15-20 minutes. And, while I'm admittedly still intimidated by the thought of cleaning, scaling, gutting, and filleting a fish, I can definitely handle cooking with the fish I pick up at the grocery store.
That's why I get so excited when I come up with a fish meal myself. I can't claim that I didn't glance through Pinterest for ideas (I totally did), but I didn't use any of the actual recipes. I basically just considered what type of flavors I wanted, and what went well together ... And then I created a sauce and paired it with some salmon.
I'm sure there are other similar recipes floating around out there. I mean, let's be honest ... A lot of people know that soy sauce, honey, Sriracha, garlic, and ginger go together. But I'm going to live in my fantasy world a little while longer and pretend that I've just created a groundbreaking new recipe.
Okay, okay ... I may not be ready to take on
MasterChef
yet, but I'm still allowed to be excited when I come up with something that tastes amazing
and
is actually healthy!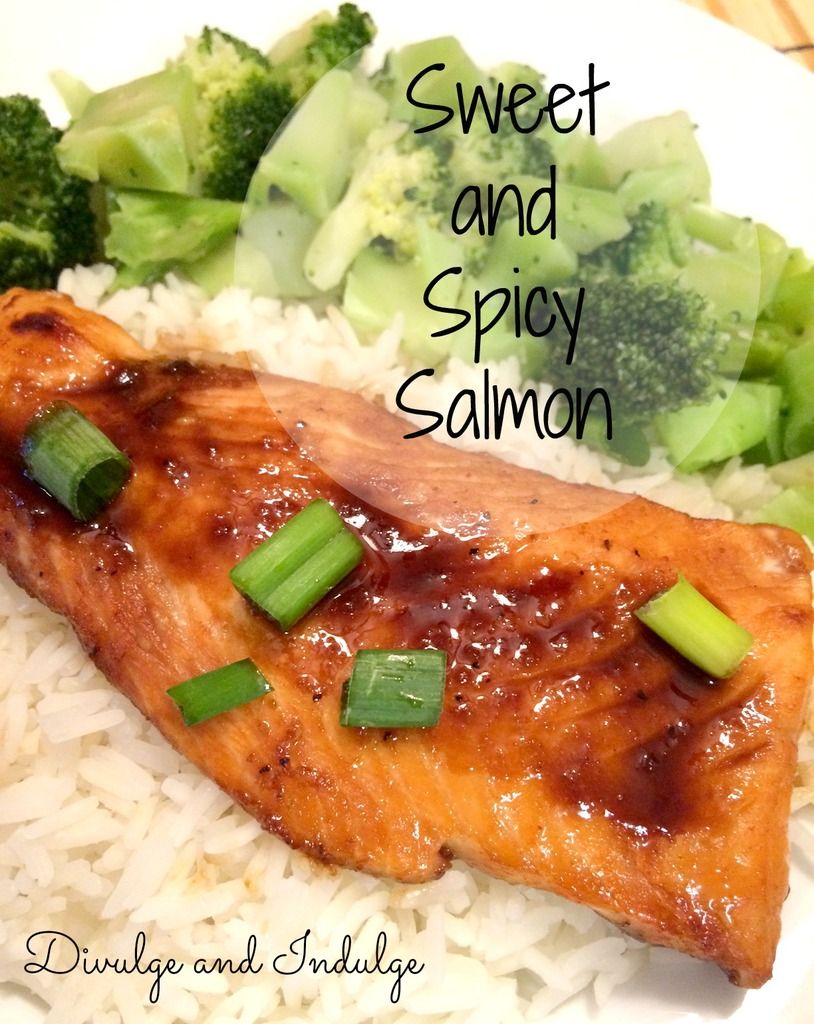 Sweet and Spicy Salmon
A Divulge and Indulge original recipe.
Ingredient List:
2 salmon fillets
2 tbsp low sodium soy sauce
1 tbsp + 1/2 tsp honey (I added in the additional 1/2 tsp after doing a taste test and determining the sauce was a little too spicy. You can obviously adjust the amounts up or down to fit with your own tastes.)
1 tbsp Sriracha (This will make the sauce pretty spicy. If you want something a little milder, feel free to cut the amount in half.)
1/2 tsp ginger
1/2 tsp black pepper
1/4 tsp garlic salt
Diced green onions for serving (optional)
Instructions:
1. Preheat the oven to 400 degrees.
2. Line a baking sheet with aluminum foil and coat with cooking spray.
3. In a small bowl, mix together the soy sauce, Sriracha, 1 tbsp honey, ginger, black pepper, and garlic salt. Taste the sauce, and if it's too spicy, mix in the additional 1/2 tsp honey.
4. Spoon the sauce over both sides of each fillet.
5. Bake the fish for 12-15 minutes, or until it flakes easily with a fork. Serve with diced green onions if desired.
This was a ridiculously quick and easy meal. As you can see from the picture, I served the fish over a bed of jasmine rice with a side of steamed broccoli.
If you're a seafood lover and want something a little lighter for dinner, this is the perfect thing to try!