Last weekend was one of the best weekends I've had in a long time. After nearly 2 years without seeing each other, Kevin and I made up for lost time with countless hours of talking, venting, laughing, shopping, and eating. The weekend flew by, but I'm so glad we were able to make time to see each other (even if only for a few days).
We took quite a few pictures, but, as you'll see, the majority were of our food and drinks. At the end of the trip I realized we should have taken more pictures together, but oh well ... Maybe next time!
I know I posted a few of these on
Instagram
already, but here are some snapshots of the weekend: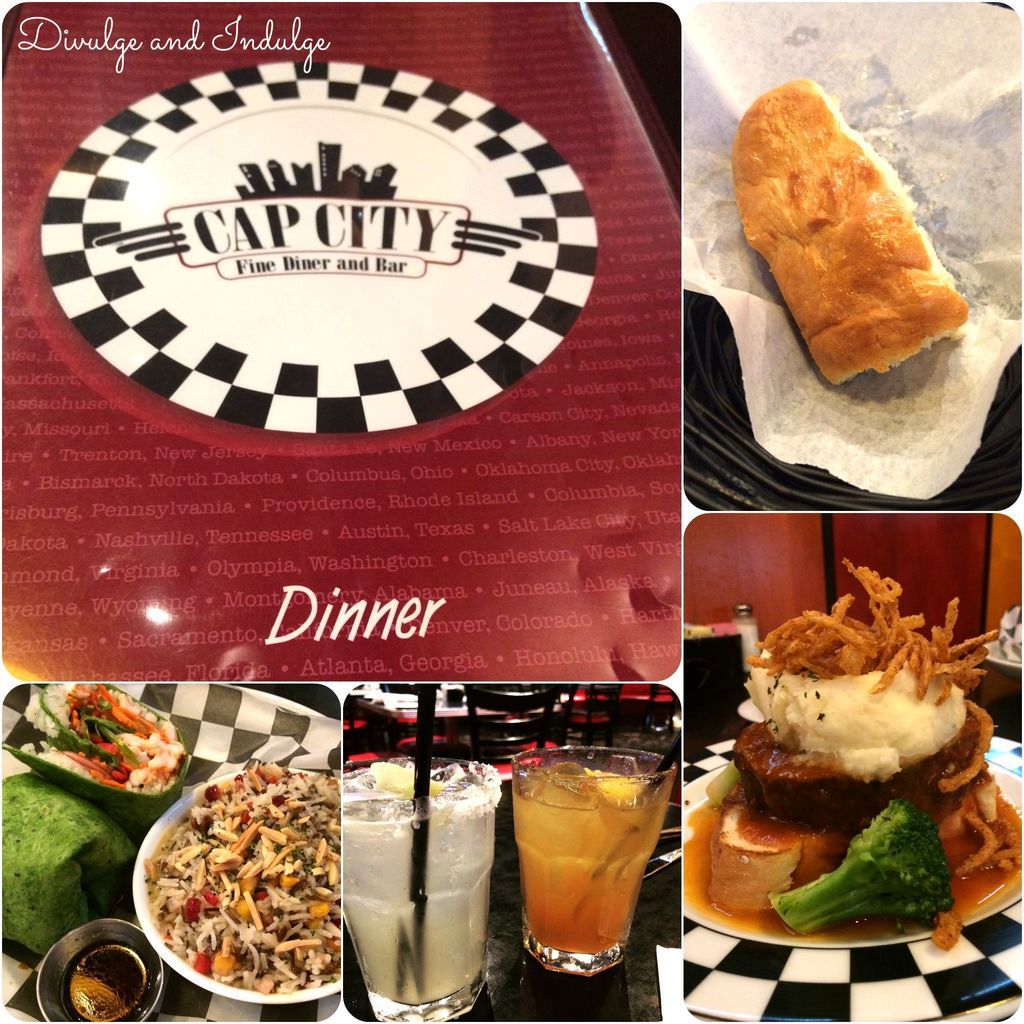 Our first meal of the weekend was at
Cap City Diner
. It was such a funky, cute place and definitely not what I pictured when Kevin first suggested a "diner!" Here you can see the menu, a half eaten piece of bread (I didn't take the picture soon enough, obviously), Kevin's meatloaf dinner (definitely the star of the evening!), our cocktails (I had the Candied Ginger Margarita and he had the Georgia Peach), and my shrimp banh mi wrap with wild rice salad. My meal was light yet filling and packed with flavor ... So good! I'd definitely go back!
Our first full day together was mostly spent at the
Easton Town Center
, which is the perfect place to go if you're a huge fan of shopping. I even managed to make my elementary school dreams come true with a visit to the American Girl store! (If you're wondering, I had both the Addy and Samantha dolls as a kid. They're actually still at my mom's house. I wanted to save them in case I ever had a little girl of my own.) These pictures are of our lunch spot,
Northstar Cafe
, (he had a cheeseburger and side salad and I had a salad with chicken, avocado, goat cheese, and a lot of other delicious stuff) and a fountain in the shopping center.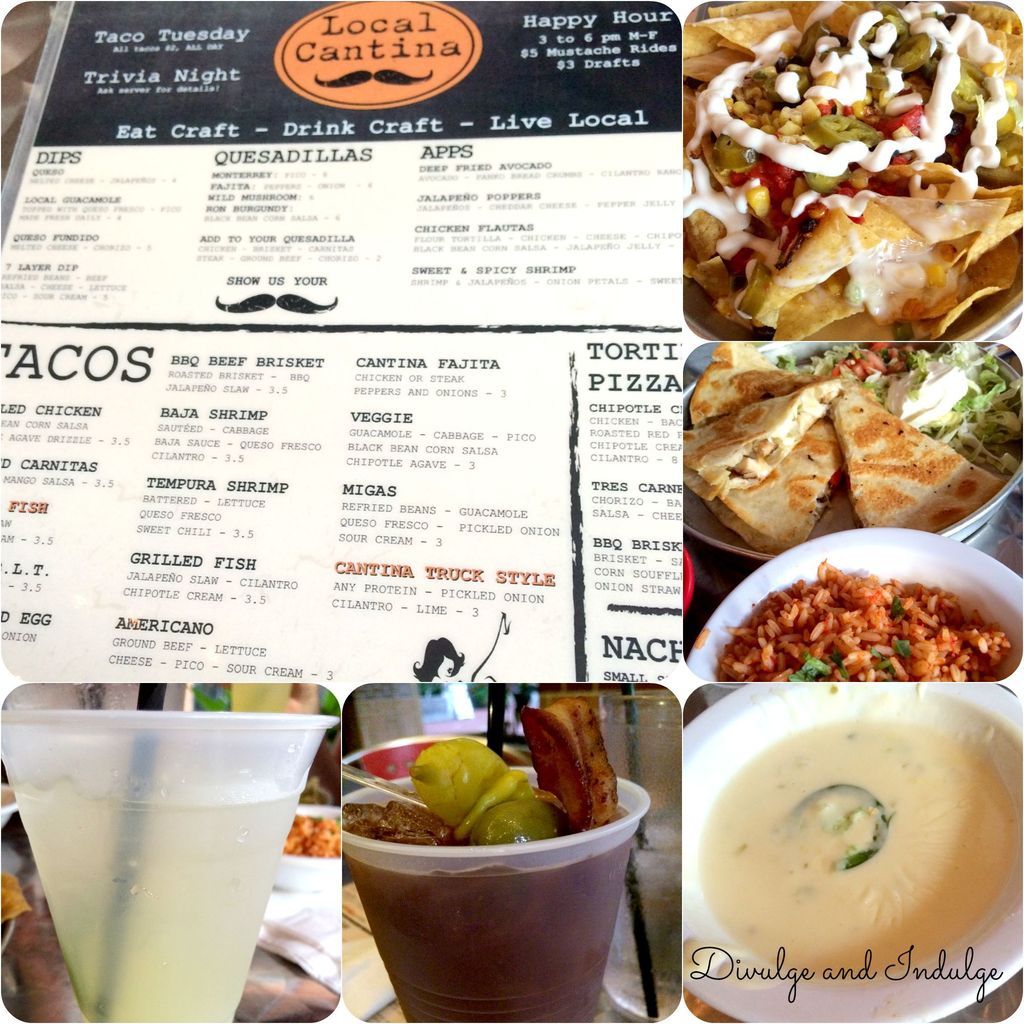 After a long day of shopping, we had dinner at
Local Cantina
. This place was
amazing
... There was even a live band that played the most interesting mix of 90s jams I've ever heard! I once again took a picture of the menu, my veggie nachos (I could eat those every night!), Kevin's chicken quesadillas and rice, our partially eaten queso (I seem to have trouble remembering to take pictures of appetizers prior to digging in), my Bacon Bloody Mary, and my Mexican Mule. This was one of my favorite places from the weekend!
We finished things off with beers at the
Pigskin Brewing Company
. (Okay, if we're going to get technical, Kevin's boyfriend and I had beers and he had a glass of wine.) It's apparently a pretty new bar, and it was really cool. (I especially liked their musical selection. I love it when bars play great music!)
The next day we did some more shopping and had lunch and a major dishing session at the food court. (I didn't take any pictures of any of this, though ... Sorry to disappoint.) That night we went to the
Short North
for cocktails and dinner. We kicked things off at
The Guild House
, a "posh" (to use Kevin's new favorite word) hotel in the area. We took a couple of pictures of the bar/restaurant area and our cocktails. They were delicious!
After our cocktails, we headed over to one of Kevin and Marc's favorite restaurants in the city,
Marcella's
. After just one bite, it was easy to see why they love it so much! Here you can see the menu, yet another mostly eaten appetizer (we had the Melted Pecorino Cheese, which came with crostini, apple slices, and truffle honey), my dinner (we all actually ordered the exact same thing: fettucine with meatball), and the white sangria Kevin and I had. Everything was delicious! I could easily eat that meal every day for months and never get tired of it (though my pants probably wouldn't fit anymore).
After dinner we spent some time walking around the area. This gorgeous fountain was in a small park nearby. It's probably my favorite picture from the weekend.
We finished the weekend off with brunch at
Scrambler Marie's
. I had a delicious breakfast burrito and hash browns, and Kevin had a classic platter of scrambled eggs, bacon, hash browns, and toast. Simple yet satisfying.
Apparently Kevin gets Starbucks every day now.
Every
day. I told him he's insane, but since I was technically on vacation, I decided to give in and have one every day as well. That picture of me isn't the best, but it's one of the only ones we took together this weekend. (And, of course, it was in Starbucks!)
And finally, I just had to share a couple of pictures of Kevin's adorable dog, Fitch. He's a Morkie (Maltese/Yorkie mix), and one of the sweetest little dogs ever!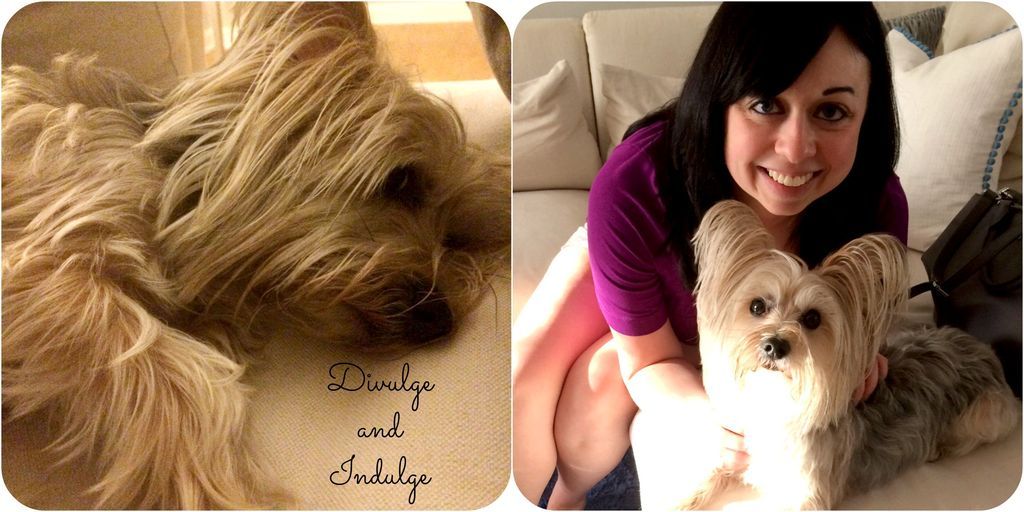 That is a seriously awful picture of me (I blame the awkward angle and way I'm sitting), but Fitch looked so cute that I had to include it anyway.
And that was my weekend.
I'm pretty sure I gained 10 pounds while I was away. So much for eating healthier this month! (This is also probably why I didn't feel like taking a lot of pictures of myself ... I definitely feel less attractive/photogenic when I'm feeling bloated and overly full!) This week the plan is to get back on track with healthier meals and at least 3-4 days of workouts. Wish me luck!