You may remember my post about musical guilty pleasures last week. (If not, you can find it
here
.) When I was writing that post, I thought that maybe I should just wait and schedule it for this week so I could add my monthly playlist. Why would I wait until this week for that? Because I always wait until the last week of the month to post a monthly playlist.
Yes, I realize this probably sounds kind of silly. It doesn't really matter when I post things, right?
One thing you'll learn about me while reading this blog (if you haven't caught on already) is that I'm extremely anal about certain things. I like things to be as uniform as possible (though I'm well aware that I need to edit many of my old posts because they have some formatting issues and other problems). For example, when I started posting monthly goals, I initially shared my results in one post and my goals for the following month in another. I think I did this either because I hadn't come up with my goals yet or because I didn't have time to write much (or both), but since I started separating my monthly goals into two posts, I plan to continue doing it that way.
The same thing applies here. I started sharing my monthly playlists during the last week of the month, so I'll continue to do that until I decide I don't want to make them anymore. (Oh, who am I kidding? I love making these stupid playlists, so I'll probably never stop posting them.)
Anyway, after that lengthy (and probably unnecessary) introduction, I'll now move on to the good stuff.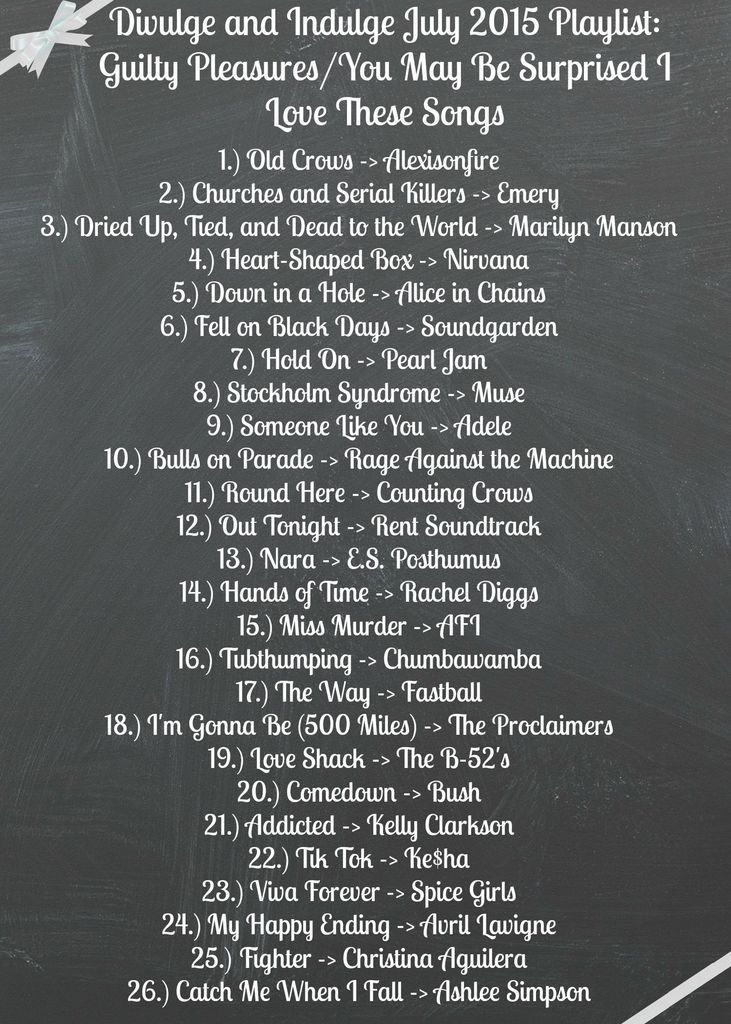 I tried to include the majority of the songs/bands/artists mentioned in my guilty pleasures post, and, as you can see, the result is one of the most random playlists ever.
And again, if you haven't read that post, some of these don't actually fall under the "guilty pleasures" category ... They're either things I think most people think I should have "outgrown" or things that people are generally surprised to learn I like. Once you get to "Miss Murder," though, you've reached the stuff I'm usually too embarrassed to admit I like.
On this blog, though, anything goes. So today I'm sharing a playlist that I'll totally be rocking out to in my car for the next month (or 3). No shame!