I feel like I've really been slacking when it comes to trying new restaurants this year. One of my
New Year's Resolutions
was to try at least 12 new places in 2015, but, since I really wanted to share this with my food loving husband, I'm not counting any of the new places I've tried solo or with friends. If I included those, I'd probably already have 12 restaurants checked off. (Or I'd be really close.)
When we went to visit Tony, Stacy, and their girls (these people are my brother-in-law, sister-in-law, and 2 nieces, if you're wondering) the last weekend in June, we mostly either ate at our "usual" places (like
Joe's Kansas City BBQ
, formerly known as Oklahoma Joe's but still just as delicious) or made stuff at their house (including my first ever attempt at homemade sushi!). We
did
manage to squeeze in a new brunch place Sunday morning before we left, though.
Sunset Grill
seemed like a local favorite kind of place. (I'm basing this on the fact that it was pretty busy the entire time we were there, and also the fact that Tony said it was one of their favorite spots for brunch.) It had a really cute interior (that, of course, I didn't bother to take pictures of) that made you feel like you were on vacation at the beach. It's a really casual, low key kind of place, perfect for families or a relaxing breakfast/brunch. (They only serve breakfast on Sundays, though, so if you're in the area and planning to check it out, please keep that in mind!)
As for the food, I liked it but didn't love it. I think Eric liked it more than I did. I ordered the Florentine, which was a spin on the classic Eggs Benedict. The spinach was good, the bacon was flavorful and only slightly crispy (which I prefer to super crispy), the eggs were perfectly poached, and the English muffin underneath had a nice crispness, which I really appreciated since they can occasionally get soggy underneath sauce and toppings. I just didn't like the hollandaise they served with it (mostly because it wasn't really hollandaise). I was expecting something classic: lemony and smooth. It was definitely smooth, but it tasted nothing like any hollandaise I've ever had. And, while I'm no expert, Eggs Benedict (and its many variations) is one of my most ordered breakfast/brunch dishes ... So I've eaten my fair share of this sauce. The sauce at Sunset Grill almost had a bit of a sour cream taste. It wasn't terrible, but it was a little bland and not what I was hoping for when I ordered something with hollandaise.
Additionally, the hash browns they served tasted like they'd been microwaved and weren't seasoned
at all
. I found that really disappointing since I
love
breakfast potatoes. The fruit cup they served with my meal was a pleasant surprise, though ... Fruit cups at places like this are usually loaded with melon (which I
hate
!), but this one was filled with some of my favorites: strawberries, bananas, grapes, and pineapple.
The Florentine.
Eric, on the other hand, ordered a pretty classic meal, which may be why he had a slightly better experience. He ordered the Meat Lover's Sunrise Skillet and just kept adding shit to it. I asked him what was in it, and he couldn't even remember everything he asked for. Here's what he
could
remember: scrambled eggs, diced potatoes, sausage, bacon, ham, cheddar and Jack cheeses, pico de gallo, mushrooms, black olives, and spinach. There may be more under all of that madness (see below), though. His meal came with a side of pancakes, which are not pictured here. We actually didn't try each other's food this time (mostly because we had a little person sitting between us who
insisted
we eat on either side of her), but he said everything was good and he gobbled it all up ... So I'm going to assume his food was a little better than mine.
The Meat Lover's Sunrise Skillet.
Overall, it was a decent place to grab brunch. It wouldn't be my first choice, but I'd be open to trying other things on the menu if this group wanted to go again. I'll just stay away from their hollandaise (and hash browns).
And since I know you might be curious about the homemade sushi, I took a few pictures to share on the blog. I didn't get any real action shots (unless you count the one of Eric posing with his knife and the raw fish he was cutting up), but that's okay. It wasn't as difficult as I thought it would be, but it's
very
time consuming (this feast took 4 people about 3 hours to make). You also need the right supplies (Tony and Stacy received some as a Christmas gift last year). Eric and I don't have the supplies for this right now, and since we're really trying not to buy any kitchen stuff until after we buy a house (a.k.a. until we have more room to store it!), I won't have any sushi making tutorials on the blog any time soon. Sorry.
Eric was put in charge of the fish due to his superior knife skills.
All of our ingredients (minus the tempura shrimp) prior to rolling: tuna, salmon, crab sticks, avocado, cucumber, spicy mayo (basically mayo mixed with Sriracha), and, of course, nori seaweed sheets and rice.
You can totally tell we're amateurs (and this was one of our best looking batches!), but it tasted delicious!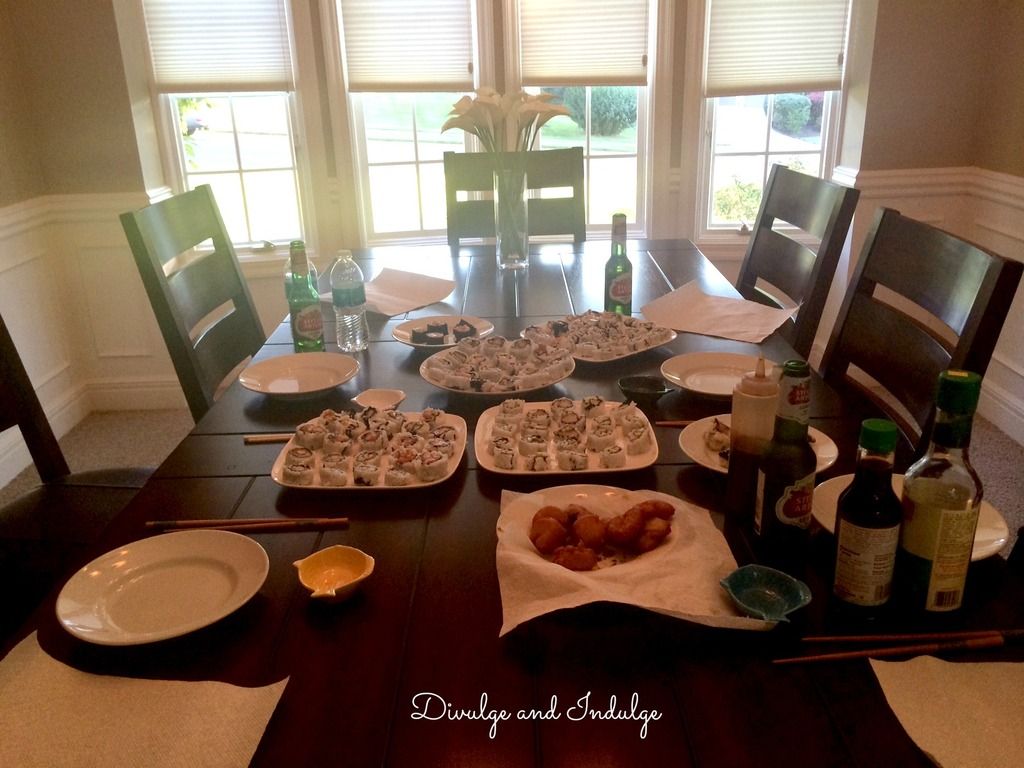 Our sushi feast! I'm not kidding when I say I probably ate between 30-40 pieces of sushi plus tempura shrimp. No regrets!
And because at this point I'm basically recapping that weekend anyway, I'll end this post with a few pictures we took at a local petting zoo. The baby goats were my favorite ... They were so sweet!
It was kind of hard to get a good picture through the screens, but this breed of chicken was so funky looking we just had to get some pictures!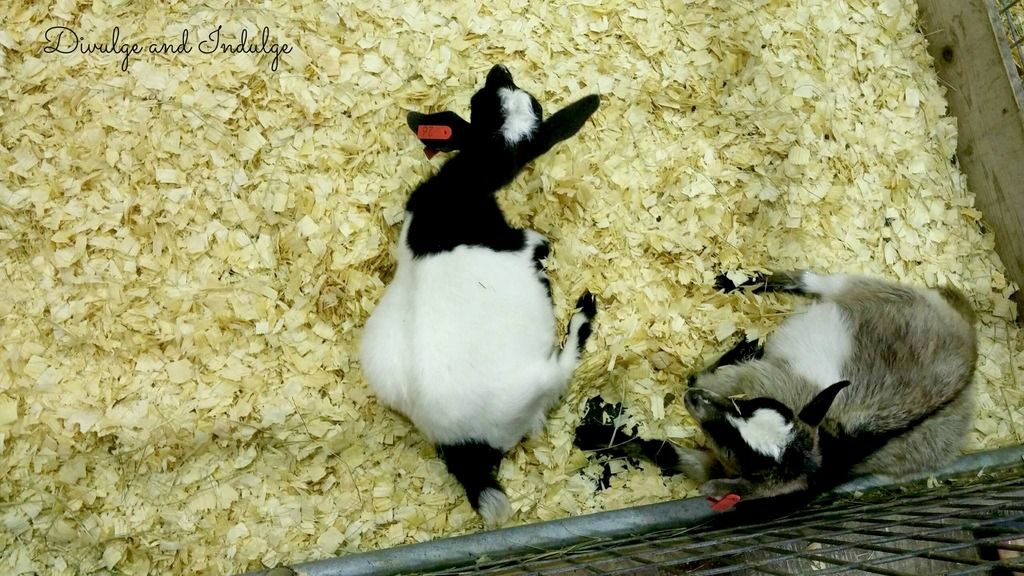 The aforementioned baby goats. So cute!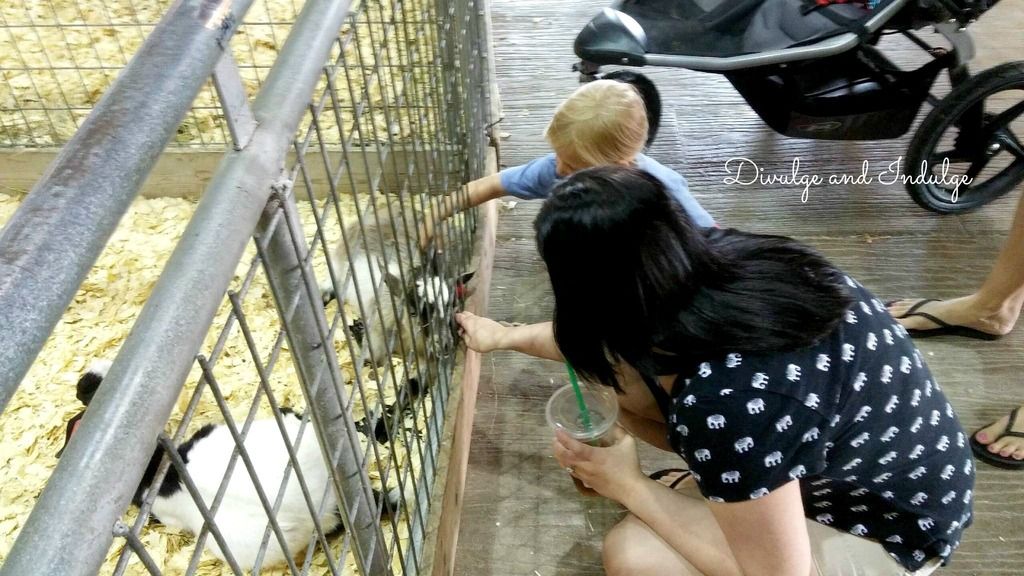 I know you can't see my face, but whatever. Here I am with my youngest niece, Lucy, who we affectionately call my "little buddy." My other "little buddies" here are the goat and the giant iced coffee from Starbucks.