I know I just posted a
Southwestern Chicken Noodle Soup
recipe about a month ago and today's recipe is pretty similar, but you know what? Sometimes you try a couple of spicy chicken soups within a short period of time and they're both so good that you just
have
to share the recipes.
I decided to make a chicken fajita soup after Eric said he was in the mood for fajitas. Soup is obviously not the same as a traditional fajita, but honestly ... I'm not a huge fajita fan. I love all of the components, but for some reason I always feel like they're missing something.
That being said, I loved this soup. It's a little thicker/heartier than the Southwestern Chicken Noodle Soup, and it's perfectly spicy without being "too much." (I usually gauge this on Eric's comments. I like my food much spicier than he does, so if it's the right amount of spice for him, I assume it's probably the right amount for most people.) It's also made in the crockpot, which means it requires minimal effort. (My favorite kind of recipe!)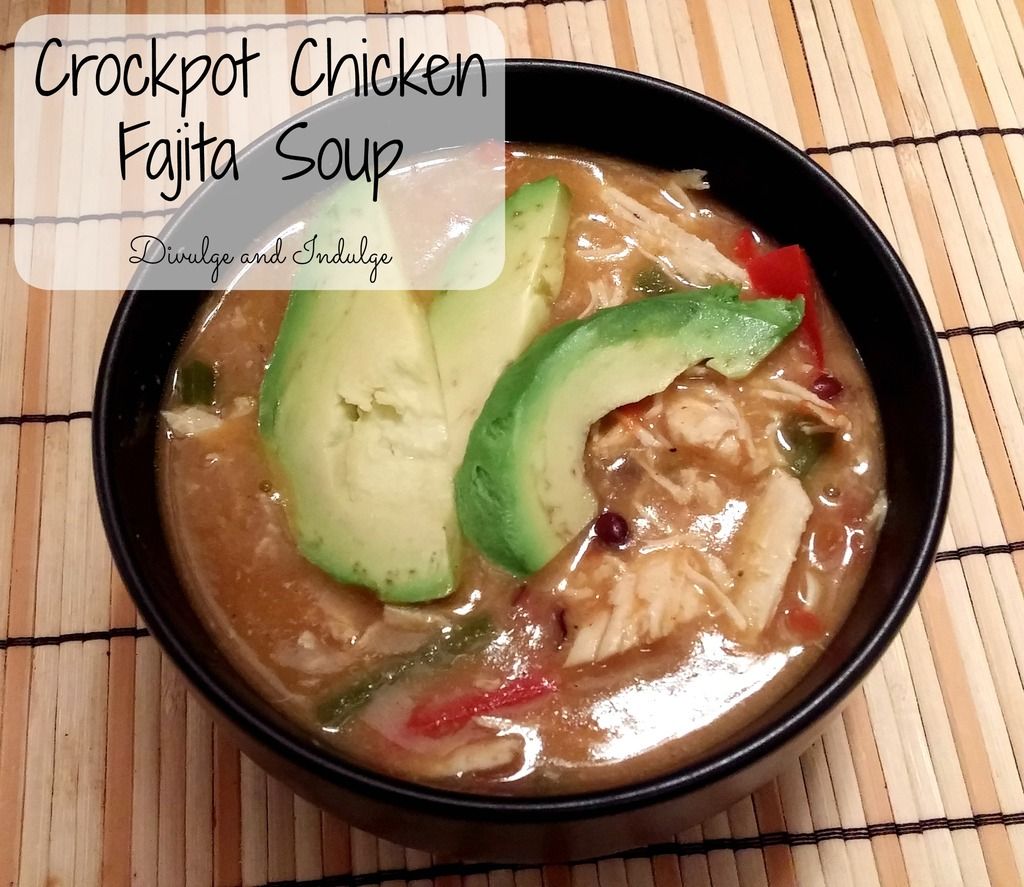 I couldn't get a great picture of this soup (believe me, I tried), but trust me when I say it's worth trying. (Especially if you're a fan of Mexican/Tex-Mex flavors!)
Crockpot Chicken Fajita Soup
Adapted from a recipe on
The Recipe Critic
.
Ingredient List:
2-3 boneless, skinless chicken breasts
1 15 oz. can black beans, rinsed and drained
1 10 oz. can mild Rotel tomatoes and chilies with their juices
2 10.75 oz. cans condensed cream of chicken soup (I used low sodium.)
1 1/2 cups water
1 green bell pepper, sliced into strips
1 red bell pepper, sliced into strips
1 poblano pepper, diced
1 cup shredded cheese (I used a cheddar jack blend.)
2 tsp cumin
2 tsp garlic powder
2 tsp chipotle chili powder
1 tsp black pepper
1 tsp onion powder
Toppings for serving (if desired): avocado, fresh cilantro, additional cheese, sour cream, etc. (I just used some sliced avocado this time, but next time I'll probably add some fresh cilantro as well.)
Instructions:
1. Spray the inside of the crockpot with cooking spray.
2. Place the chicken breasts in the bottom, then add the black beans, Rotel, cream of chicken soup, water, cumin, garlic powder, chipotle chili powder, black pepper, and onion powder. Stir the mixture several times to blend everything together.
3. Cook on low for 6-8 hours.
4. When about 35-40 minutes of cook time remain, remove the chicken to a plate and shred with two forks. Stir the shredded chicken back into the soup mixture.
5. After the chicken has been shredded and placed back into the crockpot (about 30 minutes prior to the end of the cook time), add the sliced green bell pepper, sliced red bell pepper, and diced poblano pepper. Mix well to combine the peppers with the soup. (I chose to add the peppers later because I wanted them to retain some crunch. They softened a little, but they still had a slightly crisp texture. I'm sure they would be fine if you added them at the beginning, but I prefer slightly crisp to soft when it comes to peppers.)
6. Stir in the cheese, and allow it to melt completely into the soup. (This should take about 10-15 minutes.) Serve with your favorite toppings.