If, like me, you're still having some difficulty getting back into the habit of a normal (and at least somewhat healthy) meal plan after the gluttony that was last Thursday, today's recipe might be just what you need.
I've been trying to make an effort to cook meatless meals a little more often lately. I still use meat a lot, but sometimes it's nice to switch things up a bit. Plus, meatless meals help us get even more veggies and beans into our diet
and
help cut down our grocery bill a bit!
After reading Kristen's great post on
20+ delicious things you can do with chickpeas
several months ago, I was determined to try cooking with them. I'd eaten plenty of things containing chickpeas (hummus, falafel, etc.), but I'd never actually made anything with them myself. Obviously it was time to change that, especially since I was already on a mission to come up with more meatless meals!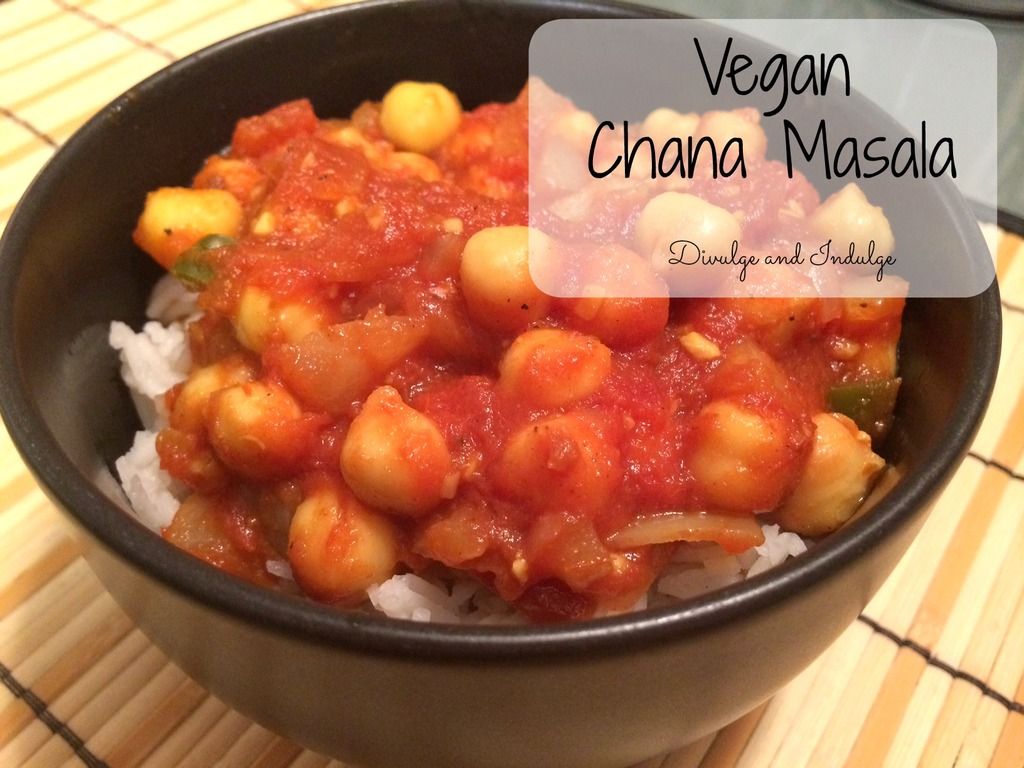 I'm so glad I decided to branch out a bit because this was really good. It's hearty and comforting (perfect for the chilly late fall evenings we've been having in Nebraska lately!), and, as an added bonus, it's healthy. It's also incredibly easy ... I think I could have made this even back when I was just learning how to cook!
I will say that if you're not a fan of tomatoes, you'll hate this. The tomato flavor is very strong, and you may need to add some additional spices prior to serving. (This obviously depends on your palate, though. I'd suggest tasting it prior to serving and then adjusting the flavor as necessary. As written, the recipe doesn't include any adjustments.)
If, however, you like the flavor of tomatoes, want to incorporate more meatless dinners into your weekly meal plans, and are open to playing around with Indian flavors, this might be the meal for you!
Vegan Chana Masala
Adapted ever so slightly from a recipe on
Cookie + Kate
.
Ingredient List:
1 tbsp olive oil
1/2 of a large yellow onion, diced (This was about 1 cup.)
1

jalapeño pepper, diced (If you want this dish to be really spicy, include more seeds or even throw in another pepper. I left some seeds in, but removed most of them since Eric doesn't love super spicy stuff.)

1 28 oz. can whole crushed tomatoes in puree (You could also opt to use whole peeled tomatoes and crush them yourself with a spoon if you want a chunkier sauce. If you go with this option, make sure you use the juices as well!)

2 14 oz. cans chickpeas, rinsed and drained

1/2 of a lemon

3 cloves garlic (or, if you're lazy like me, the equivalent of jarred, pre-minced garlic)

1 tsp ground ginger

1 tsp turmeric

1 tsp sea salt

1 tsp paprika

2 tsp cumin

2 tsp coriander

2 tsp garam masala

1/4 tsp cayenne pepper
Instructions:
1. Heat the olive oil in a large skillet over medium heat.
2. Add the onion,
jalapeño pepper, and garlic to the olive oil and cook for about 5 minutes, or until the diced onions and peppers begin to soften.
3. Stir in the ground ginger, turmeric, sea salt, paprika, cumin, coriander, garam masala, and cayenne pepper, and cook for about 30 seconds to 1 minute.
4. Pour in the tomatoes, then squeeze in the juice from half a lemon.
5. Add the chickpeas to the skillet, and stir several times to incorporate the spices into the sauce.
6. Turn the heat down to medium low and allow to simmer for 20-30 minutes. (The longer it simmers, the better.) Taste and adjust the spices if necessary.
As you can see from the photo, I served this meal over white basmati rice. This will make enough for leftovers, and trust me, you'll want to save some for later ... It's even better the next day!