I mostly failed when it came to sticking with my February goals. When I posted
my results
last month, I tried to look at where I fell short and figure out how I could have a more productive March.
Unfortunately, I just wasn't motivated. At all.
By the end of the month, I just stopped caring. A part of me really wanted to mark things off my list. That same part wanted to write a very different goals and results post than the one I'm sharing today. But the lazier, less goal oriented part of me was just like, "Oh, fuck it. I fell behind already, so why bother?" Obviously that part won out.
I thought about just skipping this post altogether, but then I realized I shouldn't be embarrassed that I didn't stick with my goals last month. It happens. Whatever. I'll share my results and then move on.
March 2016 Goals and Results
1.
Read 6 books.
FAIL.
I like to set a specific number of books to read each month because I think it helps keep me on track for my goal for the year. (This year I want to read 60 books.) Obviously sometimes I don't reach that goal, but, if you were wondering why I always have a "Read x number of books" goal every month, that's why. In March I only managed to read (from start to finish) a total of 4 books.
2.
Finish Book Challenge by Erin 4.0.
FAIL.
All of the books I read in March were for this challenge (you can see my challenge picks
here
, if you're interested), but I still haven't quite finished. I'm on my final book, though, so I'll definitely finish before the challenge ends at the end of April!
3.
Make and post bonus round picks for Book Challenge by Erin 4.0.
FAIL.
I have a few books out from the library that will satisfy some of the categories for the bonus round, so I'm planning to read as many of those as I can before the end of this month. I won't finish 10 more books (I just can't read that fast!), but at least I won't be giving up completely.
4.
Post 2-3 times each week on my blog.
FAIL.
I started the month off strong, but by the end, I wasn't posting at all. I mean, I didn't write a single post last week. I just didn't feel like it. And, while I definitely want to make my blog more of a priority, I also don't like to feel like I
have
to post ... So I'm not too sad about failing this one.
5.
Get back into a 5 day per week workout routine.
FAIL.
I was most disappointed that I wasn't able to stick with this goal. I didn't completely abandon working out, but I think I could have done better.
6.
Make a double payment on my car.
PASS.
This is the only goal I managed to stick with in March, but it was a good one to complete. (And I actually paid slightly more than double since I rounded up!) I'm ready to get my car paid off, so the more I can put on it each month, the better!
7.
Try one new class at the gym.
FAIL.
I actually had a specific class in mind, and I
still
didn't bother going. Oh well. Maybe I'll make it to that class eventually.
8.
Organize/purge/shred papers in my basket.

FAIL.
This basket is essentially my "junk drawer" and where all random mail and other papers seem to go to die. I had a bad feeling I'd wait until the end of the month for this one because I really dislike doing stuff like this ... But I wound up just avoiding it completely. I should probably do this soon, though, because as much as I hate taking time to go through a bunch of crap, I also hate looking at a messy, overflowing basket of junk.
Like I said, March wasn't exactly my month for sticking with goals. I also ate out a lot, which led to spending a lot more money than I initially planned (and putting the two pounds I lost last month right back on). I'm hoping I'll do better in April, but we'll see.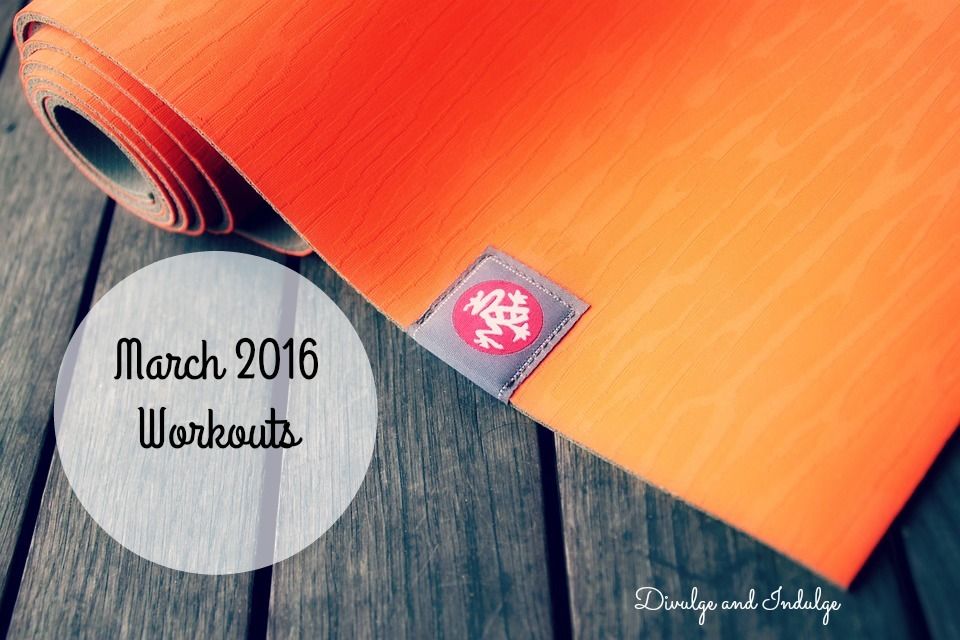 And now on to my workouts for March. As with previous months, I'm just sharing the basics: which days I worked out, what I did, and how long I did it. This part of the post is more for me (mostly so I can get a quick overview of my workouts for the month), so feel free to skip it if you don't care about other people's workouts.
March 2016 Workouts
Week 03/01 - 03/08:
03/01:
Yoga video (30 minutes)
03/02:
Yoga video (35 minutes)
03/03:
Yoga video (25 minutes)
03/07:
Yoga video (40 minutes)
Total Time:
130 minutes (2 hours, 10 minutes)
Week 03/09 - 03/16:
03/09:
BodyPump class (60 minutes)
03/10:
Yoga video (35 minutes)
03/12:
Yoga video (50 minutes)
03/14:
Yoga class (60 minutes)
03/15:
Yoga video (45 minutes)
03/16:
Yoga video (30 minutes)
Total Time:
280 minutes (4 hours, 40 minutes)
Week 03/17 - 03/24:
03/17:
Yoga video (25 minutes)
03/20:
Yoga video (30 minutes)
03/21:
Yoga video (30 minutes)
03/23:
Yoga video (45 minutes)
Total Time:
130 minutes (2 hours, 10 minutes)
Week 03/25 - 03/31:
03/25:
Yoga video (30 minutes)
03/28:
Yoga class (60 minutes)
03/30:
Yoga video (30 minutes)
Total Time:
120 minutes (2 hours)
Looking at it like this, my workouts really don't look so bad ... But I had a few issues. I'd sometimes skip two or three days in a row (which makes it
really
tough for me to get back into it), I didn't push myself the majority of the time, and I didn't do any straight up cardio (i.e. walking, jogging, Zumba, etc.). I also only went to one BodyPump class. Whomp whomp.
Yoga is clearly my favorite form of exercise, and really the only thing that makes me
want
to work out ... But I still only managed to make it to two yoga classes the entire month of March. I also didn't challenge myself in my practice as much as I think I should have, so that's something I need to work on. I may never be able to do certain poses, but I'd like to continue increasing my strength and flexibility and work toward some of the more advanced poses I'd feel comfortable trying.
Anyway, that was March.