When I shared the results of my
monthly personal challenge for February
, I promised I'd post my (somewhat) original recipe in my next Tasty Tuesday post. Then I moved to Blogger and spent 2 weeks tweaking everything and that post never happened.
Today I'm making up for that, though. And, as an added bonus, I'm also sharing what I did with the leftover filling. It's not a new concept by any means, but it's a slight variation of one of our favorite quick weeknight meals (also known as what I do when I've forgotten to plan for anything else and don't feel like making a frozen pizza or getting takeout).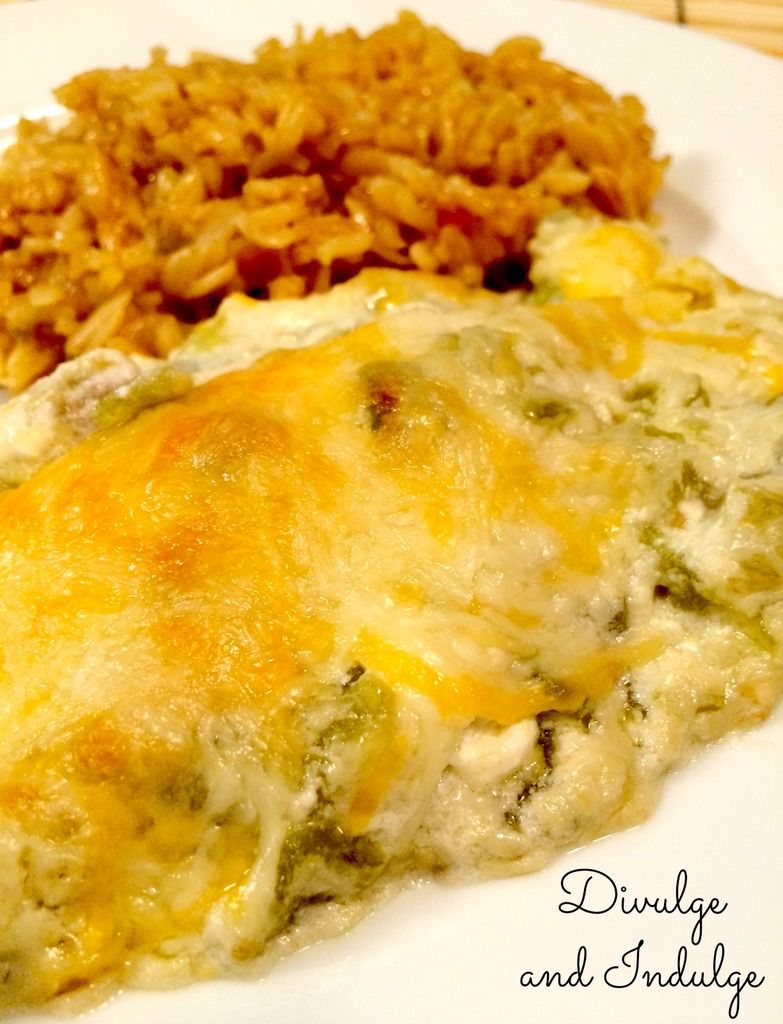 I couldn't get a great picture of these enchiladas, but trust me ... They're delicious!
I realize that from this picture these enchiladas look almost identical to the
chicken enchiladas
I posted a long time ago, but I promise that the sauce is the only thing that's the same. I'd never had chorizo potato enchiladas with anything other than a red sauce, so I decided to take a risk and use this amazing sauce instead. And it was
phenomenal
! The flavors of the chorizo and potatoes paired wonderfully with this green chile sour cream sauce. So well, in fact, that Eric kept complimenting the meal as he devoured the enchiladas on his plate.
Don't just take my word for it, though. Try these enchiladas for yourself ... You won't be disappointed!
Chorizo Potato Enchiladas with Green Chile Sour Cream Sauce
A Divulge and Indulge original recipe. (Sauce adapted from a recipe on
Taste and Tell
.)
Ingredient List (Filling):
3 medium Yukon Gold potatoes, peeled and diced into very small (about 1 inch) chunks
0.75-1 lb chorizo sausage (I used 0.75 lbs, and that was plenty)
1 tbsp olive oil
1 cup white onion, diced
1/2 cup black beans, rinsed and drained
1/2 tsp garlic salt
1/2 tsp black pepper
1/2 tsp chipotle chili powder
1/2 tsp Mexican oregano
Instructions (Filling):
1. Heat the olive oil in a large skillet over medium heat.
2. Add the diced potatoes and onions to the skillet and season with the garlic salt, black pepper, chipotle chili powder, and Mexican oregano. Cook over medium heat until the onions and potatoes have softened a bit and the potatoes have started to brown.
3. Crumble the chorizo sausage into the skillet with the potatoes and onions, cooking until completely browned.
4. Stir in the black beans, and allow the mixture to cook for approximately 2 minutes (or until completely warmed through).
Ingredient List (Enchiladas):
10 corn tortillas (soft taco size)
2 cups shredded Mexican blend cheese (I used Sargento 4 Cheese Mexican blend, which, according to the package, includes Monterey Jack, Cheddar, Queso Quesadilla, and Asadero cheeses)
Cooked chorizo and potato mixture (from recipe above)
Instructions (Enchilada Assembly):
1. Preheat the oven to 425 degrees.
2. Spray a 9x13 inch pan with cooking spray.
3. Warm the corn tortillas in the microwave (I zapped mine for 15-20 seconds) to make them more pliable.
4. Place a tortilla on a plate and fill it with some of the cooked chorizo and potato mixture and some of the shredded cheese.
5. Roll the tortilla around the filling and place it seam side down in the 9x13 inch pan. Repeat steps 4 and 5 until you've used all of your tortillas, taking care to place an equal amount of filling in each tortilla.
Ingredient List (Green Chile Sour Cream Sauce):
3 tbsp low fat margarine or butter (I used low fat margarine)
3 tbsp flour
1 1/4 cups chicken broth
1 cup sour cream (I used light sour cream to try to lighten the recipe up a bit, and it worked just as well as regular sour cream)
2 4 oz. cans diced green chilies
Instructions (Green Chile Sour Cream Sauce):
1. Melt the butter in a small pan.
2. Stir in the flour and whisk for approximately 1 minute.
3. Slowly whisk in the chicken broth and cook over medium heat until thickened and no lumps remain.
4. Stir in the sour cream and green chilies until well combined.
5. Pour the sauce over the pan of enchiladas and top with the remaining shredded cheese.
6. Bake the enchiladas for 20-25 minutes, or until the cheese is melted and bubbly.
As I said earlier, you'll likely have leftover filling unless you stuff your enchiladas to the point of bursting or opt to make multiple pans of enchiladas (and, if you do that, you'll definitely need to double or triple the sauce recipe!). As I also said, we weren't exactly creative with our leftovers.
I'm going to share what we did anyway, though, because the result was a delicious, simple meal that not only used up the leftover filling but also the leftover black beans (I used canned black beans and I saved the remaining beans after measuring out 1/2 cup for the enchilada filling). I hate wasting food, so it made me happy to avoid throwing anything out!
This is so good, you don't even realize you're eating leftovers!
Burrito bowls are a favorite lazy night meal in our house. Sometimes we brown some ground beef or turkey or grill some chicken and mix that with black beans, onions, green chilies, and spices. Sometimes we omit the meat completely and just have vegetarian burrito bowls. And sometimes we make burrito bowls in order to use up leftover enchilada or burrito filling. No matter the version, burrito bowls are always a hit with us!
Chorizo Potato Burrito Bowls
A Divulge and Indulge original recipe.
Ingredient List:
Leftover filling from the Chorizo Potato Enchiladas with Green Chile Sour Cream Sauce (from recipe above)
1 1/4 cups black beans, rinsed and drained
2 cups cooked rice (I used basmati because that's what we had on hand)
Shredded cheese for serving (I used the same 4 cheese Mexican blend I used in the enchiladas)
Sour cream for serving
Salsa for serving
Guacamole for serving
Instructions:
1. Mix the black beans together with the leftover chorizo and potato filling and heat until completely warmed through. (I honestly just microwaved ours for about 3 minutes and it tasted great, but you could also dump everything into a pan and cook it on the stovetop if you prefer that method.)
2. Spoon rice into a bowl and top with the black beans and filling.
3. Top with shredded cheese, sour cream, salsa, and guacamole.
I just had to add another picture to show off all the layers in the burrito bowl.
Burrito bowls are seriously simple meals that taste amazing. If you're a fan of Chipotle and/or Qdoba burrito bowls, this is a great way to get your fix without spending $8.00 (or however much they are these days since I can't remember right now).