It feels like it's been a lot longer than a month since the last Show Us Your Books! link-up. Maybe it's because I was actually prepared this time around. It always feels like it sneaks up on me when I haven't read many books and/or haven't been writing out my reviews as I go, but time seems to drag on when I have a mostly finished post sitting in my drafts.
Since the last link-up, I've read a lot of books with blue covers. This is somewhat unfortunate since one of the categories for
Book Challenge by Erin 5.0
is "Read a book that has a (mostly) blue cover." (I've been slacking, but I should have my list finished and posted sometime next week.)
I read quite a bit this time around, so I tried to keep my reviews short. (The same cannot be said for my introduction, however.)
I'm trying something a little different this month as well: for the link-up post, I'm giving a brief synopsis and some general thoughts on the book. When I post my more in-depth reviews on Sunday, I'll just be sharing more (spoiler free!) specifics about what I liked/didn't like about each book.
I will not be including a more in-depth synopsis in that post. If you want that, please visit Goodreads. (Each book I've reviewed is directly linked to its Goodreads page.) Over the past few months I've started to get bored with trying to write a detailed summary of each book I read, and I enjoyed writing my reviews this month much more. Clearly this was a change I needed to make.
Okay, now that that's out of the way, it's time for the good stuff. Linking up with
Steph
and
Jana
, obviously.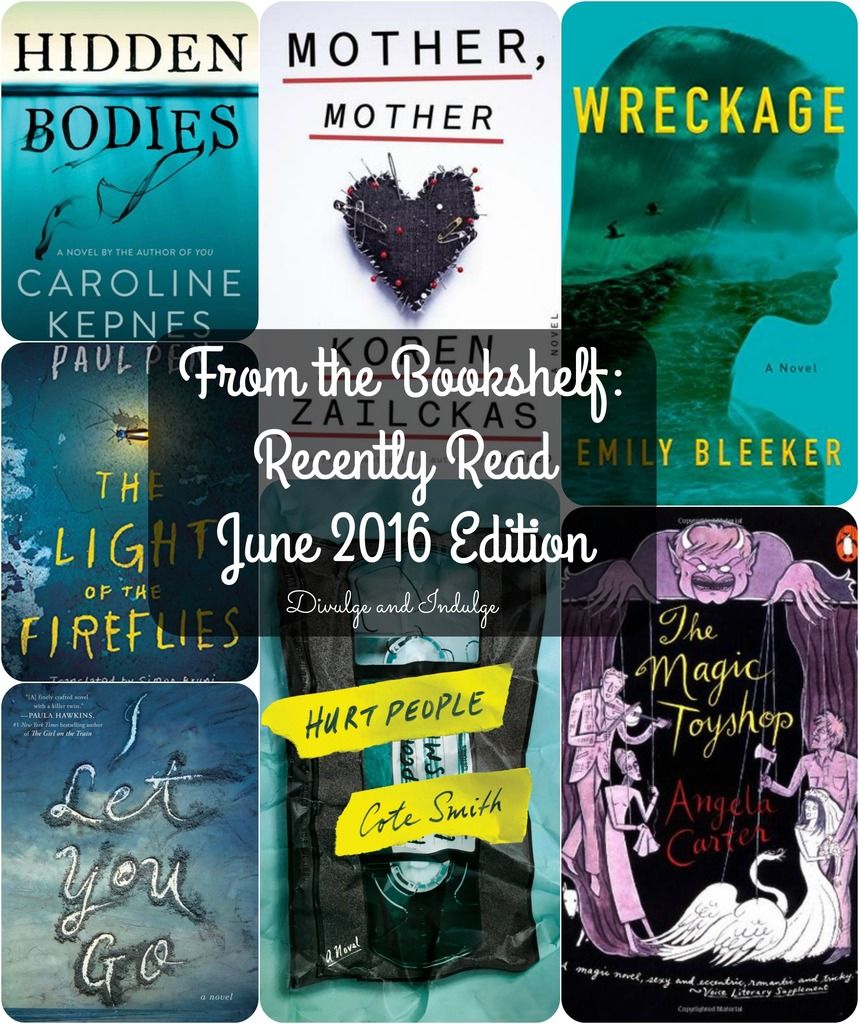 Hidden Bodies
by Caroline Kepnes - 448 pages - 3 stars
Following his disastrous relationship with Beck, Joe Goldberg is finally ready to move on. Leaving his beloved bookstore in New York behind, he heads west to California for a fresh start. But he lives in constant fear that his dark secrets will reveal themselves. Can he keep them hidden, or will they ruin everything?
I really enjoyed
You
when I read it last year, so I was really disappointed when
Hidden Bodies
didn't deliver the way I'd hoped. While I enjoyed parts of the book and got through it quickly, I thought Joe seemed a little less likable and interesting this time around.
I'll discuss my main issues with this book in more detail in my post on Sunday, but for now I'll just say that I didn't really like the whole "Joe Goes to Hollywood" storyline. I understood why he moved there, but I felt like a major part of the plot got buried somewhere under all the other bullshit.
The Light of the Fireflies
by Paul Pen - 327 pages - 3 stars
A young boy has spent his entire life living underground with his parents, sister, brother, and grandmother. As he grows a little older, he begins questioning what he knows about their situation and wondering if he'll ever experience life outside the locked basement.
The Light of the Fireflies
kept me guessing until about the middle of the book, when the author describes the series of events that ultimately led to the family's current living arrangement. And, while Pen managed to surprise me with their story and I liked the book overall, I was ultimately a little disappointed by the big reveal.
I Let You Go
by Clare Mackintosh - 369 pages - 4 stars
Jenna Gray moves to a remote cottage on the Welsh coast in an effort to put a horrific, life-changing car accident behind her. While Jenna tries to move on, two police detectives in Bristol are intent on keeping the hit-and-run case open. But when one dead end leads to another, they begin to wonder if they'll ever find out what really happened that night.
I Let You Go
is one of the best thrillers I've read recently. I'll admit that the pacing was a little slow for me at the beginning, so I initially thought I wasn't going to like the book very much. And then, after slogging through the first third or so of the book, Mackintosh dropped a major bomb and I found myself completely sucked in, desperate to know how everything was going to play out.
Mother, Mother
by Koren Zailckas - 363 pages - 3 stars
Josephine Hurst has always been obsessed with image and having the "perfect" family. When her oldest daughter, Rose, runs away, she tightens her controlling grip on the remaining members of the Hurst clan.
Some people should probably never become parents. Josephine Hurst is one of those people. She wasn't just controlling and manipulative: she was fucking psychotic and
scary
.
Although it took me a while to really get into this book and I found the ending to be just "okay," there was enough dysfunction and craziness to make this an overall entertaining read.
Hurt People
by Cote Smith - 321 pages - 4 stars
It's the start of summer in 1988, and a small Kansas town is rocked by the recent escape of a dangerous criminal. A murderer on the loose isn't enough to stop two young brothers from spending their days lounging by the pool at their apartment, though, even though their mother forbids them from going while she's at work. There they meet Chris, a mysterious stranger who quickly takes an interest in the oldest boy. As his brother becomes more intrigued by Chris and his promises to help him escape his broken home, the younger boy desperately tries to hold on to his best friend.
Although I didn't give it 5 stars, I'm still convinced that
Hurt People
is a contender for my future Best Books of 2016 list. It wasn't perfect, but it was really
really
fucking good.
While it's not the kind of fast-paced thriller that usually keeps me up at night, tearing through the pages to see what happens next, I still found myself glued to this book until 2:00 a.m. for two consecutive nights. I was torn between wanting to see how everything played out and never wanting the book to end. This one will definitely stick with me for a long time.
Wreckage
by Emily Bleeker - 294 pages - 4 stars
After a plane crash leaves them stranded on a deserted island in the South Pacific, Lillian Linden and Dave Hall are finally rescued nearly two years later. Thrust into the spotlight, their fascinating story captures the interest of the public ... And journalist Genevieve Randall. Genevieve is convinced they're both hiding something, and she's determined to uncover the truth about what really happened on that island.
This is not a perfect novel by any stretch of the imagination. There were a few things that were over-the-top ridiculous, and I thought some of the things Lillian and Dave lied about were kind of trivial and silly. And the ending? Well, it honestly kind of sucked.
It may be surprising that I gave the book I just described 4 stars, but, in this case, I was able to look past many of its flaws. In the end, the story of the plane crash and life on the island kept me entertained. And, while a lot of the lies/secrets seemed completely unnecessary, Bleeker did a great job holding my interest throughout most of the novel, revealing just enough to make me think, "Okay, I'll just read one more chapter!" each time I thought I was ready to put it down.
If you're looking for a fun beach read with a little bit of romance and mystery, this is a great pick ... Just don't read the first few chapters while you're on a plane!
The Magic Toyshop
by Angela Carter - 200 pages - 2 stars
After their parents die in an accident, Melanie and her two younger siblings are sent to live with relatives they've never met: mute Aunt Margaret, her brothers Francie and Finn, and their strange and controlling Uncle Philip.
I can't really say much more about the plot of this book because, well, that pretty much sums it up. I kept waiting for something interesting to happen, but nothing ever did. (Okay, I take that back. The last 8-10 pages or so had a bit of drama, but it was too little, too late.)
I was so disappointed that I didn't like this book. It had some promising moments, and I did like the way Carter handled Melanie's loss of childhood/innocence in the novel. However, for a short novel of only 200 pages, it
dragged
. Even the lovely, almost poetic writing couldn't save this one for me. (Though it
did
manage to save the book from a 1 star rating, so I guess that's something.)