I don't really like to combine my results and future goals in a single post, so I'll finally link up with
Steph
and
Sara
tomorrow when I post my summer goals. I'm already late to the link-up, so what's one more day? That means no Tasty Tuesday post this week. Some people can publish two posts in a single day, but I am not one of those people.
I thought about sharing my results on Friday when the link-up went live, but I kept pushing this post back because some silly, naive part of myself kept saying, "It's okay, you've got a few more days to do everything. You're sticking with the calendar, remember?"
You know what I did with those extra days? Nothing. Okay, that's a lie ... I did things. I just didn't do any of the things on my
list of goals for spring
.
I don't typically do seasonal goals, but I was excited to try it out. I thought having three months to work on things would make me much more productive. Man, was I wrong.
The thing is, sometimes I like to procrastinate. I don't do it all the time because it would literally drive me insane, but sometimes I just find that I'm not really in the mood to do certain things and I put them off as long as possible. (Or, as you'll see in this post, I don't do them at all).
Unfortunately, I tend to procrastinate if I feel like I have a long time to finish something. Instead of jumping in immediately, I mostly ignore it until I can't ignore it anymore ... And then I have to decide if it's worth my time and energy or if I just want to say "fuck it" and move on.
Clearly I chose the "fuck it" attitude for the majority of my spring goals. Whomp whomp.
Spring 2016 Goals Results
1.
Purge and reorganize my closet (including shoes, underwear, etc.).
FAIL.
I didn't even take five minutes to glance through my closet. I hate doing this shit. And, even though I know it needs to be done eventually, I'll probably put it off for as long as possible.
2.
Buy a few new things to update my spring/summer wardrobe.

FAIL.
I thought this one would be easy to complete. I mean, I'm the kind of person who enjoys shopping for clothes. I even spent an entire Saturday at one of the local malls with a friend and bought nothing (well, I bought food but that doesn't count). I didn't see anything that really stood out, and I didn't want to buy something I didn't really even want. That just makes #1 even harder because I'm adding more shit I don't need to my closet.
3.
Pay off 25% of the remaining balance on my auto loan.

PASS.
At least I completed one of my more important goals! I usually try to prioritize any financial goals because they're generally not too time consuming and they also allow me to form good habits. I actually paid off a little more than 25% of the remaining balance (just under 31%), and I'm on track to pay off my car by the end of the year!
4.
Finalize planning and booking our 3 year wedding anniversary trip for November.

FAIL.
We still have plenty of time to get this figured out, but I'm kind of surprised we haven't done it yet. The main issue is that our original plan (an all-inclusive resort in the Caribbean) isn't exactly my ideal vacation. So when we started casually discussing some other places we'd want to go, I started obsessing over the best way to combine a beach vacation with something that matches my interests a little more. And, instead of figuring anything out, we kind of came to a grinding halt. Eric still really wants to stick with the original idea, and I'm kind of on the fence. We'll see what happens, but that's where we're at right now.
5.
Spend more time outside.
PASS.
I'm giving myself a pass on this one because I took a few walks outside, had dinner with Eric and my in-laws outside on their patio on a nice evening, and even sweated my ass off last night at the College World Series. I didn't do outdoor activities every week or anything, but I spent more time outside than I normally do. (That's not really saying much, but still ... It's something I can actually cross off this list!)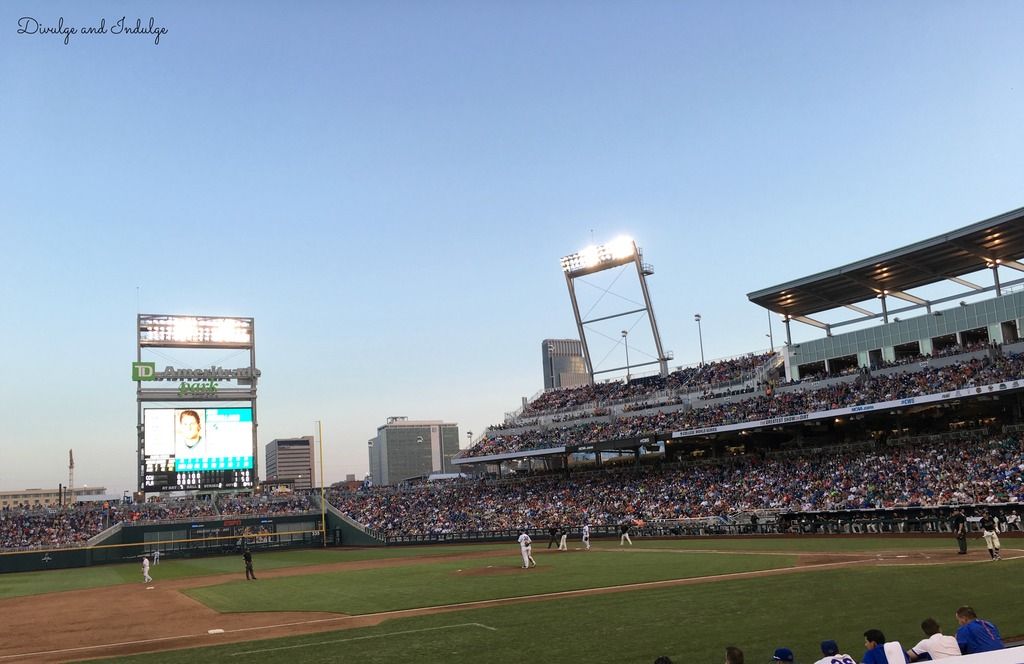 6.
Plan Eric's birthday dinner.
PASS.
We went to the
Flatiron Cafe
on Saturday, and it was fabulous! In the pictures below you can see our appetizer (potato encrusted sea scallops), entrées (I had the veal chop with jalapeño bacon potato salad and brussels sprouts and Eric had the filet and lobster special with potato au gratin and steamed vegetables), and dessert (crème brûlée with berries). Also pictured: Eric blowing out the candle on the dessert. Not pictured: the two bottles of wine we drank. Don't worry, we took an Uber there and back because we were planning to order plenty of wine!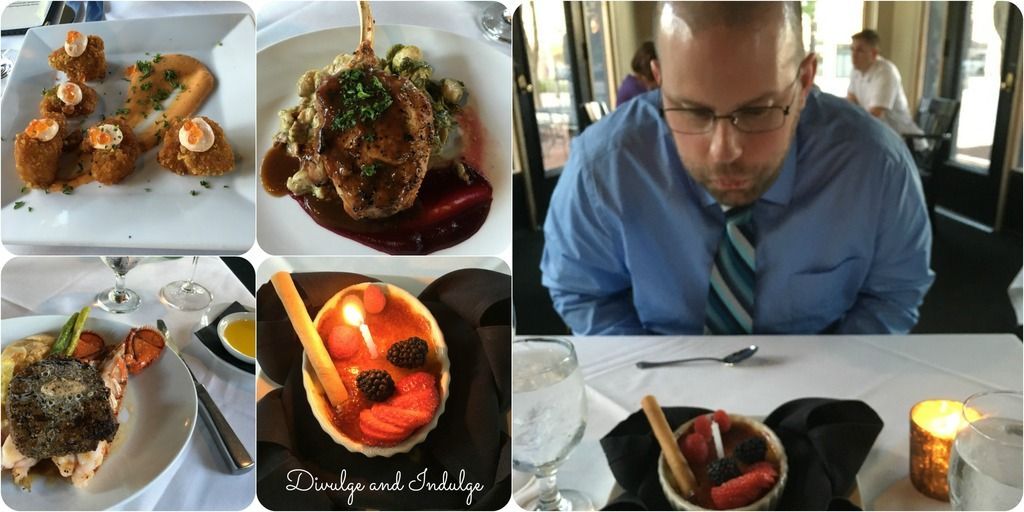 7.
Go to the eye doctor.

FAIL.
This is something I really shouldn't keep putting off, but it's so easy to forget to call and make an appointment until they've already closed for the evening. Why can't they just offer a way to schedule appointments online? It would make things so much easier!
8.
Update my recipe index on the blog.
FAIL.
I really wanted to do this, but I didn't have the motivation. It's important to me that I update it soon, but I've been putting it off for so long that it's going to take a while to get caught up.
9.
Update the look of my blog.

FAIL.
Again, this was something that I really wanted to do, but I opted to spend my "fun" money on other things (mostly eating out and a dress from Rent the Runway for my dinner out with Eric). I also know I have some expensive car maintenance things coming up (it's nothing major, just several things that unfortunately need to be replaced all at once), and my mom is planning to visit in August (so that means we'll probably be going out to eat a little more often and/or doing other fun things in town that may cost money). So basically this is getting pushed further down on my priority list.
10.
Read at least 4 books I own (not rereads).

FAIL.
I really thought I could do this since June has been all about the
Read My Books challenge
. As of right now, I've almost finished 3 books I own. I haven't had as much free time to read lately, and I'm not loving the book I'm currently reading ... So that explains that.
And that was spring. I'm still thinking about some of my summer goals, but I'll probably try to make a slightly shorter list this time around. Maybe I'll actually stick with my goals if there are fewer to deal with!