I know I've mentioned this at least a hundred times, but Eric and I really love food. We love trying new things, cooking at home, and, of course, eating out.
We're fortunate to live in a city with a large number of dining options. I know it's not the same as living in a huge city, but for a smaller to mid-size city, Omaha has a lot of restaurants to choose from. We occasionally go to chain restaurants if we want something quick but delicious (like Chipotle, Qdoba, Panera, or Noodles & Company), but we usually try to support local places instead. Besides, it's more fun to eat at restaurants unique to your area!
For my birthday, Eric surprised me with a reservation to
V. Mertz
. With their emphasis on serving local meat and produce, this is exactly the type of restaurant we like to support! And it was good ... Like really
really
good.
V. Mertz is one of several restaurants in Omaha that changes its menu on a daily basis. I think that's a really smart way to keep people interested and coming back. While we definitely go to certain restaurants because we're craving specific things, we also like trying new places because we have an opportunity to try a lot of new dishes. If a restaurant we've already tried (and enjoyed!) is continually offering new options, we'll be more likely to go there when we want to try something different since we can trust it will be delicious.
We started our meal off with some cocktails. I had the Grass Kilt (the pink drink in the photo below) and Eric had the Re-Animator. Mine was pretty sweet and fruity, so it was a really great choice for a refreshing summer evening drink. Eric's had a pretty strong espresso flavor, and we both really liked it (though I probably would have wanted something like that with a dessert).
After finishing those, I ordered a glass of sparkling wine (one of my favorite things!) and Eric ordered a beer. Beer wasn't listed on the cocktail/wine menu, so Eric just asked the server for recommendations for a dark beer that might pair well with his meal. The waiter returned with a Porter, and we were both impressed because it was delicious and definitely tasted great with his dinner! I didn't get a picture until about half the beer was gone, but I'm sure you get the idea (plus, beer always looks like beer).
Before any of our food arrived, the server brought over an amuse-bouche. He described all the components, but I honestly can't remember what they were now. (What a bad blogger ... I should have written it down!) It was tasty, though, and definitely got me even more excited about the things to come (which was the point!). We were also served some molasses dinner rolls with an herb butter that I didn't take a picture of (I know, I know ... But I think everyone knows what a roll looks like!). I usually don't use butter on my bread, but I
always
use it if it's "fancy" herbed butter. I was a little skeptical of the flavor of molasses in a dinner roll, but the sweetness was very subtle and the herbs in the butter complemented the flavor beautifully. (I never thought I'd have so much to say about a piece of bread!)
We decided to try the Smoked Swordfish Dip for the appetizer, and I'm so glad we did. I love the flavors of smoked fish, and this dip was perfectly rich and creamy and (of course) smoky. When we ran out of crackers, our server brought us more so we could finish our remaining dip. We both really appreciated this ... We've been to so many places that never even offer to bring more crackers, chips, bread, etc. even when you obviously have quite a bit of dip remaining.
Our main dishes were both amazing!
I had the Maple Smoked Duck Breast, which came with a smear of mole sauce, roasted potatoes, grilled cucumber, and Thai basil. I was a little worried I wouldn't want the cucumber because, to be honest, I hate it. I even hate the
smell
of cucumber (though I love pickles). However, grilled cucumber apparently works for me because I ate every last delicious bite on my plate. The duck was a perfectly cooked medium rare and had a slightly smoky sweet taste. The sauce was rich with a hint of spice, and I was glad that the duck wasn't drenched in it ... A small amount was really all that was needed to enhance the flavor.
Eric ordered the other meal I was considering: the V. Mertz Peppersteak. His steak came with cauliflower, broccoli, carrots, potatoes, and a brandy peppercorn sauce. He loved his dinner and, since he was nice enough to give me a bite, I can tell you that I loved it as well. The steak was also perfectly prepared (he ordered it medium rare, which is also my favorite way to order steak), and it had a slightly spicy pepper crust. The sauce was also fantastic ... It was rich (but not overly so), and worked very well with the flavors of the meat.
We finished our dinner off with delicious deconstructed s'mores. Everything on the dessert menu looked amazing, but I was in the mood for something chocolatey and summery, and s'mores definitely fit the bill. The dessert came with homemade marshmallow ice cream, graham cracker crumbles, a graham cracker and chocolate ganache macaron, torched marshmallows, and little bars of chocolate. So good!
Overall, our experience was fantastic. Our server was attentive but not overly so ... I hate feeling as though a waiter/waitress is constantly hovering, but I also hate having to search for them for a long period of time if I need a refill or want to order another glass of wine.
The atmosphere was romantic and classy. My pictures aren't the best because it's hard to get a decent picture in candlelight using an iPhone, but unless you're a blogger, Yelp enthusiast, or obsessed with posting pictures of food on Instagram, this probably wouldn't matter. I really liked the ambiance, and it was in the Old Market Passageway downtown, which gave it an even more intimate vibe.
And while this is definitely a nicer restaurant, I felt like they were very welcoming and treated each guest with the utmost respect. I know that sometimes I've gone to places like this and felt really out of place (because, you know, I'm not really a "fancy" kind of person). The host was even willing to take a picture for us, which is actually my favorite picture of the night: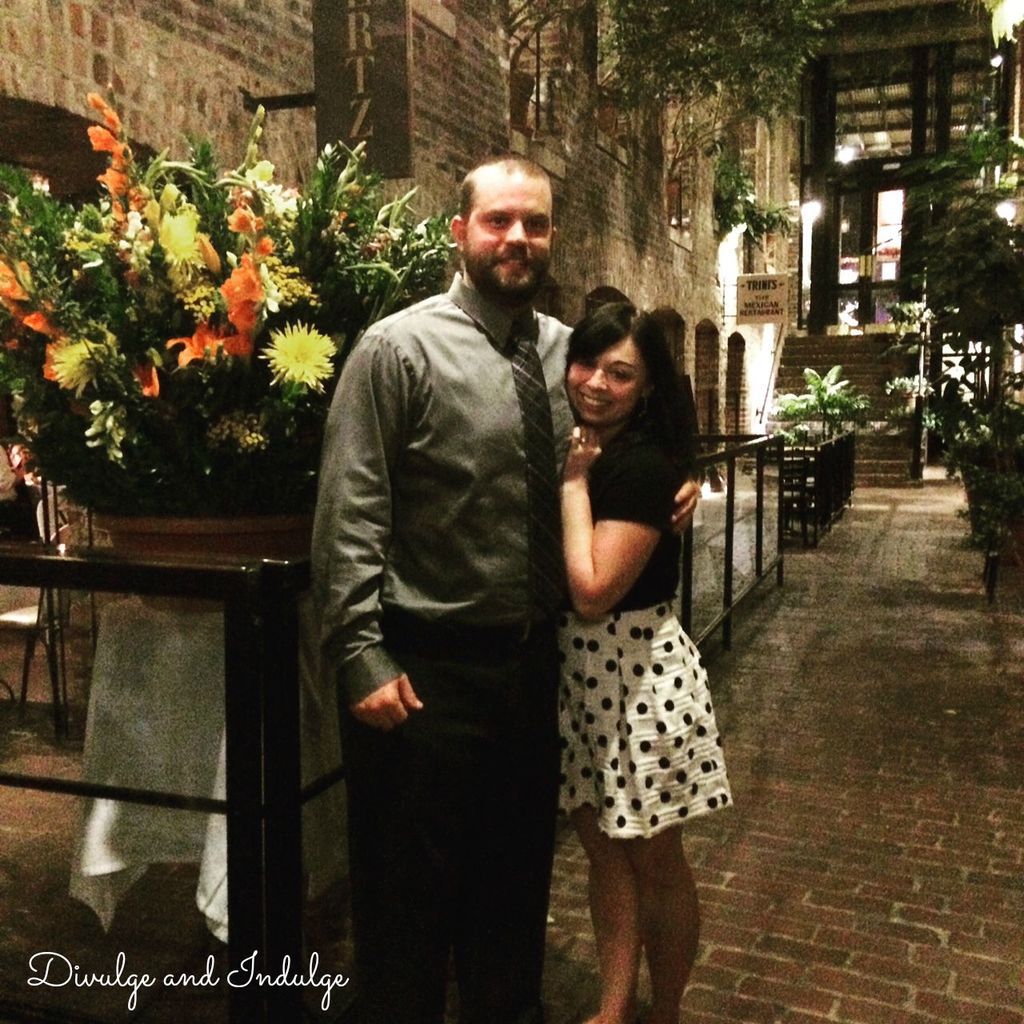 I know I already posted it on Instagram, but I wanted to post it here too so you can see just how cool the Old Market Passageway really is!
And if you read through this and thought, "Oh, Kristen, you're classy and fancy enough for a place like this," I'd like to prove you wrong with the next couple of photos. On the left, you'll see me posing for a selfie in the bathroom mirror (#classy). On the right, you'll see me awkwardly attempting to seduce Chef Boyardee in front of the ConAgra headquarters. That's apparently what happens when I get tipsy, shove my phone into Eric's hands, and demand pictures.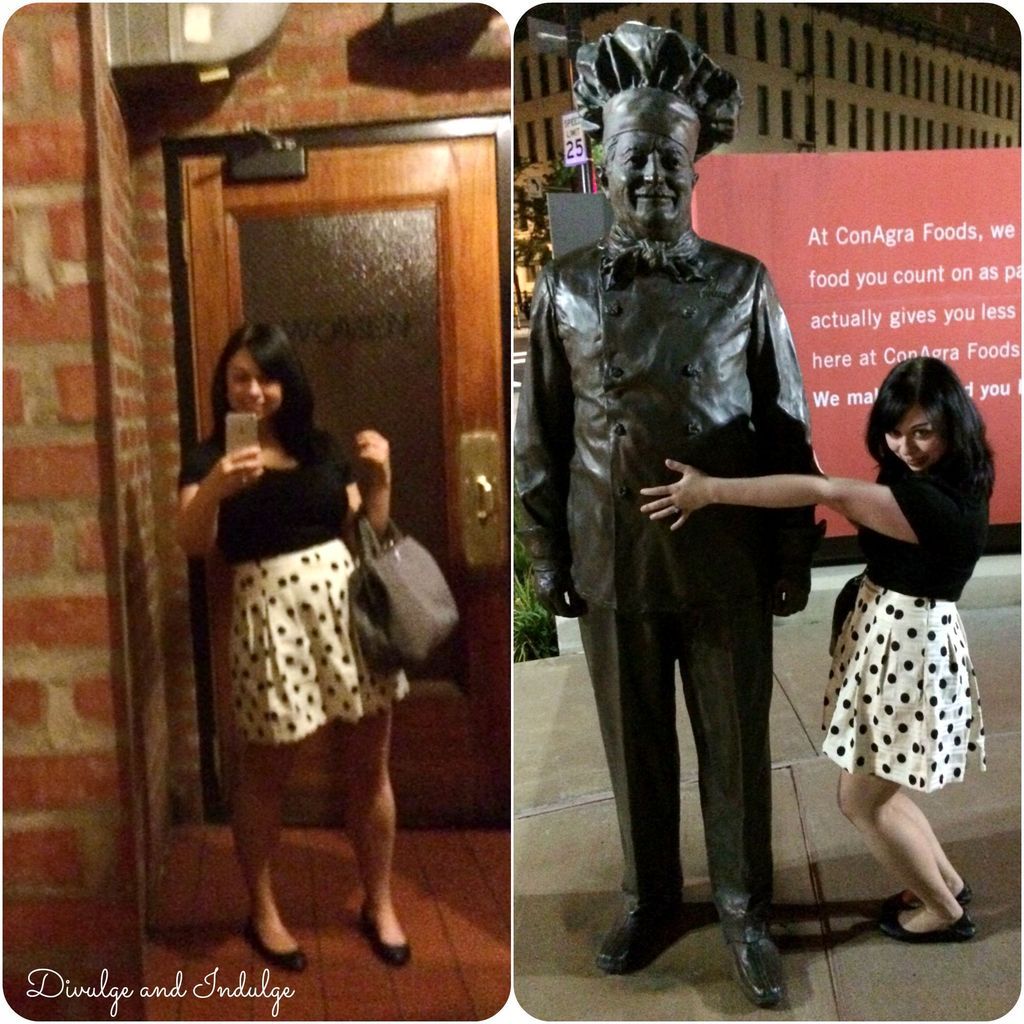 And, since it was my birthday weekend, I'll also share a couple of pictures from our breakfast on Saturday. Eric made pancakes with blueberries and pecans, and we swung by our favorite coffee shop for some delicious morning treats. Eric had a cotton candy frappe (and it was actually delicious and not disgustingly sweet like I imagined it would be!), and I had an iced dark chocolate salted caramel mocha. (And again, I know this picture was already on Instagram, but whatever.)
We finished off the weekend at Eric's parents' house, where we had delicious homemade chocolate cake and some tiramisu gelato.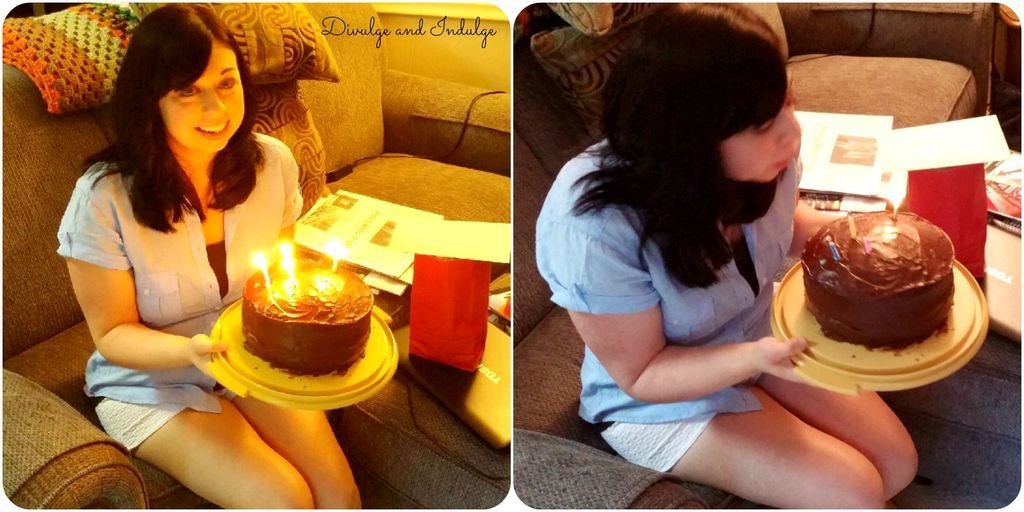 And a closer look:
All in all, a very successful and fun weekend. 31, I think I'm going to like you.