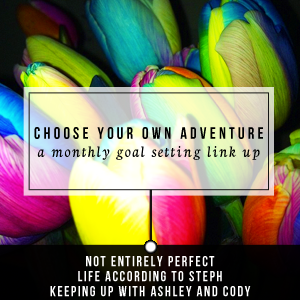 I'm usually much more organized when it comes to writing up my monthly personal challenge results, but this time I completely forgot about it until I got home from work today. This would normally be okay since I actually get home pretty early ... Today, however, Eric and I had dinner plans with one of my friends who was in town for work (and who we hadn't seen in over a year!). So instead of working on a blog post, I decided to spend some time getting ready and then enjoyed my evening out.
After a great evening of laughing, crazy stories, and awesome Indian food, I've finally found the motivation to sit down and discuss the results of my
December simplify challenge
.
To be honest, it was pretty difficult to come up with a goal for December's challenge. December is such a crazy month for most people (myself included), and sometimes you really just can't remove a bunch of shit from your calendar. I felt like my goal for December was kind of lame, but it was really the only thing I could come up with.
In case you've forgotten (or you're new to this blog), my December "making things easier on myself" goal was to simply not send out any Christmas cards. I just wasn't into it this year, and I really didn't have the time or energy to write the kind of heartfelt messages I like to include in my cards.
I'm pretty sure I don't have to tell you that this was one goal I had no trouble achieving. And while I did feel a little sad that I didn't bother to send any cards out when we started receiving some from friends and family, I was mostly just relieved. We spent a lot of time in 2013 writing cards and addressing envelopes (you know, the shit that comes with getting married like sending invitations and thank you cards), so it was really nice to not deal with any of that in 2014.
I was going to try to come up with my
January personal challenge
goals this evening, but it's getting late, I'm tired, and I have to be at work at 7:00 a.m. tomorrow. So I'll have to come back to this tomorrow (and, just a warning, it will probably be another late post since I have a yoga class in the evening). I will say, though, that I'm excited to come up with some ideas because the theme is "complete." I often struggle with completing projects in my personal life (never in my professional life, though, thankfully!), so I think it will be fun to challenge myself. I also think I'll actually feel a real sense of accomplishment if I can stick with these goals, so hopefully January is a successful month for me!