Before I sat down to write this post, I checked to see when I last posted a pasta recipe. Since I love pasta so much, I'm always worried I'll inadvertently post way too many pasta recipes in a row. (Or can there even
be
too many pasta recipes? I think not, but I'm sure others would disagree.)
Anyway, when I saw that I hadn't posted a pasta dish since mid-March, I figured it was time to change that.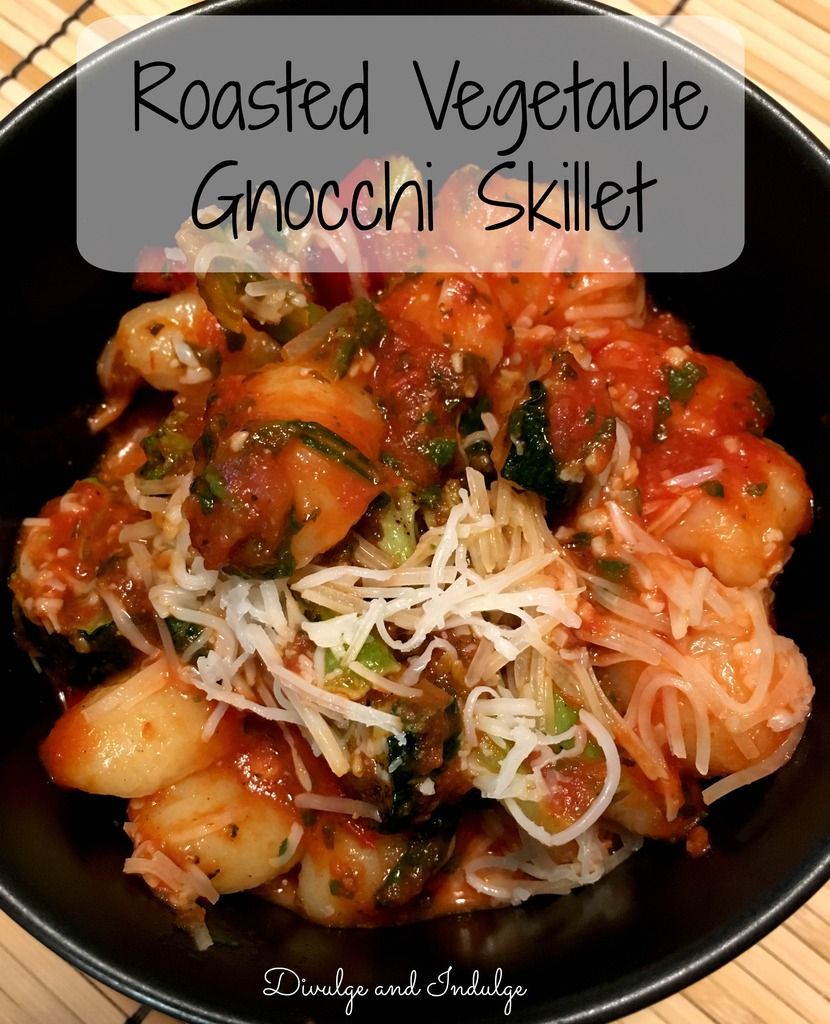 Like last week's
Lazy Chili Baked Nachos
, this Roasted Vegetable Gnocchi Skillet is incredibly easy to put together. It's kind of a "lazy" or "cheat" recipe since the sauce came from a jar and the gnocchi is most definitely
not
homemade, but that really doesn't matter. What matters is that it's delicious, simple, and a great way to sneak some extra veggies into a meal.
See?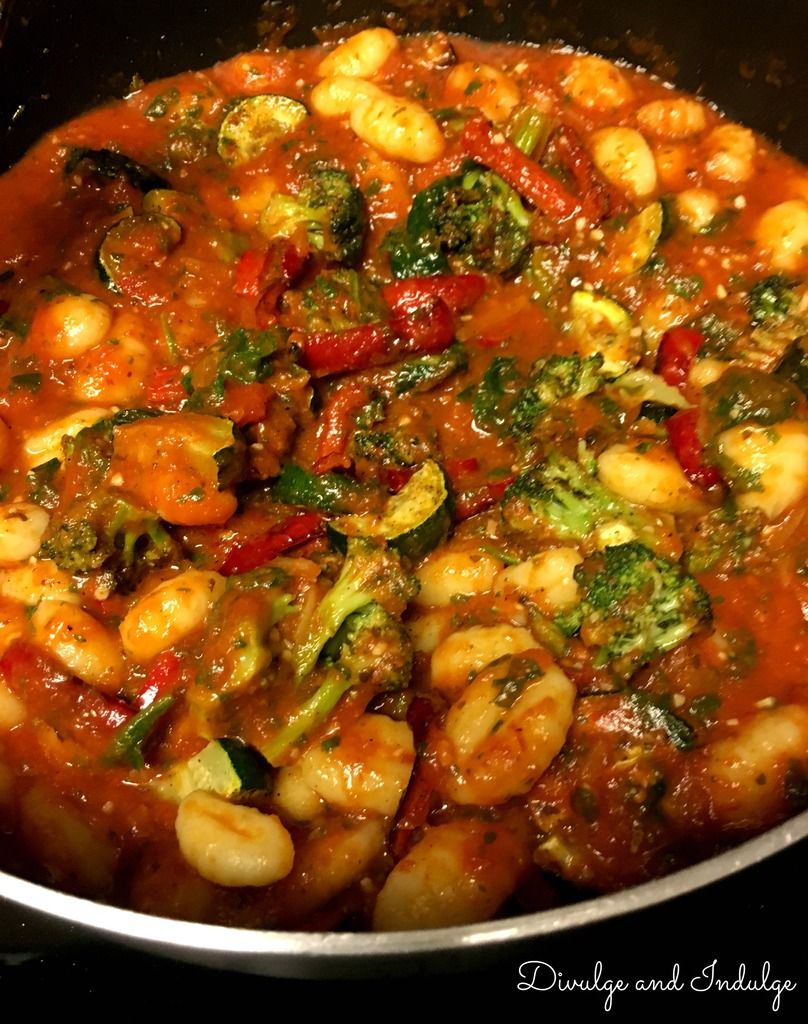 And, even though roasting vegetables obviously requires turning on the oven, there's still something about roasted veggies that screams spring/summer to me. (Though since the weather has been all over the place lately, it doesn't even matter that much if I heat up the kitchen with the oven!)
Roasted Vegetable Gnocchi Skillet
Adapted from recipes on
Budget Bytes
and
How Sweet It Is
.
Ingredient List:
1 lb package potato gnocchi
1 24 oz. jar marinara sauce (I used a tomato, garlic, and onion sauce, but any type of marinara sauce would work.)
1 medium zucchini
1 red bell pepper
1 cup frozen or fresh broccoli florets (I used frozen.)
1 cup spinach (I used fresh spinach leaves.)
2 tbsp olive oil, divided
1 tsp black pepper
1 tsp garlic powder
2 cloves garlic (or, if you're lazy like me, the equivalent of jarred, pre-minced garlic)
1 cup shredded Parmesan cheese
1 cup shredded mozzarella cheese
Instructions:
1. Preheat the oven to 425 degrees.
2. Cover a baking sheet with aluminum foil, coat with cooking spray, and set aside.
3. Cut the zucchini into slices of medium thickness, then cut each slice in half. Cut the red bell pepper into short, thin strips.
4. Spread the zucchini, red bell pepper, and broccoli florets on the prepared baking sheet, making sure that they remain in a single layer. Drizzle with 1 tbsp olive oil and sprinkle on the black pepper and garlic powder.
5. Place the vegetables in the preheated oven and roast for 25 minutes, or until they begin to brown a bit. They should look something like this when they're done:
6. While the veggies are roasting, bring a large pot of salted water to a boil. Add the gnocchi and boil until they begin to float (about 3 minutes). Once they're done, drain the gnocchi in a colander and set aside.
7. Heat the remaining tablespoon of olive oil in a large skillet over medium heat. Once the oil has heated up, add the garlic and cook for about 30 seconds to 1 minute (or until fragrant).
8. Add the drained gnocchi to the skillet with the garlic and oil and cook for about 5-7 minutes. You'll want the gnocchi to brown and crisp up just a bit, so avoid stirring it too much. I think I stirred mine just a couple of times to try to even out the browning.
9. After the gnocchi has finished cooking, pour in the marinara sauce. Stir in the spinach until it begins to wilt, then add the roasted vegetables. Stir everything a few times to thoroughly combine and let it cook for another 5 minutes.
10. Cover the gnocchi, sauce, and veggies with the Parmesan and mozzarella cheeses. Cover, turn the heat to low, and let sit for a few minutes until the cheese is melted. (Or, if you're impatient like me,
mostly melted.)