I shared some random life update things in my post on
Monday
, and considered just using that for the link-up today with
Kristen
and
Gretchen
... But then I decided not to. I just felt like writing another post, I guess. (Plus I have a not so great update, so there's that.)
Currently I'm:
Reading:
Let the Right One In
by John Ajvide Lindqvist ...
Still
. I started this book on July 24th, and it feels like I've been reading it
forever
. It's not bad or anything, but it's pretty long (almost 500 pages). I also haven't had as much time for reading lately (and sometimes haven't even felt like reading), so there's that. I should at least finish it before the next Show Us Your Books! link-up. I hope.
Listening To:
A
lot
of Chris Cornell. I probably spent the entire week before the concert listening to everything Chris Cornell, and that really hasn't changed since the show. I loved that he played songs from every part of his career (as well as some awesome covers of Led Zeppelin, Prince, and even Michael Jackson songs!). I'm posting a couple more songs than usual in this post because I couldn't narrow it down (and because I wanted to represent all of his projects). #sorrynotsorry
Wishing:
Things were a little different right now. I think I got a little overly excited about my mom's visit, and now I wish I hadn't posted about it on Monday. It's nothing too serious (she's thankfully not in the hospital or anything!), but she's had a
very
bad reaction to some new medication ... And she's now rescheduling her visit. It's not a huge deal since obviously I want her to get better (and no one should have to travel when they feel like absolute shit), but it sucks. We were both looking forward to seeing each other, and now we'll have to wait a little longer.
Spending:
More than usual, but that's (mostly) okay. I love saving money, but I also love spending it (as long as I'm spending it on fun things!). As I mentioned on Monday, my birthday is this month. I don't want to overspend, but I've decided to adopt an "it's okay to treat myself a little" attitude this month. I'm not going to buy a bunch of really expensive stuff or buy every single thing I see that I want, but I'd like to get at least a few fun things for myself.
Trying:
To get a little healthier before Eric and I head in for our annual health screen on the 27th. If we get a decent score (I can't remember the minimum, but I think it might be 85/100), we get a discount on our health insurance through his employer. Last year I got 100/100, which was completely amazing. I doubt I'll do that well this year. I've been exercising pretty regularly, but I've also been eating like shit 90% of the time. I've been slowly trying to cut down my portions, but it's never easy to do that. I'm hungry and I want lots of food, dammit!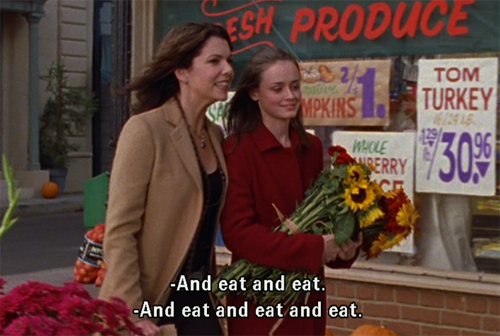 Thinking:
A lot about "old times." I know I said this on Monday, but I always get really nostalgic around my birthday. In honor of this, here's a picture of me with my best friend, Kevin, during Christmas break our senior year of college (December 2005):
This was right before I started dying my hair black. I dyed it darker brown as sort of a "trial run" before going black, so it's still darker than my natural color ... But definitely not as dark as all of my more recent pictures! It was also super short back then (probably the shortest it's ever been).
Craving:
Potato salad. I posted these
Mustard Roasted Potatoes
last week, and I mentioned that the mustard/potato combination kind of reminded me of potato salad. I told a couple of people at work that I was craving potato salad, and they were both nice enough to bring some in for our Friday treats two weeks in a row! I didn't get great pictures, but here was my
very
full plate a couple of weeks ago:
And, yes, I ate every bite.

Loving:
That I won a $25 Amazon gift card from
Erin
and
Dani
's
Read My Books challenge
! This was my first time winning anything in a blogger challenge, and it completely made my week when they told me I was one of the winners!
Planning:
Our anniversary trip ... Sort of. We keep throwing new ideas out there, checking prices, etc., but nothing has actually been booked. It's crazy. I mean, November is coming up soon, and we
still
haven't figured out exactly what we want to do or what our trip budget should be. As you may remember from my last
"currently"
post, I've recently dealt with some pretty expensive car repairs, so that's why we're not sure how much we actually want to spend on a vacation this year. Regardless, I know we both want (and probably
need
) to get away and do something fun ... So we need to figure that out pretty soon.