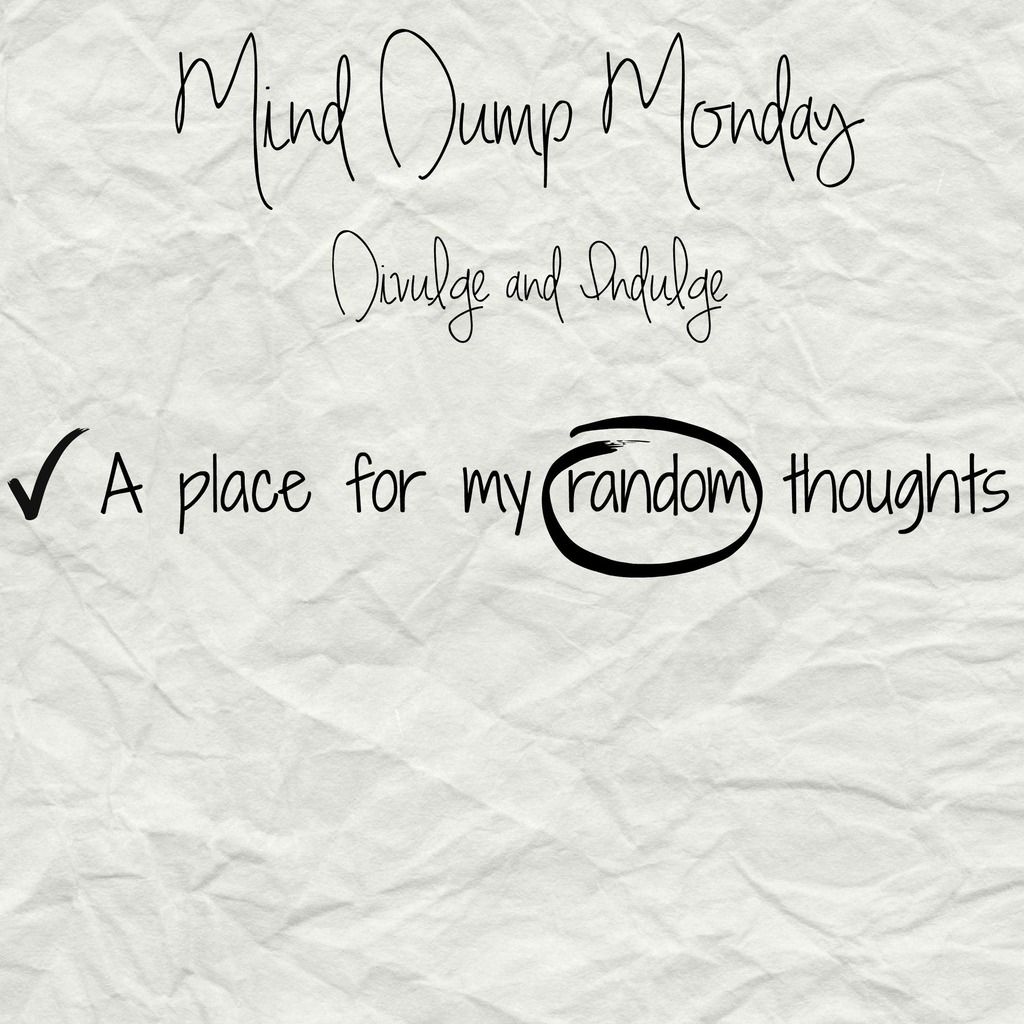 I haven't written a post like this since
January
, so I figured it was time to switch things up a bit and post about the random shit going on in my head right now. Why not, right?
1. I hate cleaning.
Hate
it. And, while I'm writing this in part because I really wanted to make more of an effort to post on my blog in the upcoming weeks, I'm also writing it because I don't feel like cleaning. If I'm working on my blog, I'm clearly too "busy" to clean. Obviously I know I can't put it off forever, but I'll put it off as long as I can.
2. I probably could have opened with something a little more interesting, but there's a reason Eric and I are deep cleaning the apartment this week: my mom is coming to visit! She'll be here for 10 days, and I've been trying to come up with some fun stuff to do while she's in town. I'm sure we'll probably just hang out sometimes (especially since it's supposed to be
so
hot!), but we'll also hit up some good restaurants and maybe do a little shopping or something. I took a few half days and a couple of full days off work, so we should have plenty of time together. I haven't seen her since December, so it will definitely be good to see her again.
3. Since my mom will be in town, I will probably be much slower with responses to comments and with commenting on other blogs. I'm trying to make sure I have some posts scheduled and ready during that time, and also still plan to participate in a couple of my usual link-ups (What's New With You with
Kristen
and
Gretchen
and Show Us Your Books! with
Steph
and
Jana
), but it may take me a little while to get around to commenting on other posts.
4. On a completely different note (or maybe not, since my mom and I have always said we're a little like Lorelei and Rory except for the whole getting pregnant at 16 thing), I'm ridiculously excited about the upcoming
Gilmore Girls
Netflix special!
Gilmore Girls
has been one of my all-time favorite shows since high school, and it's one of the few shows I regularly rewatch. It may sound silly, but I felt like I grew up with Rory. I could really relate to her in a lot of ways, and, since she was a year behind me in school, I was experiencing many of the same issues at the time the show aired. (A perfect example of relating to Rory: I cried for at least an hour the first time I got a B in a college class because apparently a B meant I was stupid and would never amount to anything in life. I wish I were exaggerating, but sadly I am not.)
5. I've been feeling very nostalgic lately, and many of my conversations have centered around memories from high school and college. It seems like this happens every year around this time, probably because my birthday is in August. I think there's something about becoming a year older that inspires me to remember the past (both the good
and
the bad).
6. I mentioned this in my last
"currently"
post, but I recently saw Garbage and Chris Cornell in concert! This definitely goes along with the whole nostalgia thing, and probably forced me to start thinking back on the old days a little earlier than usual. (Both shows were amazing, by the way.) I'd seen Garbage once before, way back in 1999. But Chris Cornell? That was almost 20 years in the making. I've loved him (and every band he's been associated with) since I was
12
. Seeing him live was, quite literally, a dream come true. I may have cried a little. No big deal.
7. I used to dread getting older. I mean, I still wouldn't say I
like
it ... But I don't think I dread it the way I used to. Anyway,
Steph
,
Kristen
, and
Erin
have all inspired me to embrace my birth month. I'm not going to go crazy or anything (I've been spending way too much money lately and need to cut back at some point!), but I want to spend this month doing things I enjoy and treating myself now and then. When August is over, I can return my focus to saving more and spending less (especially since the only major thing I have coming up in September and October is a work trip, and I'll obviously be reimbursed for any food/transportation/lodging costs that aren't paid upfront by my company). Now I just need to figure out how I want to treat myself ...