I planned to write about my Labor Day weekend trip to Minnesota last week, but I wasn't really in the mood to edit a bunch of pictures ... So I didn't.
So I'm a week late posting this, but it's okay. Better late than never!
My friend Danielle invited us to spend the weekend with her, so Eric and I both took some time off to extend our Labor Day weekend and drove the 6(ish) hours to St. Paul on Friday.
It was my first time in Minnesota (so I got to mark off my 27th state!), and I had an awesome time. We were pretty much on the go constantly, but I was glad we were able to do so much in such a short amount of time. Eric and I were both off on Tuesday as well, and I'm so glad we decided to take an extra day off to unwind!
On Saturday, we went to see the
Cathedral of St. Paul
. None of us are religious, but the church is absolutely beautiful and it was a nice quick stop on the way to a sports bar to watch the first Husker game of the season. (Obviously Eric couldn't miss that!)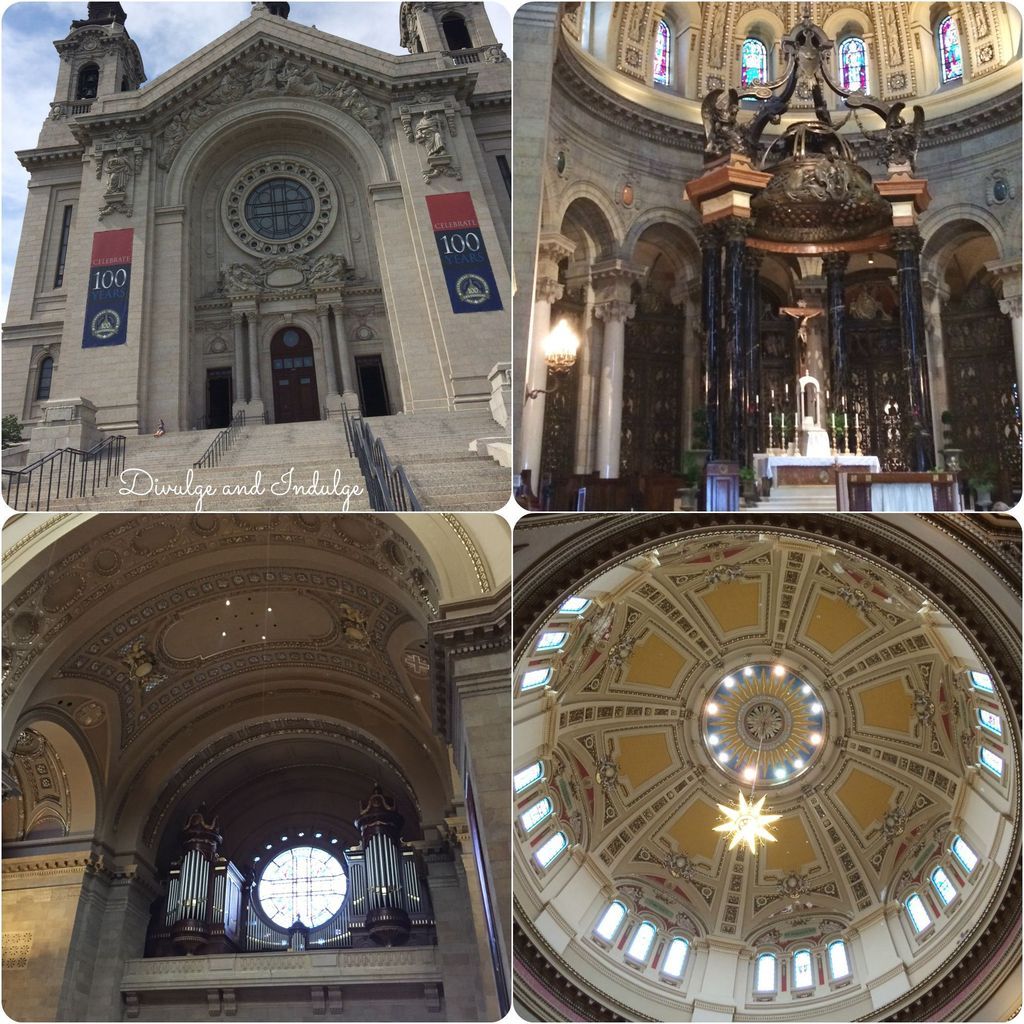 This picture is from the steps of the church: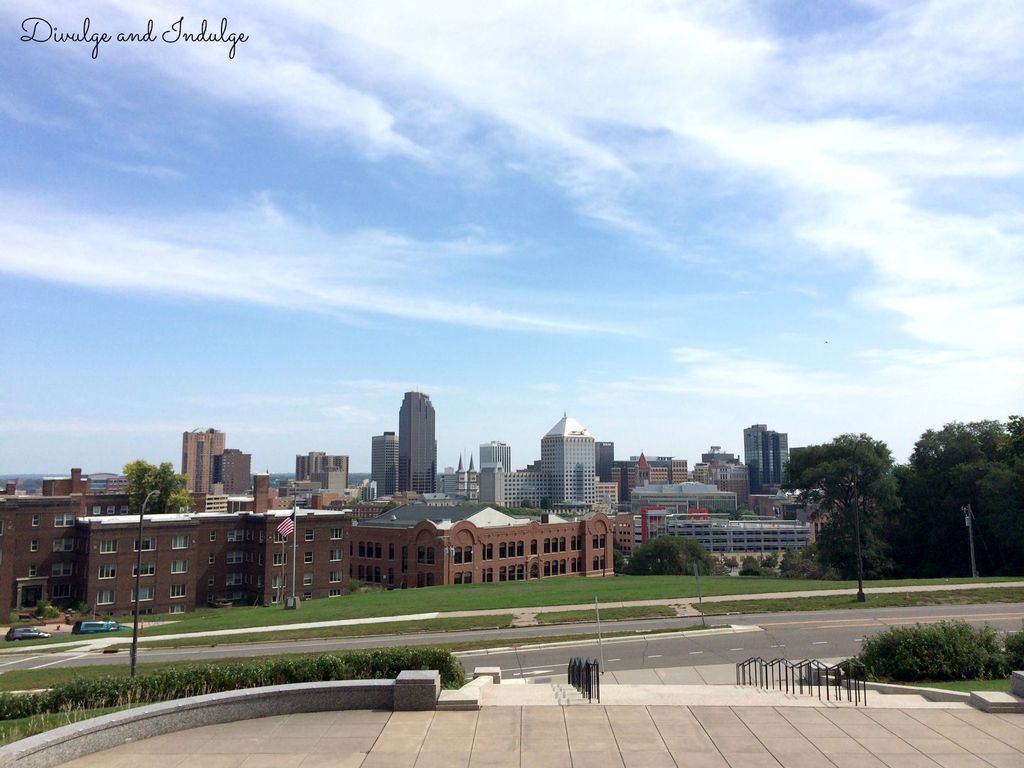 We then made our way to the sports bar, and took a few pictures of the downtown area as we walked.
After the game was over, we headed to the
Mall of America
. I would have loved to spend an entire day there (okay, maybe two or three days!), but Eric hates shopping ... So a few hours at the mall after a few hours of football was a nice compromise. I actually didn't buy anything, but we
did
ride the Fairly Odd Coaster. I love roller coasters, so I knew I'd enjoy it, but it was actually a pretty thrilling ride. I was surprised ... I mean, it's inside a mall. I didn't expect it to be as awesome as it was!

Sunday morning began with a trip to the
Minnesota State Fair
. Apparently the state fair is a huge deal, and it definitely didn't disappoint! We didn't try all of the amazing food (I wish!), but we did a beer tasting, ate a few things that were terrible for us (cheesy garlic breadsticks, frozen custard, and fried olives), and took a silly picture or two.
Danielle and I also rode one of the rides. We considered riding more, but the lines were really long and, let's be honest, riding crazy rides after drinking a lot of beer isn't exactly the best idea. My stomach was pretty queasy after the ride, but thankfully I managed to get over it without getting sick!
Eric didn't want to ride the ride we picked out, so he took a few cool action shots of us on it. I loved the ride, but it was terrifying! My butt kept lifting out of the seat and I remember screaming, "Danielle, I think I'm going to fall out! I'm not even touching the seat!" I clearly get very dramatic when I'm riding scary rides.
After we left the fair, we headed to a St. Paul Saints game. Danielle managed to snag some free tickets, and even though I'm not a fan of baseball (at
all
), it was a lot of fun.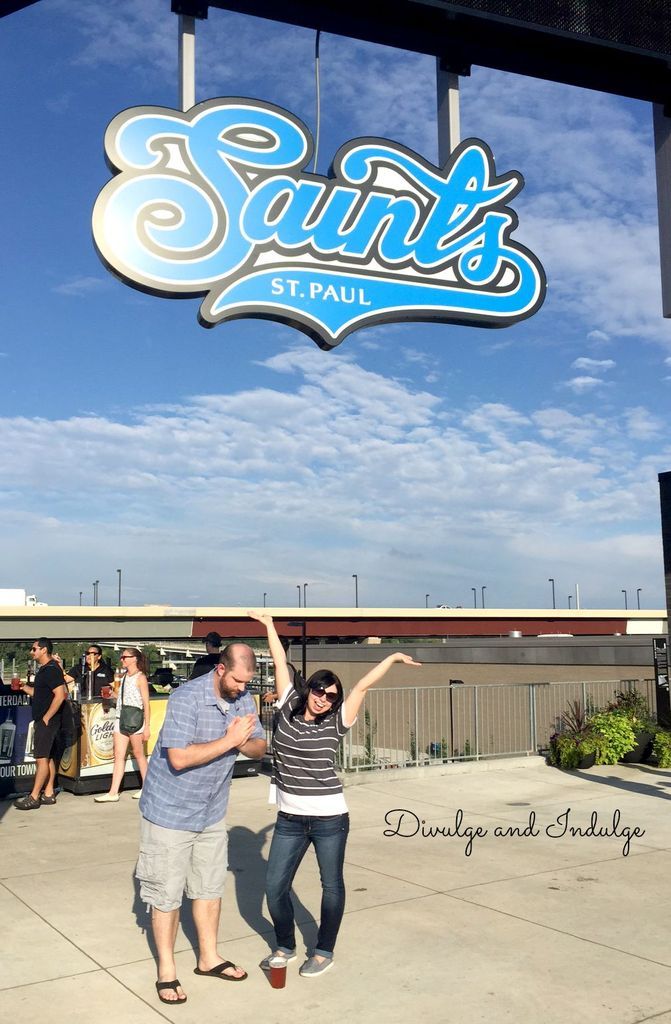 Eric was trying to be "saintly," but it kind of looks like he's praying to his beer on the ground.
We obviously had to get a picture with the giant baseball!
After the game, they let everyone out onto the field, so we took a shit ton of ridiculous pictures.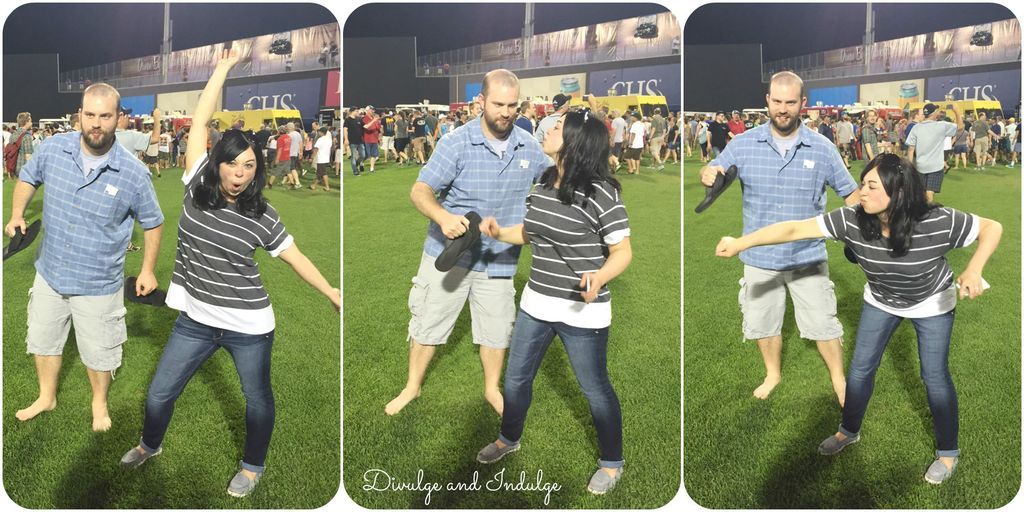 I think I was trying to dance ... Or something. If you've ever wondered how I act in real life (especially after I've been drinking quite a bit!), please refer to those pictures. I can be pretty silly!
This one is a little more normal.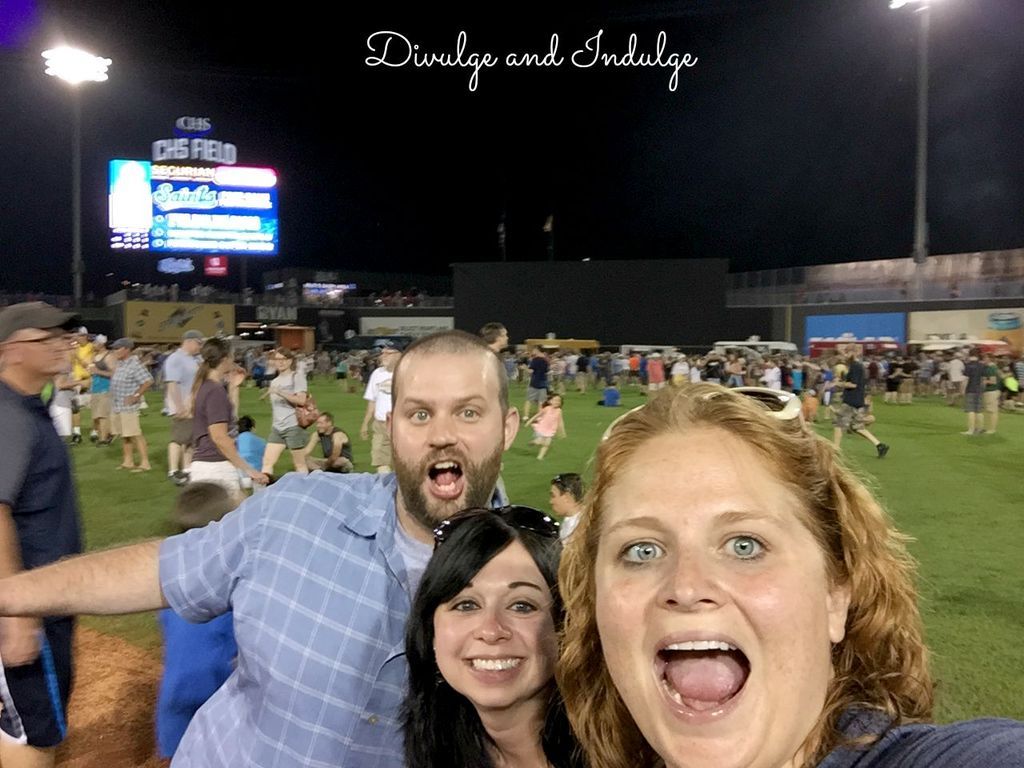 And here are the three of us. Clearly I'm not the only one who can get a little ridiculous!
On Monday, we finally made it over to Minneapolis to do a couple of touristy things before we left. Danielle told us we had to at least see
Minnehaha Falls
, so we went to the park for a little while to take some pictures.
We also drove over to the
Minneapolis Sculpture Garden
and got a silly picture in front of the famous spoon.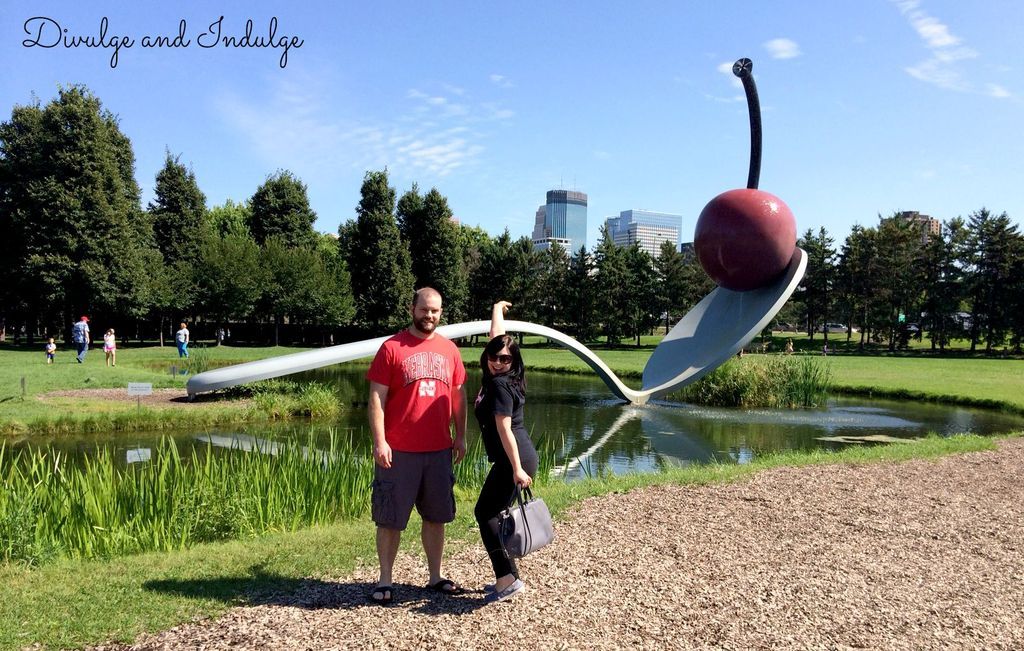 And yes, I'm wearing yoga leggings in public. By the end of the trip, I was so bloated from all the alcohol and greasy food that I didn't feel like squeezing into my jeans for the long drive home. Sometimes you just stop caring.
And, speaking of food, no vacation recap would be complete without some food pictures. I actually didn't take pictures of every meal we had (shocking, I know!), but I took quite a few.
These pictures are from our dinner at the Mall of America. We didn't know it at the time, but we actually sat on the bar side of this Mexican restaurant ... And it apparently turns into a dance club around 9:00 p.m. They served us food (obviously), but it was kind of hilarious. We were trying to eat and talk, and a DJ was in the corner playing loud music and using a fog machine to create a "club" atmosphere. It kind of made us feel old.
These pictures are from various bars we went to. The pulled pork nachos and bacon jalapeño cheese curds were both from
The Bulldog Lowertown
(and both amazing!). The stout float from
Great Waters Brewing Company
was refreshing and delicious. And, finally, the chili cheese tots were ordered during the Husker game at
Tom Reid's Hockey City Pub
.
They actually just had chili cheese fries on the menu, but since I saw that they also served tater tots, I asked our waitress if they would be willing to make chili cheese tots for our table. They were such a great idea ... The tater tots stayed perfectly crispy even under all the toppings, and I couldn't stop eating them! (Okay, so maybe that means they were a
bad
idea.)
I also took some pictures from our trip to a Thai restaurant in St. Paul, but I'll be sharing that in a separate post. This has gotten long enough!