I really hate that I wasn't able to get a great picture of this meal because it tastes
so
much better than the photo below would have you believe.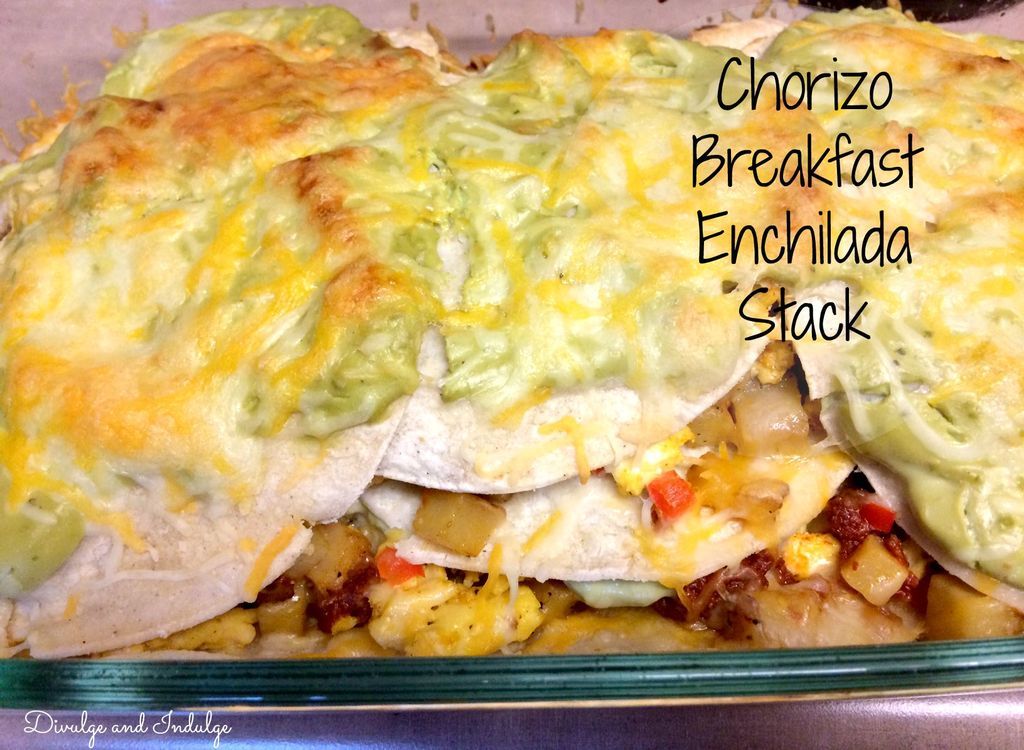 I have to admit, though, that this wasn't my original vision.
When I first started thinking about some new recipes to try, I decided I would come up with a breakfast enchilada dish. Breakfast burritos are one of my absolute favorite things, so making a few simple changes to transform a burrito into an enchilada seemed like an easy and obvious thing to do.
Unfortunately, it wasn't as easy as I initially thought.
I make enchiladas pretty regularly, and I've never had the issues I had when I was trying to make this meal.
When I first started rolling the corn tortillas around my filling, everything was fine ... And then they started cracking and spilling shit everywhere. I made it through about 4 enchiladas before I decided I should probably rethink my original plan and come up with something else.
And so this breakfast enchilada stack was born.
Like I said, it's not the prettiest dish. The corn tortillas weren't immune to cracking even after I decided to stack them instead of roll them. I made a ton of filling, so it's kind of spilling out the sides (and I still had some left over that I used for burrito bowls!). And I can never seem to make any avocado sauce look appetizing in pictures (even though it always tastes amazing).
But you know what? I'm proud of this meal. I'm proud because I came up with a recipe using my knowledge and experience, and, when it didn't work out the way I wanted it to, I managed to figure out a way to save it.
Is this the best food picture I've ever shared on my blog? Absolutely not. Hopefully you can overlook the less than perfect photo, though, and see this meal for what it is: spicy, flavorful, filling, and delicious.
Chorizo Breakfast Enchilada Stack
A Divulge and Indulge original recipe. (Sauce adapted from a recipe on
Gimme Some Oven
.)
Ingredient List:
0.75 lb chorizo sausage
1 large red bell pepper, diced
4 small Yukon Gold potatoes, peeled and diced into very small (about 1 inch) chunks
1 medium red onion, diced
6 eggs
1 tbsp milk (I used 1%.)
1 medium jalapeño pepper (You don't need to chop this since it will be going in the food processor, but if you don't want the sauce to be very spicy, you should cut it enough to remove some of the seeds.)
2 avocados
1 lime
2 tbsp low fat margarine or butter (I used low fat margarine.)
2 tbsp flour
1 cup chicken broth
1 cup sour cream (I used low fat, and it worked well.)
15 corn tortillas (soft taco size)
1 1/2 cups shredded Mexican blend cheese (I used Sargento 4 Cheese Mexican blend.)
1 tsp cilantro
1 tbsp olive oil
1 tsp sea salt
3 tsp black pepper, divided
4 tsp garlic salt, divided
Instructions:
1. Preheat the oven to 425 degrees.
2. Heat the olive oil in a large skillet over medium heat.
3. Add the diced potatoes and red onion to the skillet and season with 2 tsp garlic salt and 2 tsp black pepper. Cook over medium heat until the potatoes and onions have softened a bit and the potatoes start to brown.
4. Crumble the chorizo sausage into a separate medium skillet. Cook over medium heat until completely browned.
5. Once the potato/onion mixture and chorizo sausage have finished cooking, mix them together in a large bowl and set aside.
6. Wipe out the large skillet that previously held the potato/onion mixture, spray with cooking spray, and place back over medium heat.
7. Crack the eggs into a medium dish with a lid (I usually just use a Tupperware dish), and add the diced red bell pepper, sea salt, and remaining 1 tsp black pepper. Cover and shake vigorously, then pour the mixture into the large skillet.
8. Pour the milk into the egg mixture and continue to cook over medium heat, scrambling with a spoon or spatula.
9. Once the eggs have finished cooking, transfer the egg mixture into the large bowl with the potato/onion mixture and chorizo sausage. Stir to combine and set aside.
10. Melt the butter in a small saucepan.
11. Add the flour, then slowly pour in the chicken broth, stirring well to get rid of any lumps.
12. Bring this mixture to a boil, then reduce heat to medium low. Allow the sauce to simmer for approximately 5 minutes, stirring often.
13. Add the sour cream, cilantro, and remaining 2 tsp garlic salt to the sauce. Stir well to combine.
14. Add the avocados and
jalapeño
pepper to a food processor, blending until fairly smooth. (It's okay if there are some lumps at this point.)
15. Slowly pour the sauce into the food processor, blending with the avocados and
jalapeño
pepper until smooth and creamy. (Be very careful blending hot liquid in a food processor! Make sure you open the lid regularly to allow heat to escape!)
16. Squeeze the juice from the lime into the sauce, and pulse a few more times until everything is thoroughly mixed.
17. Spray a 9x13 inch pan with cooking spray.
18. Place 6 corn tortillas across the bottom of the pan, then cover with about 1 1/2 cups of the filling from the large bowl, about 1/2 cup of the Mexican blend cheese, and about 1/2 cup of the avocado cream sauce. (These amounts are approximate. I didn't actually measure out how much I used between each layer, so just use your best judgment.)
19. Stack 3 corn tortillas across the center of the filling/cheese/sauce mixture, and add more filling, cheese, and avocado cream sauce.
20. Place the last 6 corn tortillas across the top of the center layer and finish off with the remaining cheese and avocado cream sauce.
21. Bake for 20-25 minutes, or until the cheese has completely melted.
I know this probably looks like a lot of ingredients and a lot of work (and it kind of is). But trust me ... It's well worth it! If you're also a huge fan of breakfast burritos, you should definitely give this a try!