I'll be the first to admit that my weekends are typically pretty low key. I wouldn't really say they're boring (I mean,
I
enjoy what I'm doing), but they're certainly not blogworthy. If you're curious, a normal weekend for me consists of the following: sleeping in, working on my blog (writing and editing posts, editing photos, and responding to any comments I haven't gotten to yet), reading, watching Netflix (sometimes with Eric, sometimes without), making at least one slightly more elaborate dinner, and possibly going out for dinner or brunch at least once. Obviously I do other things from time to time, but I like to relax on the weekends.
If, however, I manage to do something a little more fun or interesting, I always make a point to do a weekend recap post. And that's what you're getting today.
One of my friends was in town for work, so we made plans to meet up on Friday evening. She asked me to bring Eric along so she could see him as well, and we had a great time hanging out. I didn't take any pictures with her (unless you count some photo booth pictures that are now hanging up on our fridge), but even if I had, I don't know that I'd share them here. I haven't told any of my friends that I blog, and I don't know if I'd feel comfortable sharing random pictures of them online without their permission. It might sound weird in the age of Facebook and Instagram, but several of my friends don't even use social media ... So I can't imagine they'd want their faces plastered all over my blog. Maybe one day I'll share this part of myself with them, but I'm not ready to just yet.
Anyway, back to the weekend.
We were originally supposed to have dinner at a restaurant Eric and I had never been to, but Danielle beat us to the restaurant and called saying it would be about an hour wait. I probably should have made reservations. Whomp whomp.
We ended up going to
The Brazen Head
. Eric and I go there pretty often, but it was a new place for Danielle (at least one of us was trying something new!). I didn't take any pictures during dinner (whomp whomp) because we were too busy chatting away about a bunch of random shit. We hadn't seen each other since January and even though we've had a few longer phone conversations since then, we still had a lot to talk about.
After dinner, we went bowling. Eric is actually in a bowling league with some people from his work. He's not a crazy awesome bowler, but he's usually pretty good. (And he has his own shoes, so that makes him seem more legit.) We played 3 games, and then I made him take a picture of the score after the last game because
I actually won
!
I hated that it said "SKIP" over our names at the end, but that never went away so I just told him to take the picture anyway.
That's me in the middle (in case you couldn't tell). I was ecstatic because I usually don't even break 100 when I bowl. Seriously ... I suck. Apparently drinking a beer and a couple of Bloody Marys awakened some inner bowling goddess in me or something.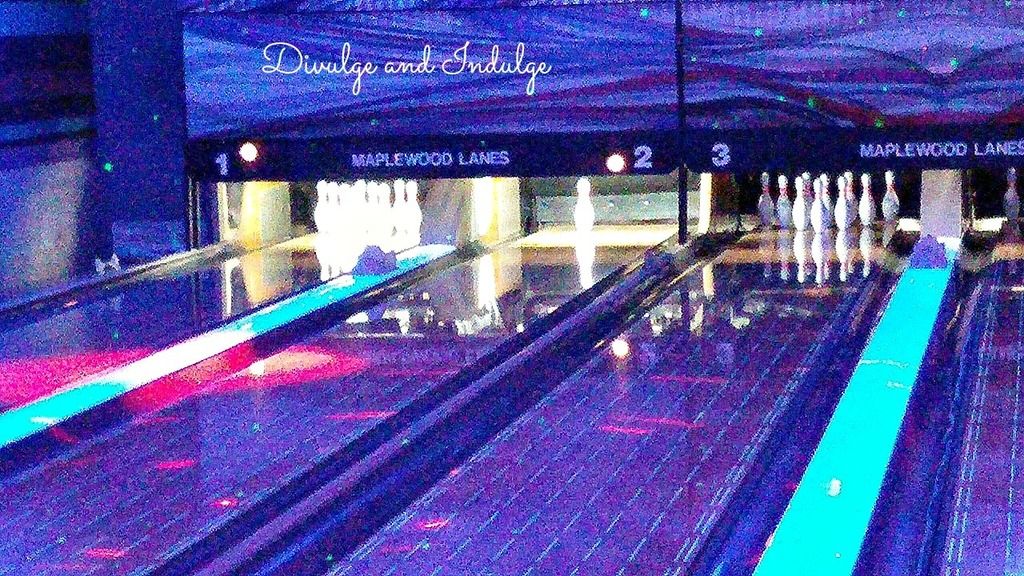 It was nearly impossible to get any decent pictures there because they had the "fun" lighting on. Oh well.

Eric and I also took a couple of silly pictures while we waited for our next turn.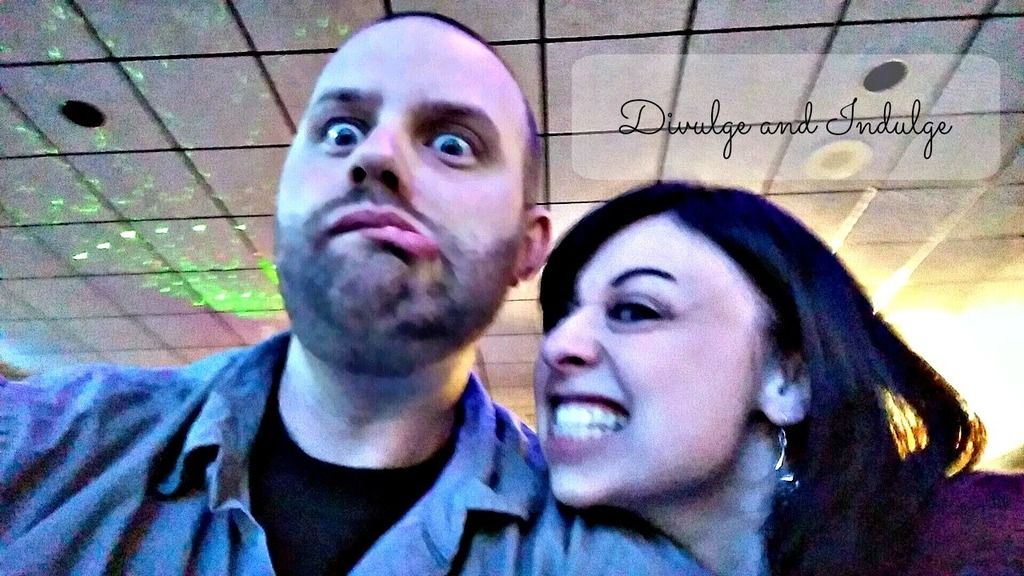 This one was pretty blurry, so I decided to play around with some effects in PicMonkey. I actually kind of like how it looks now (even if it's still a ridiculous picture).
After we finished bowling, we decided to stick around the bowling alley. They had a few pinball machines and other games, so we played some of those and took silly pictures in a photo booth. Once we tired of that, we decided to hang out in the bar. The drinks were super cheap but delicious (it was around $45 for like 8 drinks, and 6 of those were mixed drinks!), and the bar had a fun jukebox and darts (something Danielle and I really love playing while we drink). Again, I didn't take any pictures (though that was mostly because I was pretty drunk at that point and didn't care enough to document anything).
Overall, it was a really fun and silly Friday night. And, if you're wondering, I didn't forget about my
financial goals
for the month. I
did
give myself a pass on Friday, though, since I was spending time with a friend I only get to see once every few months (I mean, it's not like I could reschedule for another night in May since she lives in Minnesota). Also, Eric paid for a lot of the stuff out of his separate account (I may discuss this further in a separate post, but basically we each have separate checking and savings accounts and then have a joint checking and joint savings account) ... So I actually didn't spend anything except for the $5 I put in the jukebox.
Saturday was mostly spent relaxing around the house. I finished the book I was reading (I'll discuss my thoughts in the next Show Us Your Books! link-up), worked on some blog posts, and watched Pretty Little Liars on Netflix. I've already seen all of the episodes before, but I wanted to refresh my memory because I'm hoping they'll be adding season 5 to Netflix sometime in the next couple of months. It's such a guilty pleasure show for me, but I can't stop watching. It's actually one of my favorites.
I also decided to make some homemade Italian style meatballs with spaghetti and marinara sauce on Saturday evening. Spaghetti and meatballs is the ultimate comfort food for me, and I hadn't made it in a really long time. So delicious!
I know I already posted this picture on Instagram, but I'm sharing it again. It's the only picture I bothered to take on Saturday, so I might as well!
On Sunday Eric and I had brunch at a "new to us" restaurant. I won't say much about it now since I have an entire post dedicated to it that I've scheduled for later this week. I will say, however, that we had a really great experience!
Finally, I spent the rest of Sunday working on the blog, listening to music, playing Scrabble with Eric, and reading the book I started in the morning before brunch. I'm already hooked, so the fact that it's nearly 500 pages of really small font isn't quite as intimidating as it would be if I were just "meh" about it. I'm struggling to get caught up with my reading goal (I'm still a few books behind schedule), so sometimes I'm tempted to pass over longer novels in favor of something shorter that will (most likely) take less time to read. I'm glad I decided to overlook the length this time, though. Hopefully it won't disappoint me in the end!
I'll leave you with a picture of me "reading" on the couch. I asked Eric to take a picture of me pretending to read my book since I knew I'd be writing at least a little about it in this post. (See? I remember pictures sometimes!) He was cracking me up because he kept saying things like, "Make it believable, okay? No one's going to believe you're reading! That looks fake! Is it good? Act like it's good." This was the result:
I'm clearly not fooling anyone here. I'm mostly just trying not to laugh.
And that was my weekend!