Since the new City and Colour album,
If I Should Go Before You
, comes out tomorrow (and I'm ridiculously excited about it!), it seemed like the perfect time to share some reasons why I love Dallas Green.
If you don't know who Dallas Green is (or why you should care), please allow me to introduce you. You can thank me later.
1. No one can sing better than he can. A bold statement, I know, but his voice literally gives me chills.
2. He sounds just as good (if not better!) live as he does on a studio album. I've seen him live 3 times (once with Alexisonfire and twice under his solo moniker, City and Colour), and I've been consistently blown away. But don't just take my word for it ... You can see and hear him in action in the video below. (I even chose a really stripped down version of this song. This is just Dallas and his guitar, and it's really fucking amazing.)
3. Not only is he an incredible vocalist, he's also an amazing songwriter and guitarist. (And, if that wasn't enough, he also occasionally plays piano.)
4. He doesn't always stick with the same old sound from album to album, and has managed to find success with a couple of very different genres of music. Alexisonfire is a post-hardcore band, while his work as City and Colour has, for the most part, featured acoustic guitar and a more "folksy" sound. He also teamed up with Pink to record
Rose Ave.
, an album of completely new material, under the name You + Me. To further show the contrast in some of his work, below you will find a video of Alexisonfire performing live. (While I didn't take this video, I was at this show. I was 26 and I thought my heart was going to explode the entire time because I was so excited and so happy. It's a great memory.)
5. And, because he's such a versatile artist, I really believe he can appeal to anyone. (Even if it's just one song that really stands out.)
6. He cares less about being a celebrity and more about sharing the music he creates. In past interviews, he's said things like, "... I never wanted it to be about Dallas Green as a person, but about the music." (This was in reference to the focus being solely on him as a singer/songwriter versus as part of a band. If you want to read more, that article can be found
here
.)
7. And, while he's serious when it comes to his music, he's not always a serious person. Case in point: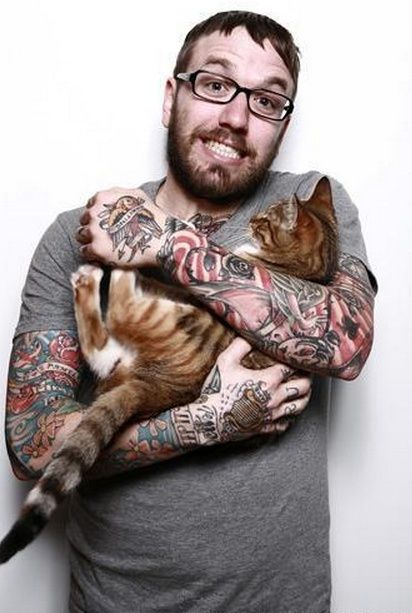 Image courtesy of Pinterest (I couldn't find the original source.)
8. He released the song "Nowhere, Texas" in an effort to bring attention to the issue of violence against women. He released the song digitally and donated the profits to the
YWCA of Canada's Rose Campaign
. You can listen to the song below.
9. Like me, he can be pretty "old school" about certain things. (He's only 4 years older than I am, if you were curious.) For example, at both of the City and Colour shows I attended, he made a request about halfway through the show asking audience members to put away their phones and actually
experience
the show (instead of watching through a camera lens). Maybe I'm weird, but I agree with that sentiment. I'm not above taking a couple of quick pictures or video clips at a show (I mean, I took the first picture in this post), but, for me, it's all about getting into the music and living in that moment.
10. He genuinely cares about his fans. When I saw him at The Slowdown in Omaha back in 2011, a girl in the audience passed out. He actually stopped everything to ask if she was okay, and when he didn't get much of an answer, he
came down into the crowd to check on her
. I probably would have passed out again if I awoke to see Dallas Green standing over me. I mean, I freaked out when I realized he'd touched me in his rush to check on the girl. (I had turned to my friend, and I felt someone touch my back and say, "Excuse me." When I turned around to see who had walked by and to check on what was happening, I saw Dallas disappearing into the crowd. I turned back to Ashley and proceeded to freak out and fangirl all over the place. #noshame)
I hope I've convinced you to at least check out some of his music. If you want specific recommendations, feel free to ask ... I love talking about the music I love!