As I've mentioned several times, we purchased a ton of beef from Eric's cousins last year. And, since it was such a great deal, we decided to buy the same amount this year.
Since we have about 100 lbs of beef to work with, I'm always searching for new beef recipes. Like most people, I enjoy the classics (spaghetti and meatballs, chili, beef tacos, steak, etc.), but I get really tired of eating the same old things over and over again.
Beef isn't exactly the healthiest meat to work with, though, so in addition to looking for new recipes, I also try to search for "light" recipes. (Or as light as a recipe featuring beef can be, anyway.)
One of my favorite food blogs is
Skinnytaste
. I love that she features a wide variety of lightened up recipes (including desserts!), and everything I've made so far has turned out wonderfully. (This isn't some sort of sponsored post, by the way. I'm just sharing some blogger love!)
The dish I'm sharing today is no exception. It's such a simple, quick meal, but it's amazing. Each bite was filled with a burst of fresh flavor, and the leftovers are just as delicious! (This is especially important in our house since we often rely on leftovers for work lunches and/or busy nights when we don't have time for/don't feel like cooking.)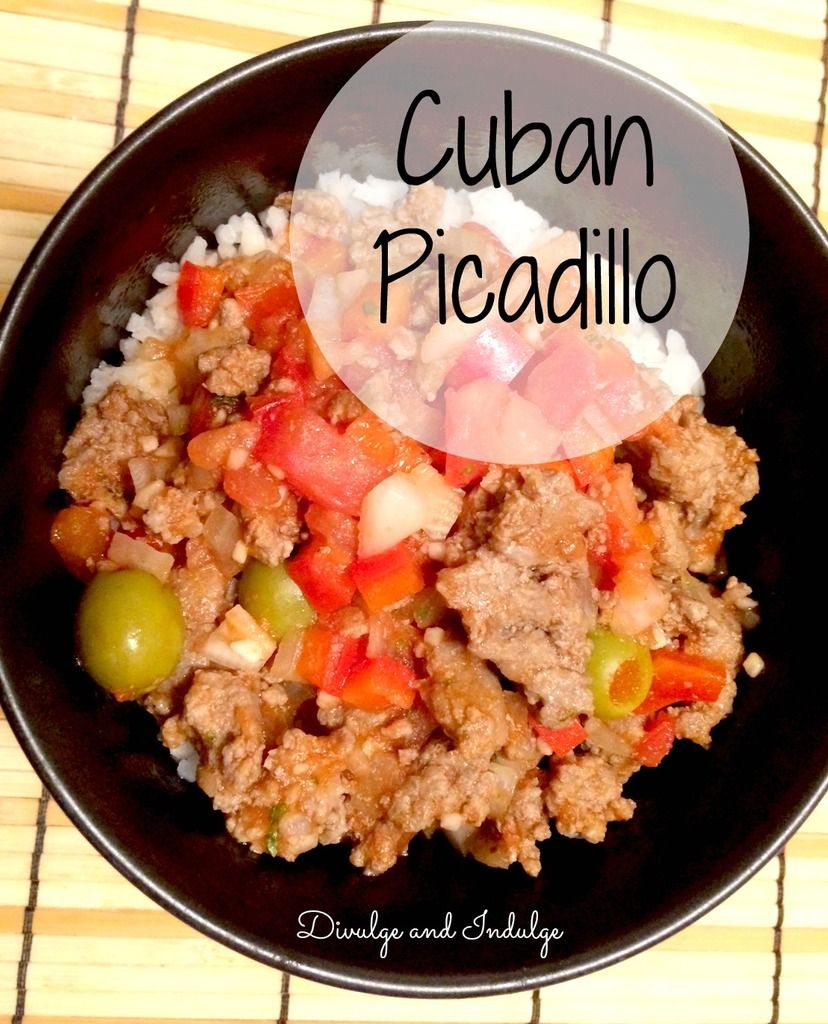 Cuban Picadillo
Adapted ever so slightly from a recipe on
Skinnytaste
.
Ingredient List:
1 lb ground beef
1 medium white onion, chopped
1 tomato, chopped
1 red bell pepper, diced
1 8 oz. can tomato sauce
1/4 cup water
1-2 bay leaves (I used 2.)
1 tsp cumin
1 tsp sea salt
1 tsp black pepper
1 tbsp cilantro
2 tbsp green olives (You can also use capers or alcaparrado, which is basically just a mixture of olives and capers.)
2 tbsp olive brine (Or the brine from capers or alcaparrado, if you use one of those instead.)
Instructions:
1. Season the ground beef with salt and pepper and brown over medium heat in a large skillet, breaking it up as it cooks.
2. Once the meat is fully cooked, drain the grease from the skillet.
3. Turn the heat down to medium low and add the chopped onion, tomato, red bell pepper, and the cilantro to the meat.
4. Add the olives and brine (or capers or alcaparrado, if that's what you're using), cumin, tomato sauce, and water. Stir a few times in order to mix everything thoroughly.
5. Place the bay leaf (or leaves, if you're using more than one) on top.
6. Reduce the heat to low, cover, and simmer for 15-20 minutes. Discard the bay leaf (or leaves) before serving.
As you can see from the picture above, I served this over a bed of long grain white rice. We ate our leftovers the same way, but Gina (from Skinnytaste) also recommends making tacos or quesadillas with the leftovers. (I'm planning to use the leftovers to make tacos the next time I make this!)