After spending last month basically doing whatever the hell I wanted, I figured it was time to buckle down and get back into some sort of routine. This applies to pretty much all areas of my life: exercise, eating healthier, meal planning, blogging, etc.
And, since I also spent a lot of money on fun things last month, I feel like I need to be a little more frugal this month. (Though I
may
allow myself to buy a couple of new clothing items. I've been torturing myself with online "window shopping" a lot lately, and, since I haven't purchased any new clothes in at least 5 or 6 months, I feel like it wouldn't be a huge deal to splurge on a couple of new things for fall/winter. But we'll see.)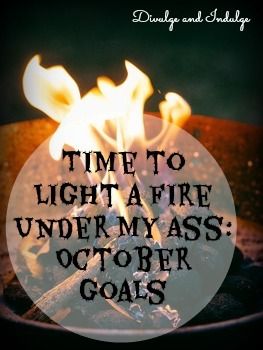 My October 2015 Goals:
1.
Get back into a regular workout routine.
I've been struggling with this for the past couple of months, and it's been driving me nuts. I went from regularly working out 3-4 times each week to
maybe
working out 1-2 times each week (and twice would be a really good week). I've noticed that I've been feeling a lot more sluggish since I stopped working out as much, so I know I need to get over my lack of motivation and get back into it.
2.
Go the entire month without buying any Starbucks Doubleshots at work.
I think I've only managed to go an entire month without buying at least one Starbucks Doubleshot once or twice this year. That's kind of insane. I'm completely addicted to them, but they're 210 calories, filled with sugar, and they're about $3.00 each. So obviously if I can avoid them this month, I can cut some calories
and
save some money. Win win.
3.
Post at least 3 times every week.
Last month I was mostly kind of "meh" about blogging. As a result, I spent the majority of my time doing everything
but
blogging. (Well, except going to the gym, of course. I clearly wasn't doing much of that either.) I will never be the kind of blogger that posts 5 times every week, but I think I should probably post more than once or twice a week if at all possible.
4.
Find and join more link-ups.
I'm not going to go crazy with link-ups or anything, but I've really only been active in the
Show Us Your Books!
link-up
lately. I love that link-ups allow me to talk about things I love with others with similar interests, and I feel like I've discovered a lot of other really awesome bloggers this way. (And, to be honest, it's also nice to see more people visiting and commenting on my own blog. It makes me feel good to know that other people care about what I'm writing.) If I can find and join even one additional link-up this month, I'd be happy.
5.
Continue attempting to keep up with reading and commenting on other blogs.
Sometimes it's really hard for me to find time to keep up with the blogs I enjoy. And then when I actually have some free time, I start to feel overwhelmed when I see I have at least 100-200 posts to read. I wanted to create a schedule for this last month, but I never actually did. I did a better job keeping up with it for the most part, but I still found myself getting really behind at certain points. I just need to figure out what works best for me and stick with it.
6.
Earn at least my first Swagbucks goal every day this month.
Thanks to
Stephanie
, I've become a huge fan of Swagbucks. I know that some people feel like it takes a lot of time and effort, but, for me, it's an easy thing to do each day in order to get a few extra bucks. I mean, if I'm on my computer anyway (or just watching TV), it doesn't take much work to click through a few videos. And if I don't mind putting in some extra effort, I'll take a survey or two. (Which, to be honest, typically don't require a ton of effort either.) It doesn't seem like much most days, but it can really add up. Since I started using it near the end of May last year, I've earned almost $630. That's not a ton of money, but considering the fact that I didn't even use it much for at least a few months (I think I only earned between 1 and 3 SB most days during those months) and the actual amount of time and effort I spend using it, that's actually pretty good.
7.
Watch at least 5 more movies for the Fall Film Challenge.
I'll be very surprised if I'm able to complete this challenge, but I'm going to at least try to get through as many movies on
my list
as possible. I don't want to set the bar too high for myself, though, so 5 it is.
8.
Avoid putting any additional books on hold at the library until I finish at least half of the books I've already checked out.
This probably sounds silly, but I have a serious problem when it comes to placing books on hold at the library. I still have quite a few on hold (including a few that will likely become available within the next couple of weeks), but I have 12 books at home right now. It's gotten a little ridiculous. I don't need to check
that
many books out at once.
I made more goals than usual, but at least a couple of them are just simple reminders of things I should avoid this month. (Though, if I'm being honest, those are two of the most difficult goals for me.) If I can accomplish all of these, I'll be very happy!