Eric turned 33 on Saturday, and we spent much of the weekend celebrating.
We always celebrate our birthdays, anniversary, and New Year's Eve with special meals. We don't always go to super fancy restaurants for these occasions, but we definitely go all out: plenty of drinks and food (including an appetizer and a dessert to share).
Last year we started a new birthday tradition. We secretly plan the meals out for each other, making reservations at a place we've never tried. It's always a gamble since we have to rely on Yelp reviews and menus posted online, but so far we've managed to be pleasantly surprised.
Our meal on Saturday night was no exception.
Spezia
came up regularly when I've searched Yelp for Italian, seafood, or steak restaurants in the area over the years, but, for whatever reason, we'd never tried it. When I was planning Eric's birthday dinner, I decided to give the menu a closer look ... And I knew we
had
to go there.
The menu was filled with many of our favorite types of entrées: lamb, seafood, steak, pasta, and duck (to name a few). Add to that their extensive wine list, delicious sounding appetizers and desserts, and romantic ambience, and I was sold. While the dimly lit restaurant didn't lend to wonderful pictures, I was able to at least get decent photos of each part of our delicious meal.
Our drinks: Prosecco for me and a Kentucky Mule (made with bourbon) for Eric. We each had 2 because they were so good!
We started our meal off with the crab artichoke dip. The crab flavor was rich and amazing, and the wood grilled bread added just the right amount of smoky flavor.
Since we were both starving (and since they had several delicious sounding dressing options!), we decided to add salads to our meal. Eric had the Spezia salad with kalamata olives and a balsamic vinaigrette and I had a house salad with gorgonzola crumbles and creamy gorgonzola dressing.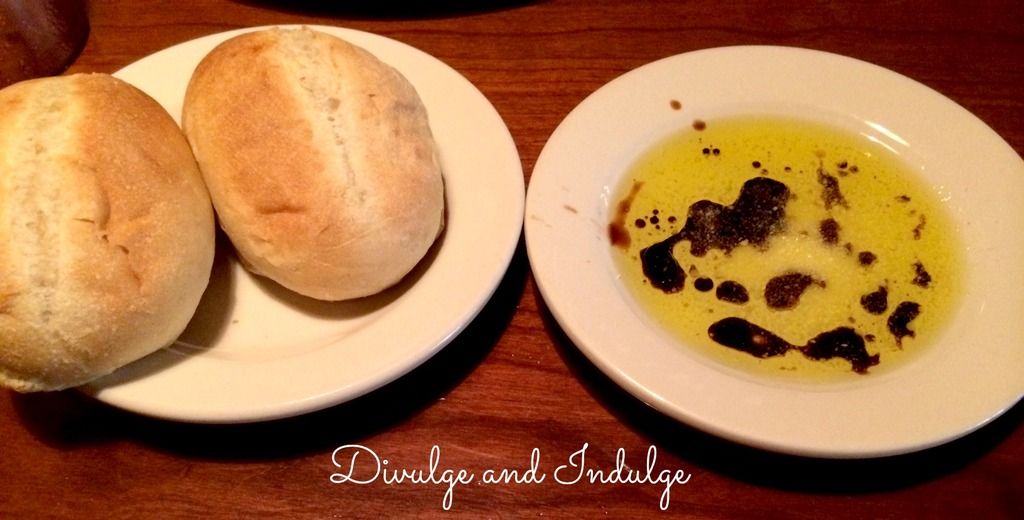 The rolls weren't what I would typically expect to receive at an Italian restaurant, but they were soft on the inside with a nice crusty exterior and the olive oil/balsamic vinegar/Parmesan cheese dipping sauce was pretty tasty.
Eric's meal was the lamb sirloin (juicy, tender, and perfectly cooked, I might add!), served with mashed potatoes, a wood grilled Portobello, and roasted vegetables.
I had the Limoncello scallops (a seasonal special), which were succulent with a great blend of tangy lemon and smoky wood grilled flavors. The scallops were served with a side of pasta in an Alfredo sauce and roasted vegetables.
The perfect way to end the meal: a rich, creamy tiramisu. It was divine!
Overall, we both had a nice experience at Spezia. There were a few things that I didn't love about it, though: service was kind of slow (they were busy but not so busy as to keep our waitress occupied for such long stretches of time), I wanted more veggies with my meal, and I felt they were a bit heavy handed with their sauces (especially the Alfredo, which, to be honest, tasted like it came from a jar). I'm not against using jarred sauces (I do it often if I'm short on time or motivation!), but I expect a homemade sauce if I'm at a restaurant.
On the plus side, the crab and artichoke dip was phenomenal, the creamy gorgonzola dressing was worth every sinful calorie,the lamb and scallops were cooked perfectly, and the tiramisu was heavenly. I also wish I'd taken some pictures of the interior of the restaurant because it had the perfect "date night" atmosphere.
Since there were so many things on the menu that we both wanted to try, I'm sure we'll be back in the future. I'll probably try ordering an entrée with a side of risotto or potatoes, though, to avoid being overwhelmed with pasta sauce!